10(ish) Questions with a CrowdRiffer: Elizabeth, Content Marketing Manager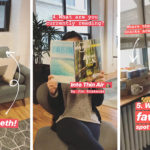 When a new shipment of snacks arrives at the office; when there's cake waiting to be sliced into on the kitchen table; when a CrowdRiffer brings in leftover baked goods to share — who's the first at the scene?
That'd be Elizabeth, our very own Content Marketing Manager.
Having been at CrowdRiff for a little over a year and a half, she's now built the library of content (from blog posts, to eBooks, to case studies, and more) to a huge scale, and has played a big part in getting the brand known and respected as a thought leader in the travel and tourism industry.
To get to know the mastermind behind CrowdRiff's content, watch Elizabeth's segment of 10(ish) Questions with a CrowdRiffer.
Watch in full screen for the best experience!
Want to work with Elizabeth?
We're hiring – check out our openings here!