10(ish) Questions with a CrowdRiffer: Reza, Business Development Manager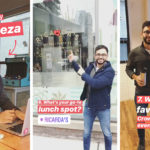 You know that friend who never, ever fails to greet you with a smile?
Meet Reza — he's one of those people.
Reza started out at CrowdRiff as the team's second Business Development Representative, shortly after he moved to Toronto last year. Today, the BDR team is 8 people strong, and Reza has transitioned into the role of Business Development Manager. If you ever happen to be looking for him around the office, he'll likely be found wherever his owl mug is.
He's lived in 3 different cities on 3 different continents — come with us as we dig into his geographical past and his life at CrowdRiff!
Watch the video in full screen for the best experience!
Want to work with Reza?