10(ish) Questions with a CrowdRiffer: Shri, Customer Success Manager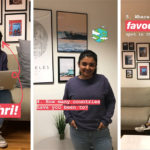 Meet Shri!
Shri has been working at CrowdRiff for 3 and a half years as one of our Customer Success Managers. As a Customer Success Manager, Shri helps customers leverage the CrowdRiff platform better, in order to meet their marketing goals.
Outside of CrowdRiff, Shri loves to travel! She's constantly traveling to new places and snapping pictures for her Instagram.
Get to know Shri more (and how many countries she's been to) in our latest episode of 10(ish) Questions with a CrowdRiffer.
For the best experience, watch in full screen!
Want to work with Shri?