10(ish) Questions with a CrowdRiffer: Talia, Front-End Developer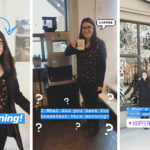 Meet Talia! She's been on the product team for about a year now.
Before she was the star front-end developer that she is at CrowdRiff, Talia had actually been working in the film & arts industry. After taking some classes at Ladies Learning Code, and feeling exhilarated and excited about the material, she knew it was time to take on a new challenge: diving fully into web development. Since enrolling in HackerYou's bootcamp and then finding CrowdRiff on industry day, Talia has been thriving on CrowdRiff's front-end team and enjoying the collaborative spirit of the company.
A couple of CrowdRiffers from the marketing team decided to ambush Talia as she came into the office one morning — we've captured it in a fun Instagram story, so you can get to know her a little better!
Watch in full-screen for the best experience!
Want to work with Talia?

If you don't see a job listing for you, send us an email anyway at hello[at]crowdriffv2.wpengine.com.