3 Ways Travel Brands Save Time with CrowdRiff Sidekick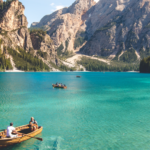 Your website and social channels are pillars of your marketing, but they're far from the only ways your content influences potential visitors online.
They see images in Google search results
They get your email newsletter
They're shown retargeted ads while they're doing their daily browsing
They come across LinkedIn slideshares…
And the list goes on.
You use visuals in more ways than you might realize, which is why it's so important to streamline the process of discovering and delivering photos and videos. Your visuals need to be accessible everywhere, all the time, because you're finding new ways to use them everyday.
That was the thinking behind CrowdRiff Sidekick, our simple Chrome extension that gives you instant access to your content library and lets you drag and drop visuals anywhere on the web.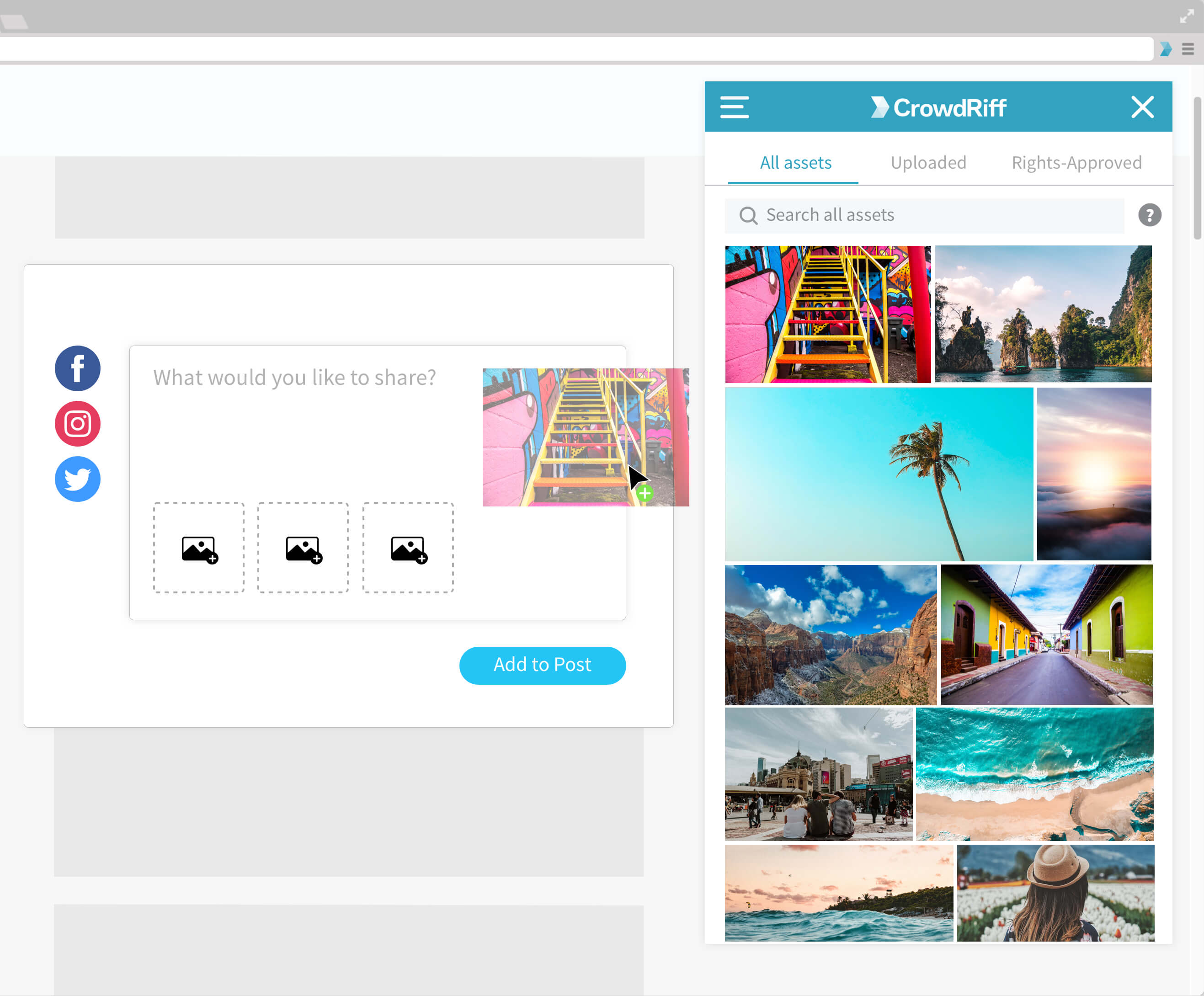 Whether you're putting together a big presentation for a conference or asking a teammate for a quick opinion on ad creative, CrowdRiff Sidekick helps you wherever you use visuals.
Here are a few ways CrowdRiff Sidekick saves you time on channels beyond your website and social posts.
Looking to cast a wider net? Google Posts basically cover the ocean
90% of the world's searches go through Google. Think about that – a 90% market share means that anytime a potential visitor wants to research your destination, it's a virtual guarantee they're going to hit Google at some point.
Google has effectively made the entire world a captive audience, and now they're giving you a piece of the action with Google Posts, which allow you to create original content that appears alongside top-ranked search results. The opportunity to promote your attractions, events, and partners on the world's biggest digital stage is one you can't pass up.
The ability to post content that's going to be shown every time someone searches your destination is powerful, so you'll need to be verified by Google to be able to post.
(Luckily, we already work directly with the Google Posts team, so if you're looking to get verified, we'd be good people to talk to
)
To ensure that content is timely and relevant, Google Posts expire after seven days. That's a positive for both you and your potential visitors because it establishes trust – anyone who searches with Google will know that they can look to the right of their search results and see something helpful. Knowing they'd be creating posts on a regular basis, Destination Panama City uses CrowdRiff Sidekick to make creating Google Posts frictionless.
Here's what a post looks like in a Google search.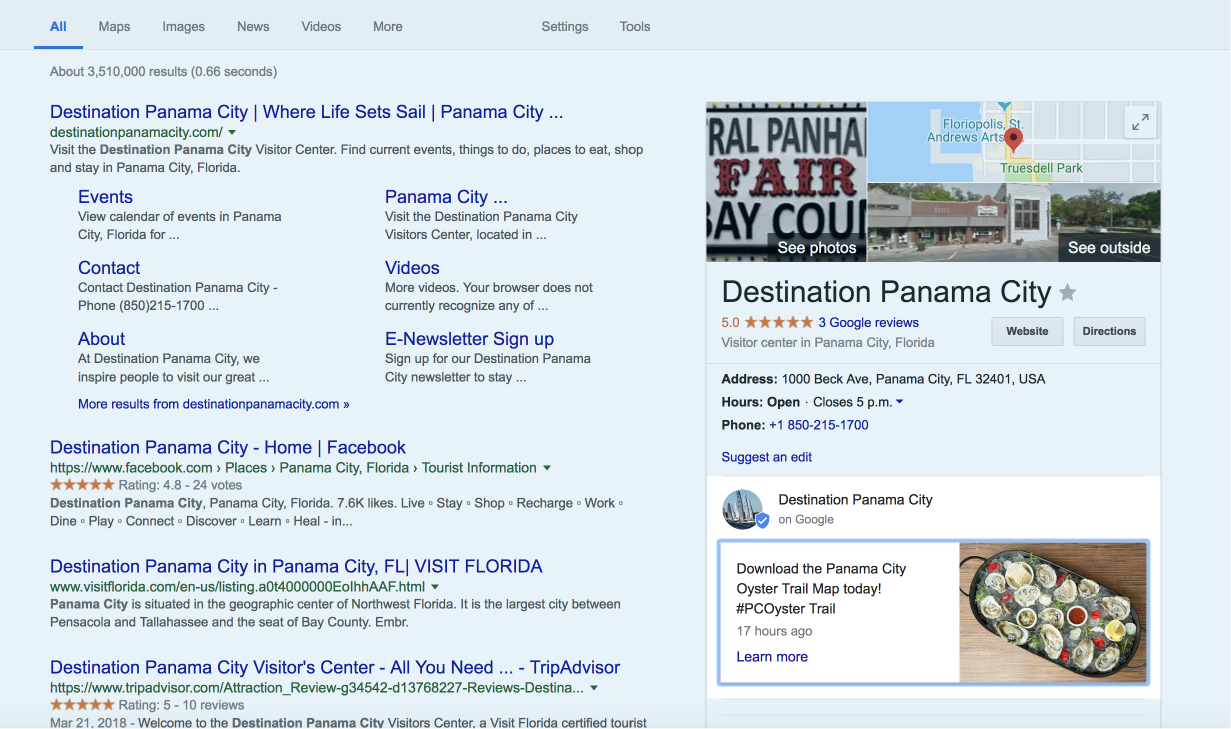 "Having to upload photos to our social media scheduler was always kind of a pain. Being able to drag and drop is 100 times easier. So much quicker – love that Sidekick!"

– Jennifer Vigil, President & CEO, Destination Panama City
Visit Stockton, the Royal Ontario Museum and Visit Franklin have also started using Google Posts to expand their influence.
Get down to (Facebook) business

Between Facebook Ads and Facebook Pages, Facebook Business is probably already part of your day, so any time you can shave of each task will really add up. With CrowdRiff Sidekick, destinations like Visit Buellton can make their pages more inviting and their ad campaigns easier to execute.
"CrowdRiff Sidekick has given me immediate access to all our uploaded and rights-approved assets so I can easily sort through and find photos to include in email campaigns, marketing materials and PR requests without ever leaving my active tab!"

– Megan DeCicco, Director of Content, Visit Buellton
Don't forget about email marketing
You send out newsletters, travel tips, event calendars and all sorts of other marketing via email. Making those emails visual is always a good idea, so you should have an easy way to add imagery to your templates.
Here's how destinations like Explore Lawrence can use CrowdRiff Sidekick to save time while delivering more effective emails.
CrowdRiff Sidekick makes creating ad campaigns easier too. With the ability to search for visuals without leaving your tab, you can build a cohesive set of ads organically.

You don't have to feel like you're locked into your ad creative – if you come up with a great idea on the spot, you have all your visuals right there with you.
That's what a sidekick is for.