4 Reasons You Should Switch to an Instagram Business Profile Right Now

It's been an eventful few months for Instagram. Sudden changes to its API instantly changed the way businesses operate on the platform, leading to plenty of explosive headlines and think pieces about what's to come. It's been a fun story to follow, but for marketers, here's what you really need to take away from it:
If you haven't already, it's time to switch to an Instagram business profile.
Why? Because you need one to gain access to all the marketing-focused features in Instagram's new world.
The five minutes it'll take to switch to a business profile is nothing compared to the benefit it'll provide your team.
Here are a few reasons business profiles are so valuable for destination marketers.
1 | They encourage action
For destinations, Instagram is first and foremost a marketing channel, meant to drive action like any other. At some point, you're banking on outreach and community engagement turning into clicks, bookings, registrations and revenue. An instant advantage to having an Instagram business profile is that it adds CTAs in prime locations: your profile page and Stories.
Let potential visitors contact you directly through Instagram
When you convert your profile, you'll notice that contact buttons appear at the top of your profile, allowing people to send you an email or give you a call with a few taps.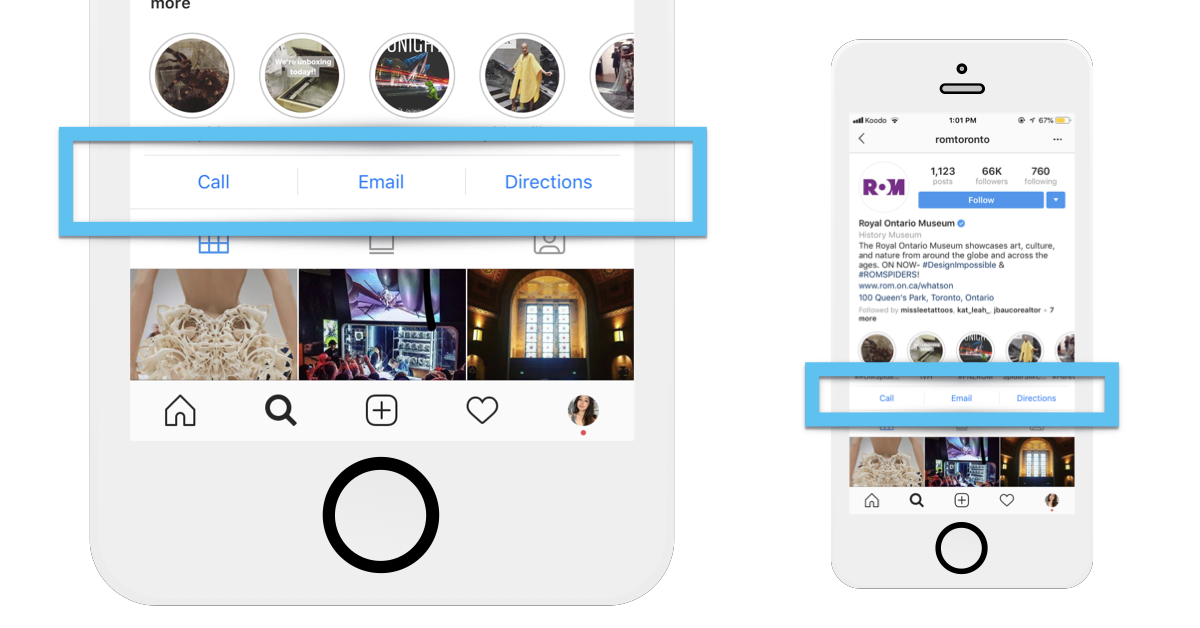 You can also add directions to your visitors' center, conference venue or another key location. The easier you make it to get in touch with you, the more likely people are to take the next step in the journey from browsing to booking.
Seize the moment with Story links
Instagram Stories are a huge right now, and business profiles with 10,000 followers are given an advantage that used to be reserved for verified accounts: the ability to include links.
If you post a Story from a music festival, wouldn't it make sense to link to a page where people could buy passes? If you're sharing your experience at a hot new restaurant, why not link to the reservations page? Sliding a CTA to a newsletter sign-up at the end of each Story wouldn't hurt either.
Having a contextual action for people to take in the moment is a great way to drive traffic to high-value pages.
2 | They make your life easier
Business profiles also save you time and effort in completing your day-to-day tasks.
Plan your next move with Instagram Insights
This one's a no-brainer. With a business profile, you get access to analytics that give you performance metrics and teach you about your audience.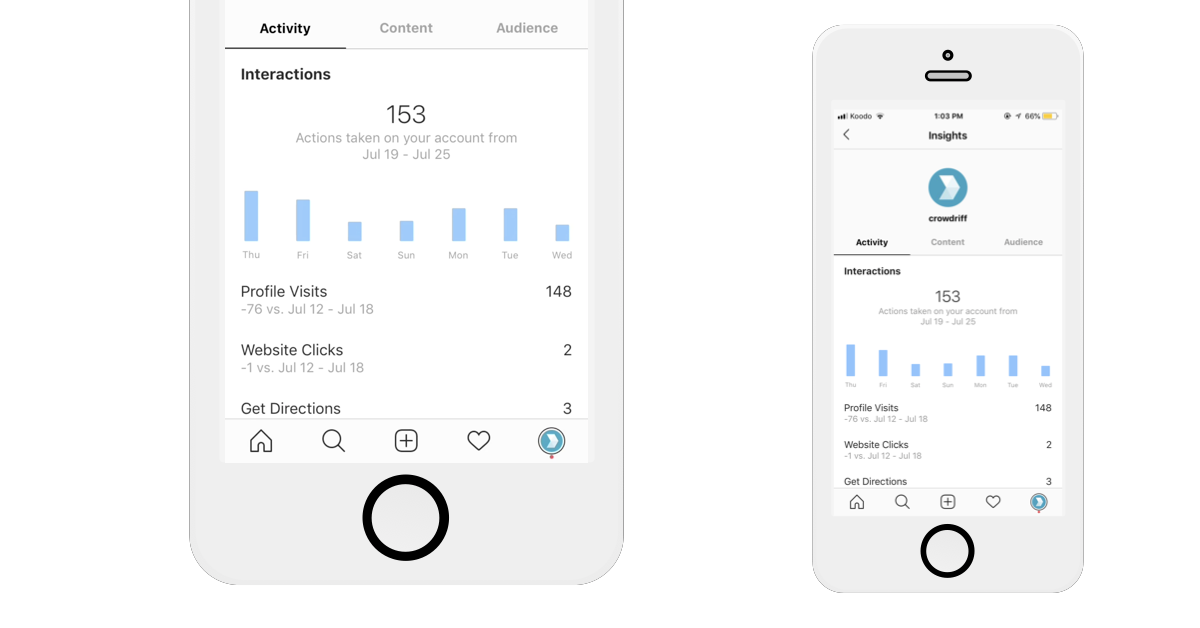 Instagram Insights give you engagement rates, brand sentiment, referral traffic and audience data (who your followers are, when they're most active, what they're interested in, etc.) You even get performance data for Stories.
With this key intel, you can refine your tactics to increase the impact of your marketing.
What type of content is working?
What times of day are you getting the most engagement?
Are you targeting the right audience?
These are the important questions good data can help you answer.
Schedule your posts (for real!) to save yourself time
Anyone who's used Instagram for marketing knows that for the longest time, you couldn't actually schedule posts on Instagram, even with scheduling apps. You could come close, but there had to be human intervention eventually. At best, you could effectively set an alarm for yourself to remind you to post. That's no longer the case.
Use CrowdRiff Sidekick with scheduling apps like Later to save you even more time!
Now, scheduling apps will actually be able to post for you at specified times. Instead of having to interrupt what you're doing 4-5 times a week to respond to a notification and post on Instagram, you can set and forget your entire week's posts in five minutes. It's a small change, but the time savings will add up fast.
3 | They usher in the almighty dollar
Boost your posts and run ads to increase engagement
Without a business profile, you can't promote posts or run ads – that alone should convince you to switch. 75% of Instagram users respond to ads – that's three out of every four people!
Instagram uses the same ad engine as Facebook, which means you'll be able to set up hyper-targeted campaigns and track them from end to end.
While some have wondered whether switching to a business profile will decrease organic reach, that concern has largely been dispelled. Changes to Instagram's post ranking algorithm have already effectively turned it into a pay-to-play world, and that will likely save you money.
Travel brands' cost per click is only 63 cents on Facebook ads, and with the same targeting logic and campaign management coming to Instagram, investing in ads could actually lower your cost of acquisition, since your marketing will be more direct and more targeted.
Instagram page or mini-OTA? High potential with shoppable posts
With shoppable posts, business profiles can tag up to five items that allow people to go from post to purchase in a few taps.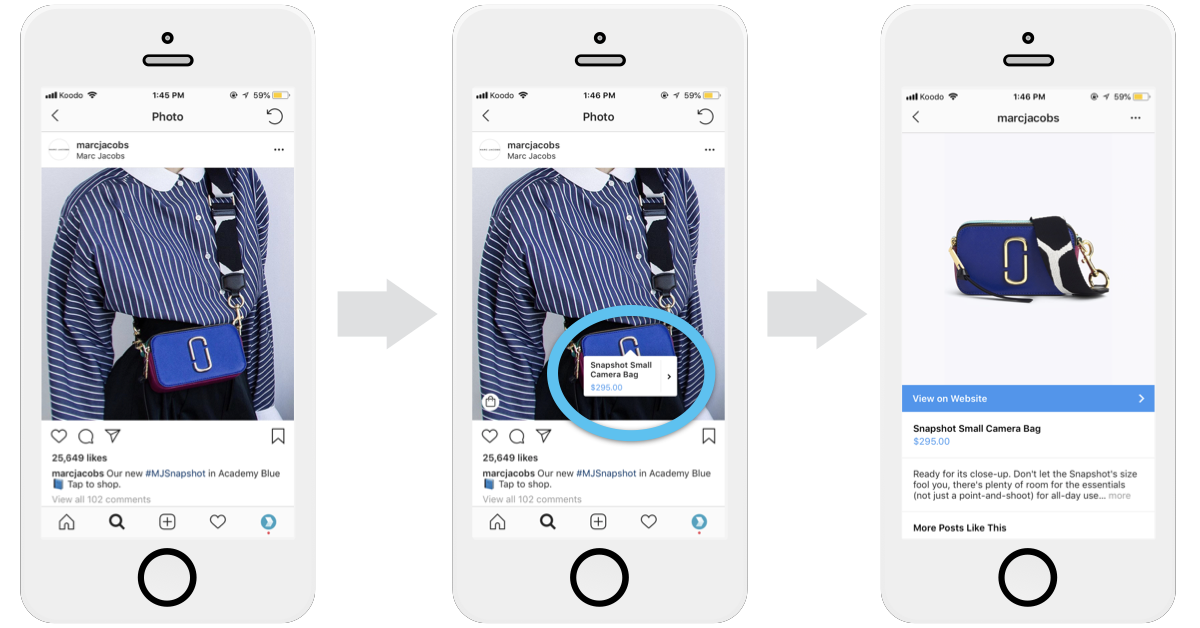 The feature has taken off in retail and fashion circles, but why couldn't a destination use it to give people the ability to grab festival passes, book hiking trips or buy tickets to a football game? Shoppable posts introduce new possibilities for destination marketing.
4 | This is only the beginning
Instagram has firmly committed to developing the platform as a business tool, releasing new features every few months for the last few years. More and more of these features are being given exclusively to business accounts, and even with features that will eventually be available to all users, businesses are often given early access.
Instagram business profiles are here to stay, and the sooner you switch, the sooner you'll start reaping the rewards.