5 Key Takeaways from the 2018 PRSA Travel and Tourism Conference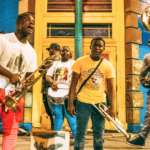 For four days in early June, New Orleans played host to over 400 destination marketing and PR professionals at the 2018 PRSA Travel and Tourism Conference.
If you weren't able to make it, you missed out on…
A parade through the French Quarter…
Keynotes from Sura Al-Naimi and Dan Harris, along with a Family Feud-style PR gameshow…
And, of course, plenty of food.
It was the largest installment of the event to date, making for four spirited days of industry shoptalk. Much of what was discussed related to creating compelling stories for potential travelers, so for both PR and marketing teams, there were plenty of tips and tricks to be picked up. Luckily, we were there to listen and learn.
Here are our five main takeaways from the conference.
1 | Build narratives about who you are, not just what you're offering

The breakout sessions at the conference covered a variety of topics, from how to calculate the ROI of PR activations to the dos and don'ts of working with influencers, but one of the undercurrents was the importance of narrative in all marketing and PR activations.
In her talk on how to maximize value with digital content, Kate Buska, Vice President of Brand Development and Communications for Provenance Hotels, talked about how they used puppy travel as a theme to tie all their summer content together, from trade articles to digital ads to the confirmation email guests received after booking.
They did launch an impressive pet amenities program (which landed them a placement in Vogue), but they also brought the puppy imagery through to offers that had nothing to do with dogs. Cute puppies have broad general appeal, but they also reference a common travel concern: whether the hotel you're staying at is dog-friendly. Even when the images were used in unrelated contexts, they tapped into a broader narrative: we think about how you travel. It wasn't about the dogs anymore, it was about Provenance's hospitality.

Developing visual concepts that can pull double-duty in both specific campaigns and general communications is a great way to create cross-channel consistency and get more value from your content.
2 | Journalists have brands to think about too

Most destinations aren't keeping too many journalists on staff these days – the majority of the placements they get are written by freelancers.
Those journalists are building their own brands and establishing their own points of view, and how a potential story fits into that picture impacts whether or not they accept the assignment. That puts a premium on personalizing pitches. It's never been easier to send pitches – everyone's only an email away – but to land a placement with a top journalist or in a top publication, you need to think about the story and the storyteller.
In one of the breakout sessions, Jenn Rice and David Duran spoke candidly about the pitches they receive, lamenting the lack of personalization and admitting that because of sheer volume, they're not always able to read each one in great depth.

Some of the speakers and session leaders from the 2018 PRSA Travel and Tourism Conference
It's certainly possible to do your research and nail your pitch via email, but if the journalist only has that email to go on, you're putting all your eggs in one basket. Based on the experiences shared at the conference, establishing a relationship with the journalist has proven to be a far more successful long-term strategy, giving destinations more opportunity to demonstrate brand fit and build trust. In short, strong pitches are still important, but relationships are instrumental in gaining coverage for your destination.
3 | Press trips need to be tailored to individual journalists
The broader emphasis on storytelling in travel marketing has changed the way destinations host journalists when they're writing stories. A traditional press tour would bring together a group of journalists for a trip through a destination, allowing them to gain some familiarity with the subject of their stories. For a long time, that worked – the journalists could feel like they had some context to draw on, and the destination could save time and resources by offering group tours.
In the age of storytelling, that's changed.
Now, if you were to try to fill the same press bus, you might end up with a few social media influencers, a few traditional journalists and a few that fall somewhere in between, all of which have different priorities, interests, audiences, and deadlines.
A freelance journalist may be working on multiple stories for multiple audiences on the trip, and would be better served sitting out some of the less relevant stops. An influencer might be focused on finding the most Instagrammable spots in town, or locales that appeal to their niche audience, making some of the stops on the trip vital and others effectively useless.
The first gallery shows what an influencer might do in Toronto, while the second shows an arts & culture writer's perspective. Would trying to show them around town together really make sense?
Journalists also want to tell original stories. If five journalists all have the same itinerary, they might all effectively write the same story, which doesn't help anyone. As the destination, you want as many angles and perspectives as you can get in your coverage, and for the journalist, chance encounters and lived experiences are what make their stories feel authentic.
Since there's now some latitude in the definition of "journalist", and because each journalist has drastically different needs and interests, FAM trips (short for "familiarization trips, as they're commonly known) need to be tailored to the individual. The journalist will know their audience best, and as host, it's your job to put them in position to tell a compelling story.
4 | When it comes to pitches, show, don't tell
Now that we have a sense of what a journalist is looking for in a pitch, let's look at some best practices for creating a pitch.
The best stories are often the ones that have yet to be told, but how do you prove the validity of a trend or theme that hasn't been reported on yet? Journalists need to feel confident that the story being pitched is authentic before committing to writing it, and hearing something described in an email from a PR professional might not always pass the smell test.
Instead, journalists and editors at the conference talked about the importance of using visuals to validate pitches.
It makes a lot of sense. If you were a journalist, which of these pitches would you find more compelling?
Pitch #1
Hi Alex,
We loved your piece on Switzerland's installation art scene in Area Codes & Aerosols. We're in the process of planning a massive celebration of indigenous art and iconography in BC, and we'd love to have you write the lead article for it.
Pitch #2
Hi Alex,
We loved your piece on Switzerland's installation art scene in Area Codes & Aerosols. We're in the process of planning a massive celebration of indigenous art and iconography in BC, and we'd love to have you write the lead article for it.
Here's a quick taste!

It's a simple addition, but it adds an entirely different dimension to the pitch. Including a few visuals to offer social proof might be the difference between your pitch getting read and getting sent to the trash folder.
5 | Visuals strengthen a pitch, links don't
Visuals have to be seen to be effective. Industry veterans stressed the importance of eliminating as many steps between the pitch email and the visual content as possible. Most journalists won't click through links or online storage folders, and each layer between them and the visuals reduces the pitch's success rate. Visuals can be vital for a pitch, especially in travel and tourism, but they have to be seen to be able to work their magic.
In fact, in one of the roundtables at the conference, one of our customers shared how they build personalized CrowdRiff galleries (like the ones used in this post

) to bring the credibility and authenticity of user-generated content to their pitches, all in the body of the email. No clicking, no downloading, just better pitches.
Visual storytelling is central to any destination
The 2018 PRSA Travel and Tourism conference showed that across an organization, strong visuals and strong storytelling make destinations successful. Whether it's in a quick Instagram post from your social team or an article in Fodor's, providing a new wrinkle or a fresh perspective on your destination helps turn potential visitors into repeat visitors.
The header image was taken by Robson Hatsukami Morgan and found on Unsplash