5 Ways CrowdRiff Helps Attractions Get More Visitors with Visuals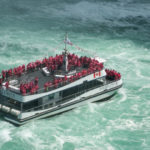 Visuals can inspire new guests to visit your attraction – especially if you showcase a mix of user-generated content (UGC) and branded visuals.
However, one of the biggest challenges attractions face is finding the right UGC visuals to showcase the diverse experiences they offer.
That's why top attractions use CrowdRiff. Our visual marketing platform helps amusement parks, aquariums, zoos, cruises and other attractions find, curate, and showcase visual UGC (as well as branded imagery!).
So, let's take a look at how it CrowdRiff helps attractions leverage visual content to bring in more visitors.
1 | Amplifying word of mouth sharing from happy guests
Your guests love taking photos to capture and remember their experiences at your attraction. They also love to share those memories with their friends and followers online.
When you interact with their social images and feature them on your website, your guests are encouraged to continue posting photos with your branded hashtag.
CrowdRiff allows attractions to curate those visuals and transform them into beautiful website galleries. For example, Conner Prairie, a self-styled "interactive history park", invites guests of the 1859 Balloon Voyage to share their photos too by using the hashtag #discoverCP.
They feature similar UGC website galleries for each activity they offer!
After seeing their own faces or photos on your website or social hub, your guests will be excited to share the link with their friends and tell even more people about their experience.
2 | Keeping your website up to date with the full range of experiences you offer
UGC has a very different feel than branded images – and your customers can recognize the difference in an instant.
Authentic UGC packs more punch than a branded photo because the viewer knows it's not professionally staged. Rather, it's an authentic expression of what guests experience at your attraction.
The problem? It can be hard to commission the variety of photos you need to depict the diversity of guests you host and the experiences you offer.
Luckily, CrowdRiff gives attractions the ability to access the huge range of photos and videos people are sharing on social media.
Attractions use these visuals to create galleries on their website, where they can feature 5, 10, 20, or more photos at a time. Using CrowdRiff to surface these images allows you to provide your audience with a comprehensive look at the many experiences you offer as well as visually demonstrate the variety in guests' ages, races, and even group sizes and experiences.
3 | Participating in social conversations on exhibits or initiatives
The more things your attraction has to offer, the harder it can be to keep tabs on what people are saying about you.
Since our platform shows you all the social photos and videos being shared about your brand online, you get a real-time glimpse into what people are talking about every time you open CrowdRiff.
This means you can find insights into what guests love most about your attraction. Which exhibits are they interacting with? What do guests seem to like taking photos of the most?
"One of the things that CrowdRiff has enabled us to do is really simply gather and collect, organize and share the content that is being shared through social media. And really reign in the conversations and participate in those dialogues very directly."
— Cheryl Fraser, Web Manager, Royal Ontario Museum
See how the Royal Ontario Museum uses CrowdRiff to connect with their community through visuals.
4 | Getting rights to social media images to use for marketing purposes
User-generated visuals can easily become another source of marketing imagery for your team, just as stock and professional imagery are. With CrowdRiff, you can get rights to high-quality UGC, securely and hassle-free.
Within the first week of joining CrowdRiff, Hornblower Niagara Cruises, a Niagara Falls boat tour attraction, had already received rights to over 2,000 images of happy guests from social media. In the few months they have been using CrowdRiff, they've grown their library of usable, rights-approved visuals to over 10 thousand — an astounding size.
Once you get rights to a social image, you can use them just as you would a professional photo, because CrowdRiff retrieves the original high-resolution version in the platform.
Whether you're looking for new images for your website or creating a new poster or brochure for your attraction, using this kind of authentic imagery resonates more strongly with visitors. In fact, CrowdRiff customers using rights-approved UGC in ads see a 3X higher click-through rate.
5 | Enhancing your property with digital screens of visitor photos
Imagine arriving at a museum, amusement park, or resort and seeing a slideshow of recent guest photos to get you pumped up for your visit — CrowdRiff can make that happen for your visitors.
Blue Mountain Resort uses large physical display screens across the property to showcase visitor photos. These visuals create a great focal point throughout the resort, and also inspire guests to try the new activities captured in other people's experiences too. An added bonus? Visitors are reminded to capture and share their own photos in turn, and are reminded of the resort's official hashtag.
When putting UGC visuals out in the world, it might be important for you to be able to retain some control over what content shows. Blue Mountain uses CrowdRiff to curate the images that play across the resort.
Start Building Your Visual Influence with CrowdRiff
Wouldn't it be great if you could quickly and easily find the perfect image for every social media post, website gallery, and ad campaign?
Well, now you can!
Attractions use CrowdRiff to show audiences the experiences they could be having, through the visuals that resonate the most. Get in touch to find out how we can help you draw new guests to your attraction and inspire more visitors to come back again.