6 New Places to Use Social Photos and Videos in Your Destination Marketing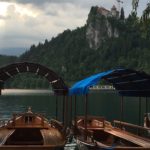 Social media is the perfect spot to showcase visual UGC (user-generated content) , but it's not your only option!
Sure, visual UGC works amazingly well on Instagram and your website, but there are tons of other creative places DMOs can feature social photos and videos – including some you probably haven't considered before.

Think about it: almost anywhere you normally use professional photos, you can use user-generated visuals to inspire travelers to come and visit with an authentic lens, as long as you have the rights to them.
Not quite sure where to start? Here are six places you never thought to – and most definitely should – use UGC.
1 | Digital ads
People are bombarded with ads all day long. We're less receptive to traditional ads, which has created a new challenge for brands that want to make a lasting impression.
Here's where visual UGC comes into the picture. It offers a fresh, relatable perspective that resonates with your customers. Maybe that's why 70% of customers trust UGC more than traditional marketing content and Facebook ads with UGC visuals have a 300% higher click-through rate.
Visual UGC can help bridge the gap and allow brands to establish a strong connection with their audience. The goal here isn't for promotional content to stand out – it's to blend in with content shared by other travelers.
Visit Indy created a series of ads that were comprised completely of UGC, in an effort to make their ads feel more authentic.
"Visitors want to see other visitors interacting in the space, so 2018 is the first year that in our social ad buy, we decided and pledged that we're only going to use UGC images within the ad buy." says Christine Zetzl, the Digital Marketing Manager at Visit Indy.
Their use of UGC in their ads helped increase their click-through rate by 3x on Facebook ads.
This kind of user-generated content can give you the same look and feel as a friend's post — unintrusive and real.
2 | Digital displays
Another clever way for travel organizations to capitalize on visual UGC is by including it in digital displays.
Not only do customers respond better to authentic content than purely promotional content, it helps them picture themselves in different scenarios. So using UGC to suggest activities or local restaurants is a resourceful way to feed your audience's imagination.
This applies to both current and future visitors. Visitors who are already at your destination can get inspired by experiences others are having, through social photos and video, that encourages them to make the most of their trip.
For example, Blue Mountain Resort in Ontario squeezes more value out of their visitors' photos by featuring them in multiple on-site digital slideshows. On screens throughout Blue Mountain, they display this randomized gallery of curated photos to excite visitors right at the start of their visit.
Digital displays with UGC also provide in-the-moment reminders that customers should capture and share their experiences on social media.
3 | Visitor guides
When people flip through visitor guides, they want to see experiences that they can identify with. You can capture those authentic experience with visual UGC. And as a sweet bonus, that also means you can stretch your photography budget.
Here are a few fun ways to include more social photos in your visitor guides:
Add a section called "Where Locals Hang Out" that offers an insider perspective and photos of local hotspots.

Create a page called "The Social Media Bucket List for [Your Destination]" to highlight the most popular sites, attractions, and activities that visitors post about on Instagram.

Go all in with a "fully social" visitor guide. This is exactly what West Virginia did and

the result

is incredible: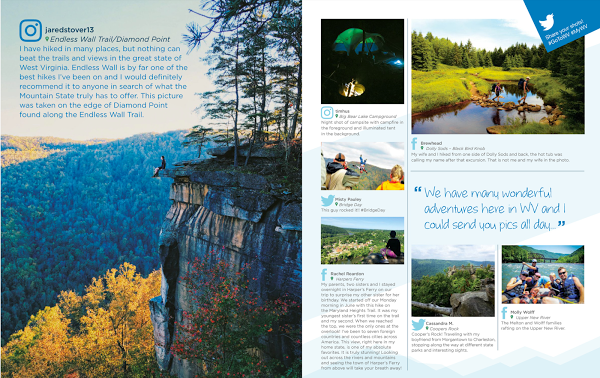 Need some guidance? Read this step by step guide on how to create a visitor's guide with user-generated content!
4 | Responding to media outreach
It's a great feeling when journalists and bloggers reach out for information so they can write about your destination. What's not so great is when they need very specific photos for their articles and you don't have any that match.
Or do you?
Once you add visual UGC to the mix, your pool of high-quality photos grows significantly. The more variety in your visual content, the higher your chances of finding an exact match for the journalist's request.
Submitting UGC to media outlets also gives your visitors more widespread recognition for their awesome visuals. Plus, customers are more likely to share articles and blog posts starring their photos.
Did you know? CrowdRiff's share portal is perfect for media outreach. DMOs can easily and securely send any number of social and owned photos to media. Visuals from social media are available as a web embed.
5 | Videos
You already give your customers a voice on your website and social media through crowd-sourced images, so why not video?
Video is already dominating the web and continuing to gain traction. In fact, video is expected to make up 80% of internet traffic by 2021.
Showcasing travel videos is a dynamic way to let your customers share trip experiences. You can even compile multiple clips and pictures together for a more powerful impact than photos alone.
Check out Destination Canada's amazing video, Found in Canada, to see how visual UGC can come together to bring a destination to life.
This video went viral to get 1.28 million views (and counting) on YouTube!
6| Trip Planners
Travelers turn to social media to research trips all the time. It's easy to see why – social media offers an unfiltered view of a destination through the lens of another traveler.
Destination BC took advantage of this by incorporating Instagram directly into their visual trip planner. The BC Explorer allows travelers to scroll through authentic photos that encourage them to visualize their own trip.
Each photo includes the call to action "Get the Details" and links to more relevant information about local businesses, popular attractions, and visitor guides.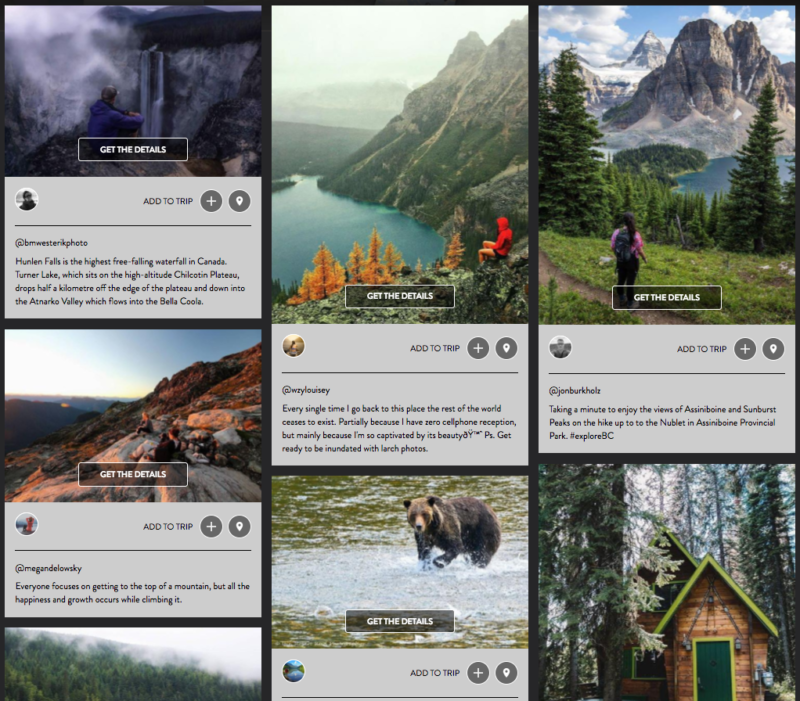 Whenever viewers find an image that inspires them, they can save it directly to their trip plan with the click of a button.
Find out more about the BC Explorer to see what you can learn from its success.
Use visual UGC to breathe new life into every corner of your marketing
Travelers love relatable visual content that helps them imagine their own dream vacation. Whether an image inspires someone to learn more about a destination or book the next flight out of town, UGC provides a realness that DMOs need if they want to connect with their next visitors.
Over 500 DMOs and tourism brands use CrowdRiff to find high-res social photos and video to use in their marketing.




Header image credit: @stephfusea