9 Standout Examples of UGC Marketing Campaigns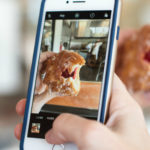 Whose opinion do you trust more when it comes to trying something new: your friends', or a brand's?
Most of us would instantly choose the former. Chances are if you see a great photo one of your friends took of that cool new café around the corner, you'd go there much more quickly than if the photo popped up as an Instagram ad.
That's why user-generated content (UGC) is so effective. By sharing real content that your fans have created, you're giving potential customers a sneak peek into the authentic way people feel about you, rather than just giving your brand's perspective.
…but now that you're all revved up and ready to go create an amazing UGC campaign of your own, you might be wondering where to start.
So, we've compiled a list of 9 creative UGC marketing campaigns to give you ample inspiration, and help you start reaping the benefits of UGC. Let's dive in!
1 | Explore Georgia, #ExploreGeorgiaPup

Last autumn, Explore Georgia decided to reach out to an underserved demographic in the destination marketing market: millennial pet owners. By creating the #ExploreGeorgiaPup campaign, they featured photos of dogs from locals and visitors on social media, and encouraged people to share their own pup photos. They even sourced travel tips to create pet-friendly travel guides for various locations!

Focusing on man's best friend paid off. Throughout this campaign, they saw over 3,000 uses of the hashtag in under a year, which led over 14,000 visitors to their website. They also reached over 10,000 followers on their pet-friendly travel Pinterest board.
Why this UGC marketing campaign stands out
Who doesn't love a good dog photo? Instagram is full of accounts of adorable pets (chances are you follow some yourself). #ExploreGeorgiaPup was successful because it connected:
A popular trending topic

The right social network

The interests of their target market
So, by sharing photos of their state's furriest friends, Explore Georgia was guaranteed to generate lots of love.
2 | #TheUPSStoreCustomer
Although you might not think a B2B brand that focuses on shipping would have a particularly strong Instagram game, you'd be surprised. Using the hashtag #TheUPSStoreCustomer, The UPS Store shares photos taken by their customers to give behind-the-scenes examples of just how they're helping small businesses every day.
Why this UGC marketing campaign stands out
This campaign showed that, even if you're not a traditionally "sexy" brand, it's still possible to showcase your customers' experience in a visual, relatable way. By a) spotlighting customers and b) using visuals, they're able to tell their brand story in a way that feels authentic and charming.
3 | Starbucks' #WhiteCupContest

It's hardly possible to write a post about creative UGC campaigns without mentioning this giant. Starbucks uses a lot of user-generated content in their marketing, but the most noteworthy campaign is probably their White Cup Contest. In 2014, the coffee chain asked customers to draw on their white cups and create a new design that would then be turned into a limited-edition tumbler — generating almost 4,000 entries in three weeks.
Why this UGC marketing campaign stands out
By crowdsourcing their new design, it made the worldwide coffee giant feel more down to earth and brought fans closer to them. And of course, excited Starbucks customers couldn't wait to get their hands on the new cups, and snap photos of it to social media.
Plus, many UGC campaigns remain solely online. By turning the winning design into a cup that could actually be purchased in-store, Starbucks pushed the limits of UGC and showed that it can exist beyond social media promotions.
4 | Ripley's Believe It Or Not #RipleysGo Contest

Remember when Pokémon Go was a big deal? The craze was in full swing last July, leading Ripley's Believe It Or Not (a popular attraction featuring collections of oddities) to create a UGC campaign centered around the app. They asked visitors to take photos using the virtual reality portion of the app whenever they saw a Pokemon and post them to social media with the hashtag #RipleysGo. Participating gave visitors the chance to win $100 randomly, and whoever found the rarest Pokémon at the end of the content would win $5,000.
Why this UGC marketing campaign stands out
Rather than getting frustrated by the number of visitors pulling out their phones while checking out their attractions, Ripley's turned it into an opportunity. They generated photos of their attraction while also inspiring visitors to continue exploring and walking around their attractions for as long as possible.
It also showed how well they knew their audience. By focusing on Pokemon Go, which was largely played by teens and young adults, they focused on the same market who'd be both visiting their attractions and likely to post about it on social media–leaving Ripley's with lots of publicity, social shares, and foot traffic.
5 | Destination Canada's Found in Canada Video
Last year, Destination Canada (the organization in charge of promoting tourism in Canada) launched a huge video campaign to target the U.S. travel market. But instead of going out and capturing their own footage of their vast country, they tapped into the user-generated content that already existed on social media.
Within a period of 2 weeks, they'd acquired rights to over 2,500 photos and videos from social media, and turned them into a series of short, fun, and exciting videos. Best of all: these videos went viral, reaching over 3 million views within a week.
Why this UGC marketing campaign stands out
Destination Canada stretched user-generated content beyond its original medium — they took social media content off of social media, stitched it together, and transformed it into outstanding videos.
What's more, these videos were bound to go viral from the get-go. Everyone whose photo or video was featured in this video can't help but feel a sense of ownership over the final product — and are excited to share it with their networks, meaning that it's getting distributed again and again.
6 | Marc Jacobs' #CastMeMarc
We're casting the face of Marc by Marc FW14 via social! Tag your best modeling look w/ #CastMeMarc to enter! pic.twitter.com/fDPDLP7l0C

— Marc Jacobs (@marcjacobs) April 3, 2014
It might seem strange to associate this high-end fashion giant with user-generated content, but in 2014, this brand jumped into UGC with both feet. The designer announced that he wanted to cast "real people" in his next campaign, and asked fans to post selfies with the hashtag #CastMeMarc for a chance to be their next model… and after just 24 hours, they'd already generated over 15,000 uses of the hashtag, and a whole lot of social chatter around their brand!
Why this UGC marketing campaign stands out
Although you might not have quite as many followers as Marc Jacobs, you can still generate lots of interest by giving your audience access to something exclusive. In this case, the brand recognized that their followers were already taking tons of selfies and would jump at the chance to share one with Marc Jacobs. This was a great PR move and gave Marc Jacobs a great boost in awareness.
7 | Mint's #MyMintMoment

UGC doesn't just have to be about big occasions. Mint, a personal finance app, asked users to share the "moments where their life and finances align" and celebrate them through photos tagged with #MyMintMoment, for a chance to win $1,000. The contest allowed users to showcase and celebrate occurrences as large as a university graduation and as small as the purchase of a new dress, all while relating it back to the satisfaction they feel when correctly managing finances with Mint.
Why this UGC marketing campaign stands out
By looking at the small purchases that their customers were able to celebrate, Mint gave an authentic glimpse into the benefit of budgeting — and by extension the value of their product. Highlighting the real wins their customers had (large or small), showed potential customers how they could benefit from using Mint, in a tangible way.
8 | Warby Parker's #WarbyHomeTryOn
We're happy to help—feel free to share your photos using #warbyhometryon and we'll vote on our favorite!

— Warby Parker Help (@WarbyParkerHelp) October 5, 2017
One of the biggest problems with online shopping is not knowing how the product will look in real life. Warby Parker, an online glasses retailer, gets around this problem with their #WarbyHomeTryOn program. Here's how it works:
Customers select 5 pairs of glasses

They receive them through the mail (including free shipping!)

They try them on, and snap pictures…

And get their friends to vote on social media which pair suits them best!
By asking their customers to share photos of themselves wearing their glasses, they're able to generate tons of real-time publicity as well as showcasing the ability to try on and return them.

Why this UGC marketing campaign stands out
Using user-generated content is a great way to break down objections that potential customers might have to purchasing your product. By showing real users trying on their glasses, Warby Parker creates a culture of transparency as well as educates their audience about their home try-on program. If you're also in a business that customers need to see to believe, get them to share their experiences to show exactly how it works in real life.
9 | "Finding Awesome" with Nelson & Kootenay Lakes Tourism

The destination marketing organization was finding it difficult to attract the very specific type of visitor they catered to through traditional marketing techniques. By powering a new microsite entitled #FindingAwesome with ample visual UGC, they were able to demonstrate just how locals and visitors (existing members of their target demographic) "found awesome" in the region every day.
To encourage participation, the region ran two social media contests, which each garnered over 1500 entries, and shared the top entries on their blog.
Why this UGC marketing campaign stands out
Sometimes looking at what your customers are interested in, rather than just their demographics, is key to developing a great campaign. In targeting UGC by persona, Nelson & Kootenay was able to attract the specific customer who would be most interested in what they had to offer. To do the same, it's crucial to create a campaign or a hashtag that speaks to them, rather than making it generic or product-based.
Creating a UGC marketing campaign that works for you
Ultimately, it's important to remember that the focus in UGC marketing campaigns should always be the people posting it. The most successful campaigns aren't aimed at pushing a product, but instead about letting the authentic love people have for your brand shine through and inspire other potential customers too.
Your fans are already creating everything you need… now it's time to go out there and find it!