Beyond the Website: Key Channels for Tourism Marketers in 2019
Websites are well-known to be the average tourism marketer's single most important piece of digital content. While it remains the primary endpoint for most customer interactions, it's no longer the only venue where marketers can provide information, market their destination or attraction and convert sales.
Instead, you need to meet audiences where they are. Here are five digital spaces that we are keeping on our radar as key channels for tourism marketers in 2019:
1| Google Maps
Google has been reclaiming more and more of the real estate on search result pages, adding a slew of new features that attempt to answer queries in more dynamic ways.
One of particular importance to tourism marketers is Google Maps. An increasing number of searches now start inside Google Maps, especially when visitors and locals are looking for things to do that are nearby. A search inside Maps retrieves more than just directions – it also adds pictures, hours of operation, contact information, reviews and more.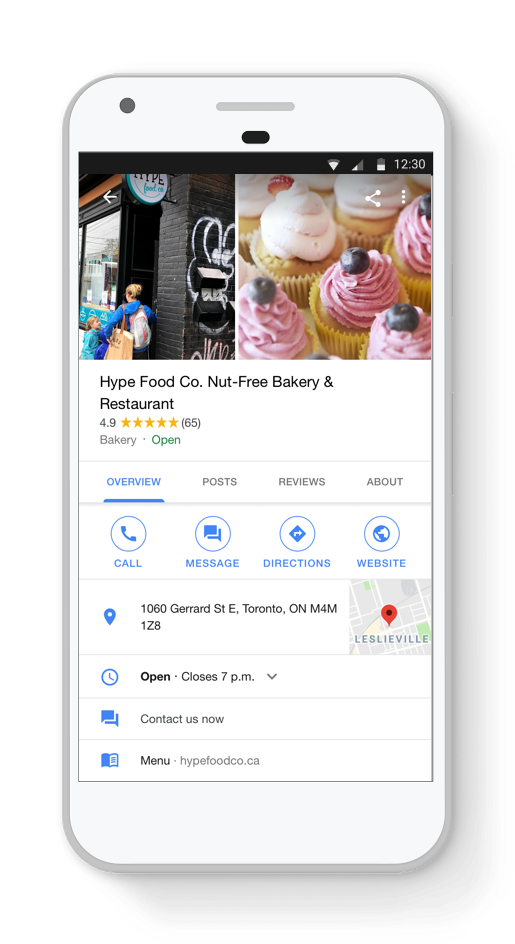 The feature is called Your Business Profile, and marketers can edit pages for free using the Google My Business application, adding photos and descriptions for their brand. Marketers should absolutely take the necessary time to claim their profile in order to have a say in what users see when they conduct relevant searches.
2| Instagram Stories
Snapchat may have been the first platform to popularize the Stories format, but this past year the big story (excuse the pun) was Instagram's similar feature, which surpassed Snapchat's popularity. In fact, user-ship grew from 100 million in of 2016 to over 400 million daily active users in 2018, making it the fastest growing product on the Facebook/Instagram platform.
This new format structure not only requires more vertically framed, less produced and more in-the-moment content, it also allows marketers to tell a story over multiple still images or 15-second snippets. I can't overstate the importance of creating original, native-looking content for these stories, rather than reformatting existing images and videos.
With content disappearing after 24-hours, however, marketers that want to invest in stories need to consider how to best extend its lifespan. One way is to find somewhere for it to live after it's expired on Instagram, such as website pages or YouTube channels. Another option is to save it to your Instagram profile so it continues to be available as a "highlight", like the team at Visit Stockton does so well.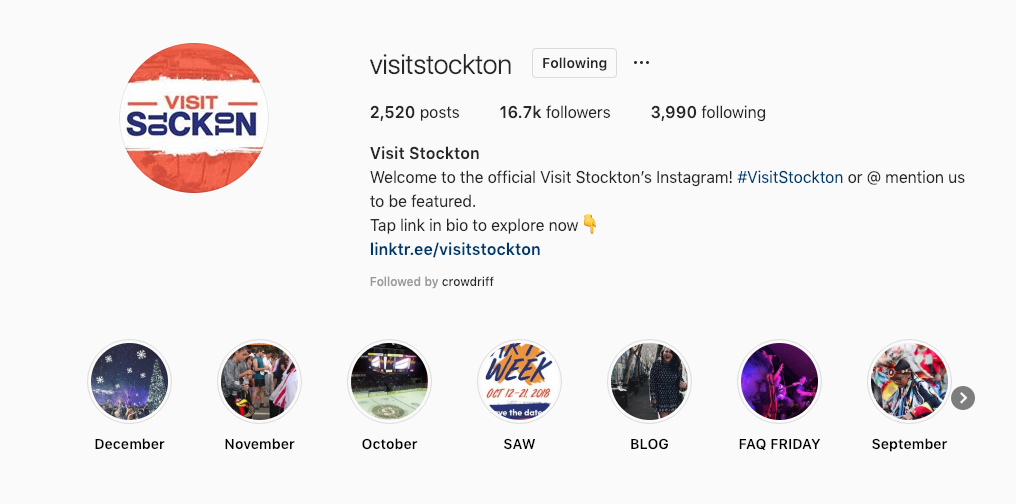 Some brands, however, have found ways to incorporate Instagram stories into wider marketing campaigns. Visit Savannah, for example, used the polling feature to collect feedback from users and build an audience-directed tourism video that continues to live on its website and YouTube channel today.
3| Paid Social, SEM and Display
A number of trends over the past year have unfortunately decreased the value and prominence of organic traffic on social media platforms. That doesn't mean that your organic campaigns aren't worth the time, money and effort, but marketers should expect their traffic to come from more paid sources in 2019 than the previous year. The change is in part due to a change in Facebook's API last January that is intended to prioritize content from friends and family over brands in news feeds.
Jeff Robinson, Director of Marketing at Visit Indy, recently gave a presentation at the DTTT Global Summit in Helsinki where he shared that their DMO has seen a downward shift in organic traffic over the years and as a result, their digital budget has evolved to spend more on paid display, paid social and SEM.
Don't get me wrong, organic content still has the same value, but brands should anticipate using more of their digital marketing budget on getting that content in front of audiences in 2019.
4| Facebook Live
While video continues to explode in popularity as a content medium, one type of video format – live video – is a perfect fit for tourism brands.
Facebook Live broadcasts have grown 100% YOY since they launched in 2016. Their format naturally lends itself to viewer engagement, and as a result, have 6 times the interaction of other video formats.
The beauty of Facebook Live is that it doesn't require a large investment in production. Smaller tourism brands like Visit Hendricks County and Visit Franklin are shooting Facebook Live segments with a simple iPhone setup, interviewing their local business partners from new hotels to craft studios.
5| Content Syndication
We've seen an increasing number of destination marketers forming successful partnerships with publishers, and only expect that trend to increase moving forward as native advertising grows. Napa Valley, for example, recently partnered with Afar Magazine on its "Makers of Napa Valley" content series. The campaign ultimately doubled all of its original KPIs, achieving more than 13.6 million overall impressions.
Publishers are investing in their own content studios to provide a turnkey solution for both content creation and distribution. And organizations like Beautiful Destinations and Matador Network have successfully leveraged social media to build new networks that are a perfect fit for tourism brands.
Rather than only relying on public relations efforts to generate organic media opportunities, we expect to see more brands investing in these paid partnerships in the coming year.
Keep Your Eye on These Growing Channels for Tourism Marketers
While websites remain the digital marketer's most valuable platform, they are no longer the only place where audiences go for information. In the coming year, make sure you're prepared to meet your audience wherever they are. We'll continue to cover these channels as well as new ones on the horizon.
If your website is still a key focus for 2019, read our eBook on keeping tourism websites relevant. It dives into what tourism brands can do to create engaging web experiences that'll be the go-to resource for any visitor.