Crop, Edit and Style Your Visuals on the Spot with CrowdRiff's Creative Editor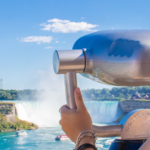 These days, a photo has to work overtime if it's going to cut it in destination marketing.
It might have to fit a 1200×628 px Facebook ad today and a 1080×1920 px Instagram Story tomorrow.
You might want to add text to it for a Twitter card but leave it au naturel on your landing page.
It might need to have the colors brightened to match the bubbly mood you're going for in your blog post.
To get full value out of your imagery, you need to be able to make these kinds of basic design adjustments on the go.
You might use a design app to make edits today, but think of how many steps it takes.
You need to…
Download the photo from your library…
Sign in to your design app…
Upload the photo…
Edit it…
Download it again…
Upload it to a CMS, social channel or marketing tool
Six steps and two separate downloads just to add a title? That's a bloated process to complete a simple task, and that time and effort adds up quickly when you're using visuals everyday.
That's why we brought editing capabilities into CrowdRiff. Now, you can prep photos for any channel without leaving your library, keeping all your campaign visuals together.
Here are four ways you can use Creative Editor to save time and deliver more effective visuals.
1 | Crop 'til you drop
With Creative Editor, you can resize your photos for any channel. It has presets for all the common crops for Facebook and Instagram, like ads, Stories, carousels and profile pics. You can also do custom resizing, so non-standard blog headers and email templates are no issue.
Importantly, Creative Editor offers non-destructive editing, which means that your original photo is never altered. When you edit a photo, we make a copy of it so you'll always have that original source file.
2 | Set your tone with filters and image controls
Small changes to tone and contrast can make all the difference.
If you're putting together a dramatic editorial piece, a black-and-white motif might amplify the effect.
If you want your imagery to blend into your landing page to make the copy pop, you might apply a color wash that fits the page's color palette.
If you have photos from different photographers that have slightly different exposures or brightnesses, balancing them out will make your content look more polished.

Whether you're amping up the color saturation for a fun feel or going black-and-white for a sophisticated tone, Creative Editor gives you editorial control
With preset filters as well as more granular controls, Creative Editor allows anyone on your team to make a set of photos more cohesive without having to make a request to your design department.
3 | Make campaign-ready ad creative

Ad creative isn't really something you can just set and forget. You test different taglines and tweak the CTAs, see how it performs and make adjustments. You need to be able to whip up new versions of your ads in a jiffy.
Creative Editor allows you to make multiple versions of your ads on the spot so you can get campaigns launched and optimized faster, leading to more clicks.
4 | Have your creative portfolio with you anywhere on the web
An added benefit of using Creative Editor is that anything you make will always be at your fingertips, wherever you are on the web, thanks to CrowdRiff Sidekick, our one-stop Chrome extension for your marketing visuals. With the ability to drag and drop your visuals anywhere you're working, getting your new creative where it needs to go is simple and painless. It's like having an integration with all your marketing tools.