CrowdRiff Joins Instagram Partner Program

Today CrowdRiff, an AI-powered visual content marketing platform purpose-built for travel and tourism brands, announced it has been accepted into the Instagram Partner Program as a Creative Platform.
As a member of this program, CrowdRiff is able to connect with Instagram's extensive network of marketers, providing the company with access to thousands of potential clients and providing its current customers with more robust Instagram marketing solutions. CrowdRiff is one of the first travel-focused Creative Platform Partners to join the program.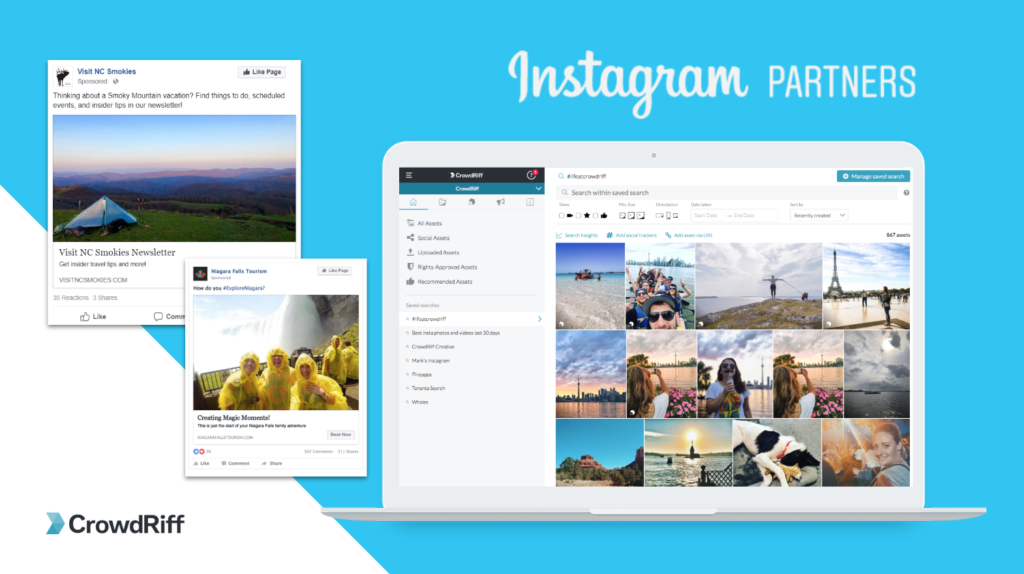 "We're thrilled to be accepted into the Instagram Partner Program and are excited to extend CrowdRiff's reach to so many additional marketers," said Dan Holowack, CEO and Co-founder of CrowdRiff.
"Becoming an Instagram Partner is a rigorous but worthwhile process, and shows our commitment to developing marketing solutions that allow our customers to more effectively reach and influence their target audiences through great visuals. With the help of Instagram, we're confident this program will take our customers' ad campaigns to the next level."
The benefits of the Instagram Partner Program include access to additional support, resources and experts within Facebook and Instagram, as well as early access to features and functionality CrowdRiff can bring to market for customers.
Over the past three months, CrowdRiff has released several new features to further support Facebook and Instagram ad solutions. These include Creative Editor, an online photo editing software that enables customers to crop and style photos from directly within the CrowdRiff platform; Smart Curation, enhanced search functionality that uses artificial intelligence and industry insights to identify the most compelling content for each customer's unique brand; and a "View Similar" tool designed to reduce ad fatigue by allowing customers to easily source varied but thematically consistent visual content for ad campaigns.
About CrowdRiff
CrowdRiff is an AI-powered visual content marketing platform purpose-built for travel and tourism brands. The platform combines content discovery, digital asset management, and content delivery tools that enable marketers to source and share top-performing visuals with their respective audiences, at scale.
To date, CrowdRiff has processed over 500 million images, and the company currently works with over 600 leading travel and tourism brands globally. CrowdRiff customers include Destination BC, Colorado Tourism Office, CityPASS and Netherlands Board of Tourism and Conventions.
For additional information and media interviews, contact:
Erica Salvalaggio
Eighty-Eight
Account Executive
erica@eightyeightagency.com
+1 (416) 944-2722