CrowdRiff's Perks vs. Benefits: Why We Value Family Before Foosball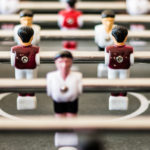 Today's startup office has become synonymous with things such as catered lunches, nap rooms, and foosball tables.
However, at CrowdRiff, we don't have any of those things.
Being a startup founder, there is a very real pressure to offer similarly flashy perks to your own team, to keep them happy but also to stay competitive in the talent pool.
When my cofounder Abhinav and I were thinking of what perks and benefits we wanted to offer our team, we started by listening — listening to people from other startups, from large companies, and to friends — to hear their stories and their experiences.
Ultimately at CrowdRiff, our benefits prioritize people and personal growth, over flashier, temporary perks like foosball or free lunch.
I recently contributed a piece to the Globe and Mail's Leadership Labs series which goes deeper into our journey figuring out the "benefits" formula, as well as what we've decided offer at CrowdRiff.
The new millennial workplace: Less foosball, more family #startup @Startup_Canada @dHolowack @CrowdRiff https://t.co/KN0G8N4fuu pic.twitter.com/7oM3V818Nw

— Globe Careers (@Globe_Careers) January 17, 2018
You can read it here: The New Millennial Workplace: Less Foosball, More Family
Let me know what you think by Tweeting @CrowdRiff! Also, if you like how we do things here, we're hiring and always looking for great talent. You can see our job openings here.