Cultural Diversity In Museums: 5 Tactics for Inclusive Marketing
After moving our family from India to Newfoundland, my parents maintained a strong commitment to exposing their children to cultural activities. As a result, I spent a lot of time during my formative years visiting museums, galleries and other cultural institutions, whether in our own backyard or halfway around the world.
Whether in marketing content, in the names and faces behind the works themselves, in the institution's own employees or amongst its visitor population, I eventually tuned into the fact that nobody looked like me.
Gradually, I began asking myself whether or not I even belonged in these spaces, despite my strong interest in exploring them.
A Growing Problem
I'm not the only one who feels this way. There's no shortage of data showing the significant number of people—especially young people—who feel a disconnect with their local cultural institutions:
A 2017 study by Colleen Dilenschneider found that 26% of college-educated ethnically diverse people believe cultural organizations are "not welcoming for people like me."
A recent follow up study found that roughly 40% of millennials and 35% of the general population felt that history and art museums were "not for people like me."
A 2015 study by The Andrew W. Mellon Foundation of over 30,000 employees across 332 American museums also found that 84% of American curators, educators, conservators, museum directors and leadership staff were white. Despite strong efforts, the numbers have barely budged since.
For museums, art exhibits and other cultural institutions to maintain their relevance, they must expand their reach beyond primarily white, older, affluent audiences, and provide a welcoming environment to all.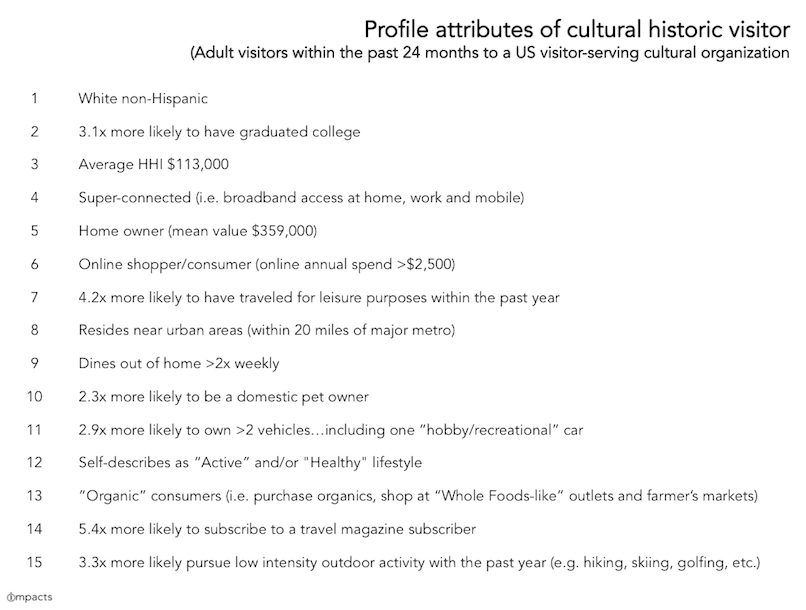 Top attributes of historic visitors, US market (Source: Colleen Dilenschneider)

There are many areas where diversity can improve at museums—from their visitor base to audience engagement and Board diversity—but for the purposes of this article, I will focus on marketing's role.
1| Reflect The Audience You Want to Attract
Museums and exhibits have a longstanding history of showing off empty spaces. The images used in marketing have traditionally focused on the works themselves—often showcasing them displayed in otherwise empty halls and showrooms—but such imagery is less than inviting, especially to visitors who don't necessarily feel welcome or familiar with your institution.
Even when I noticed imagery did include people, those being featured were primarily white, older and affluent. I can barely recall seeing anyone that looked like me in any of the marketing material associated with the places I used to visit.
If cultural institutions want to expand their reach, they can start by re-examining their current visual content strategy. Whether in print ads, social media content, website content or any other imagery associated with the institution, it's important to ensure viewers of all demographics see themselves reflected.
The same is also true of influencer campaigns, which unintentionally send the wrong message when they aren't inclusive of a range of influencer types. In fact, 88% of American marketers agree that more diverse images help a brand's reputation, while 91% believe there's still room for improvement when it comes to showcasing diversity in visual imagery.
2| Remove All Barriers to Entry
There are many reasons why someone might not feel welcome in a cultural institution. In fact, they might not even feel comfortable asking practical questions about the experience.
When I started attending museums and art galleries, I really didn't know what to wear, how to act, what to do and what to say.
People are often confused about many elements of the visitor experience, such as whether they can bring their children, whether the institution is wheelchair accessible, whether they're allowed to talk and have fun in the exhibits, whether food is allowed, etc.
An example of an FAQ section (Source: ROM)
Addressing these concerns both explicitly in writing as well as more subtly through marketing and communications can go a long way in removing potential barriers for visitors, especially for those too shy to ask. The Royal Ontario Museum, for example, has a lengthy FAQ section on its website that addresses everything from "tips for families" to "etiquette" and "museum conduct."
In some communities, ticket prices can become an unintentional barrier, keeping visitorship exclusive to more affluent communities. But others have found innovative ways of reversing that trend. The Brooklyn Museum, for example, offers free evening events on the first Saturday of every month, removing economic barriers that might otherwise prevent some from visiting entirely.
3| Promoting Events to Challenge Existing Perceptions
People often think of art history and other museum collections as stuffy, quiet, and boring. But live events can help combat that misconception.
For example, many contemporary art galleries, museums and exhibits now open their doors for private bookings like weddings and corporate events, and host public parties in the evening.
The Musée D'art Contemporain in Montreal, for example, has become a trendy new destination for millennials thanks to its Les Nocturnes event series. The event includes art workshops, interactive tours and DJ parties. MTL Blog reinforced this notion:
"Exploring museums isn't just an 'older generation' thing, especially with this event. It's a great way to get millennials out and experience some art and culture."
Not only do these events help expose younger and more diverse audiences to the institution, they also provide social media and user-generated content that challenges existing perceptions of what the institution is, and more importantly, who it's for.
4| Incorporate User-Generated Content Into the In-Gallery Experience
For cultural institutions trying to reach those that might not feel comfortable in their spaces, often the most effective way to reach them is in the space itself.
For example, those who don't frequent museums might not be aware of the etiquette concerning pictures and selfies, which marketers know can be vital in spreading organic interest through social media.
One way to get around any hesitation is through signage that encourages photography. Not only will it assure visitors that such behaviour is socially acceptable, but it will also ensure that every visitor sees others that look like them enjoying the space.
A photo wall encouraging visitors how to interact with the T-Rex exhibit at the ROM (Source: CrowdRiff)
Institutions can also bring user-generated content activations into their spaces, which have the dual purpose of enhancing the in-gallery experience and encouraging visitors to interact with the exhibit.
In recent years, we've seen more exhibits include user-generated content, ranging from a single display screen to elaborate setups that use the photos as part of exhibits themselves.
5| Bring the Museum to Us
It may be difficult to communicate a more inclusive message to those who aren't listening, but for those that won't come to the museum, you can always bring the museum to them.
That's @lodoelaura, a 2015 @AIMIAAGOPrize scholarship winner, chatting with @CTVNews at the #artismoving truck. pic.twitter.com/WZSs0KYOqs

— Art Gallery of Ontario (@agotoronto) October 6, 2015
It may sound like a crazy idea, but the Art Gallery of Ontario has done just that. In 2014 the Toronto-based art institution unveiled the AGO Photography Prize Art Truck, which brought award-winning photography to communities that might not otherwise be exposed to it. Such creative solutions remove all potential barriers and go a long way in ensuring everyone feels invited to enjoy the collection.
Whether intentional or not, museums and galleries have long put up barriers that have made people like me feel less than welcome. Changing the perception of who these spaces are for, however, will be key to maintaining relevance and visitorship moving forward.
By demystifying the museum experience and breaking down barriers of all kinds, marketers can help usher in new audiences and further the institution's mission of sharing the beauty and knowledge they hold with the world.