Deliver More Effective Visuals with CrowdRiff's Visual Content Analytics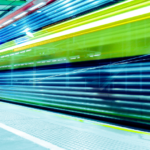 Data is the currency of modern marketing, telling you how people find out about you, what matters to them, and what actions they take on the journey from browsing to booking.
It can reveal hidden obstacles.
It can reveal hidden solutions.
It can turn you from a reactive to a proactive travel brand.
That's why we built our new analytics suite: to arm you with the intel to deliver your most effective visuals.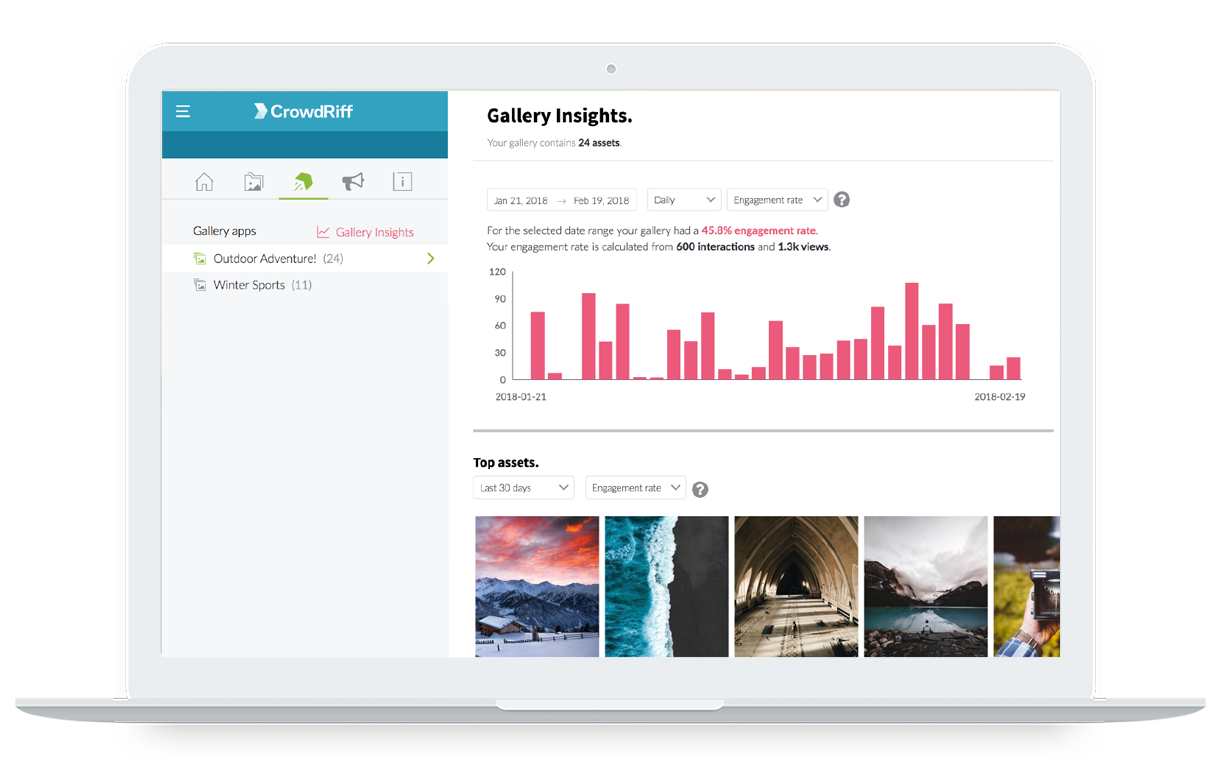 Focused insight for immediate action
You're always looking for ways optimize content.
Which is getting more engagement: my food gallery or my street art gallery?

Would this CTA get more clicks with a different photo?

Which photos are website visitors showing the most interest in?
You have to make these decisions every day, and you don't have hours to spend deliberating each one – you just need answers, now.
CrowdRiff's in-app insights were built with that action-driven attitude: tell me what I need to know so I can make the right decision quickly.
Performance data for every CrowdRiff gallery
CrowdRiff gives you access to performance data for every gallery on your site.
The in-app analytics focuses on three key metrics:
Views: The number of times website visitors have seen your gallery
Interactions: The number of total actions taken in a gallery (adding up CTA clicks, Load More button clicks, etc.)
Engagement rate: The number of actions taken per view
You control the time period and the metric being displayed, and CrowdRiff adjusts the data in real time, giving anyone on your team access to this rich data without having to leave the platform.
We also include performance data for the individual photos and videos featured in the gallery, telling you what's resonating and what isn't so you can fine-tune your visuals.
In a matter of clicks, you can discover engaging content, add it to another gallery to boost engagement, tack on a CTA to capitalize on it, or resize and download it for use in a web ad.
That's how CrowdRiff's in-app analytics puts utility first.
Spot visual content trends
You can also compare galleries and assets from across your site in one central leaderboard.
Having your galleries ranked by performance allows you to spot trends and gain context.
My top three galleries all revolve around local culture – maybe I should make galleries for each neighborhood in my destination
My homepage header gallery isn't getting as many clicks as I thought it would – let me review the content and messaging
My food gallery isn't getting a lot of views, but it's got the top engagement rate on my site – I need to drive more traffic to this page!
CrowdRiff's in-app analytics balances depth and relevance to create an environment where anyone can make better content choices.
Google Analytics integration for strategic insight
While the in-app analytics presents key data in a neat package for easy understanding, our Google Analytics integration provides more granular event tracking for deeper learning.
If the in-app analytics provides a high-definition look at your visuals, the Google Analytics integration is the 4K version.
New to Google Analytics? No problem, just read our Google Analytics for Destination Marketers eBook!
Every action a visitor takes in your galleries is recorded and passed to Google Analytics: every photo they scroll through, every video they click on, every CTA conversion.
Combining that with Google's rich demographic and behavioral data, you can get a nuanced view of your website visitors' experiences, allowing you to gain game-changing insight into your audience.
Is my "Art Crawl" gallery resonating with people in Tokyo like it is with people at home?
How does engagement with my homepage gallery change from mobile to desktop?
What percentage of page visitors that interact with my "Things to Do" gallery are French speakers?
With CrowdRiff's Google Analytics integration, you can answer the key strategic questions that help you deliver tailored experiences, break into new markets, and increase your presence as a travel brand.
Ready to make more data-driven decisions?
No one knows your audience like your audience, so why not use the power of data to get feedback straight from the source?
Get in touch with us, we'd love to give you a personalized tour!
---
The featured image was taken by Mike Wilson and shared on Unsplash.