What You Can Learn from How 4 Destinations Promote Their Biggest Events

The energy and excitement of a big event can be magnetic.
If you think about the music festival Coachella or sporting events like the Super Bowl, there's no mistaking it. People will travel for events they know will give them an unforgettable experience.
But your event doesn't have to be as well-known as the Super Bowl to start drawing in travelers.
If you can manage to generate excitement and conversation around them, your destination's special events can act as an anchor to draw in masses of people to come experience your city.
Let's take a look at how how 4 DMOs are marketing their destination's biggest events, and take inspiration from their creativity.
1 | New Orleans TMC: Mardi Gras
The colorful costumes, flamboyant floats, and soulful sounds of the annual Mardi Gras festival have become synonymous with New Orleans itself – and the New Orleans Tourism Marketing Commission doesn't miss a chance to get visitors excited to celebrate!
From articles to videos, their blog GoNOLA, creates a ton of content, on every imaginable topic related to Mardi Gras, for people to explore, learn about and get excited for the festival. They even put together a Mardi Gras playlist of the music you can expect, to set the mood for potential visitors and give them a taste of the vibe beforehand.
Because there is so much content, it's easy to binge on — in other words, people can easily get lost in video after video, and blog post after blog post — and the variety of topics they cover make it easy to dive right in, no matter what your interests are.
Key Takeaway
:
Create an abundance of content specific to your event! Position yourself as a true insider's guide and give your travelers more resources to learn about the experience that awaits. The more they immerse themselves in content about your event, the more they'll be invested in it.
Need ideas? Take a page out of GoNOLA's book and showcase the stories of the people who make your festival come to life, like in their Making of Mardi Gras video series.
2 | Visit Albuquerque: Hot Air Balloon Fiesta
For 45 years and counting, Albuquerque has drawn people near and far to experience its magical Hot Air Balloon Fiesta.
With hundreds of balloons floating through the October sky and a scenic backdrop of the Sandia Mountains, this fiesta is one of the most photographed events in the world!
So, annually Visit Albuquerque decides to take advantage of this event's photogeniecy, with a huge photo contest.

Visitors who share photos of the Balloon Fiesta can use the #PictureABQ hashtag on social media, for a chance to win a grand prize of a free hot air balloon ride.
Then, Visit Albuquerque curates their favorite photos with that hashtag on a gallery on their website so that anyone can view all the best photos in one place.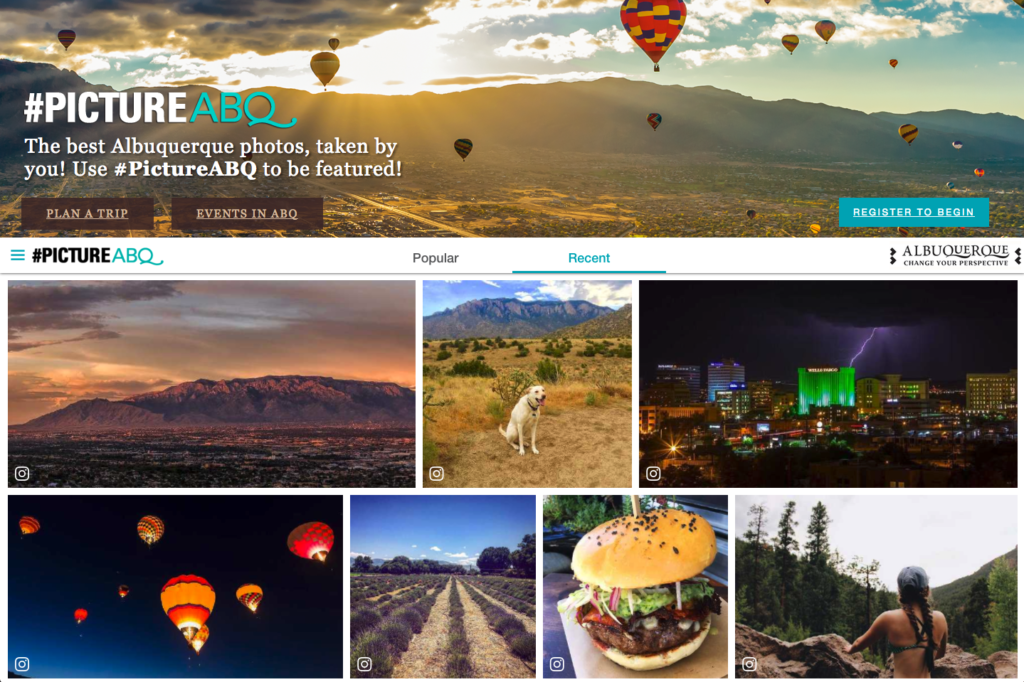 As the "Hot Air Balloon Capital of the World," Visit Albuquerque also makes use of these extraordinary user-generated images all year round on their website, social media, and other marketing channels.
Key Takeaway:
Hosting a social media contest like this provides DMOs with two major benefits: it generates social hype around your event and results in loads of visual user-generated content that you can use year after year to show people authentic images of your event.
If you want more tips from Visit Albuquerque themselves read this! An Actionable Guide to Running a Social Media Contest
3 | Tourism Toronto: Pride Toronto

Pride Toronto is an annual celebration of diversity in the LGBTQ community, and regularly draws over a million people to the city. Throughout June, there are a variety of themed events that happen all over downtown Toronto, from the Dyke March, parties, and the main Pride Parade.
Further than the fact that the festival is great for tourism, it also aligns with Tourism Toronto's brand values of acceptance and diversity.
To convey that message of their event to travelers, Tourism Toronto has created some exceptional video content, looping in powerful stories from real people. Check out this WorldPride 2014 video to see what we mean:
The comments section of this video is full of people saying, "I wish I could go," and, "This made me start tearing up."
Key Takeaway:
By sharing authentic narratives that provide context and put a human face to their events, destinations can nurture more personal, emotional connections with their audience, which give them another meaningful reason to come to your event.
4 | Niagara Falls Tourism: Canada 150
This July marked Canada's 150th birthday, and Niagara Falls is keeping the celebration alive. As home to one of Canada's most iconic landmarks, the region of Niagara Falls has tied their brand strongly to Canadian pride and culture.
So to commemorate this event, Niagara Falls Tourism changed their main website visuals to Canada150 themed photos — all of which are in fact rights approved social media images.
User-generated visuals are powerful because they show what another traveler has experienced in your destination and at this event. It's the voice of a person, and not a brand.
That's also why when visitors land on the Canada 150 page for information on shows and events, they're greeted with a CrowdRiff gallery full of festive social visuals.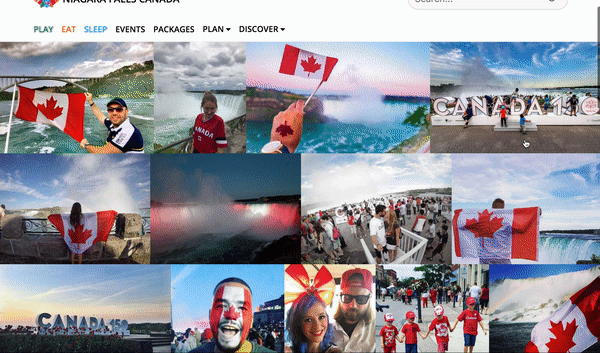 Featuring over 55 photos and videos from happy visitors, the gallery is also tailored with custom CSS to match the Niagara Falls Tourism brand to a tee.
Key Takeaway:
User-generated content is now such high-quality that it doesn't have to only act as a social media image. You can take the influence of your event's user-generated content further, like on your website, as Niagara Falls Tourism has done.
The Main Event is About the People
If there was one key takeaway to summarize the creative marketing of all of the events here today, it'd be this:
The most powerful way to promote your event is through the people who experience it.
So whether you're featuring locals in videos, encouraging photo sharing on social media, or curating the best user-generated images to showcase, the voices of people speak the loudest.
Use that to your advantage when you're promoting your events, and you'll have a great time meeting new visitors during your destination's best celebrations.
Feel like incorporating UGC into your tourism marketing?