What DMOs with Smaller Budgets Can Learn From Yakima Valley Tourism

We hosted a live Q&A with Jared Yoakum of Yakima Valley Tourism, a small but mighty northwest DMO in a region with a rich agritourism industry.
Jared has been a customer of CrowdRiff for a couple of years now and was happy to share his advice for smaller destinations that are marketing on a budget or with limited resources.
What can smaller DMOs and tourism brands learn from Yakima Valley Tourism?
1| Small teams have the ability to be agile and efficient
Smaller DMOs often have tiny marketing teams – but that doesn't mean they can't pull off impressive campaigns with real-world results.
Yakima Valley Tourism's marketing department is 2.5 people. It consists of a part-time social media manager, a graphic designer/web designer, and Jared, the marketing manager.
As a small DMO, it's crucial that each team member spending their time valuably – which means better use of resources, less busy work, and more collaboration.
That's one of the reasons Jared shares an office with his web designer, a fact he is grateful for every day. Anytime they want to test something small or make a little change, they can come together and solve problems quickly and efficiently. They're able to make same-day updates without exchanging dozens of email or waiting on an agency to implement what they want to see.
2| You don't have to be everything to everyone
Yakima Valley is a relatively small destination in the grand scheme of things. There are 90,000 people in the biggest city and 250,000 people in the entire region.
Yet Jared's team has helped make a name for their destination as one of the foremost areas for agritourism.
How did they pull it off?
By identifying their pillars – a robust wine country, farm fresh produce, and craft beer – and building landing pages and microsites around each.
Jared emphasizes the importance of knowing who your audience is and catering to their interests. While it's great to experiment in your marketing, it doesn't pay off if you're forcing the issue.
For example, Yakima Valley has wonderful scenery but doesn't try to compete with the many nearby destinations that offer outdoor adventure tourism. Instead, they focus heavily on agritourism.
Additionally, since the Yakima Valley airport only flies three times a day from Seattle, they don't market on an international level. Instead, they specifically target the drive market coming from Seattle, Idaho, and the Northwest.
The lesson here? Focus on your strengths and build your marketing strategy around them.
3| Create opportunities to showcase the voices of your community
Travel is a very positive experience and most people posting photos on social are doing it to share their experience – whether it's a trip, meal, or event.
One of the reasons Yakima Valley has successfully grown their Instagram following is that they always inform people when they're featuring their photos. They use CrowdRiff to tell everyone exactly where their content is being displayed, whether it's in the wine country gallery or on the homepage.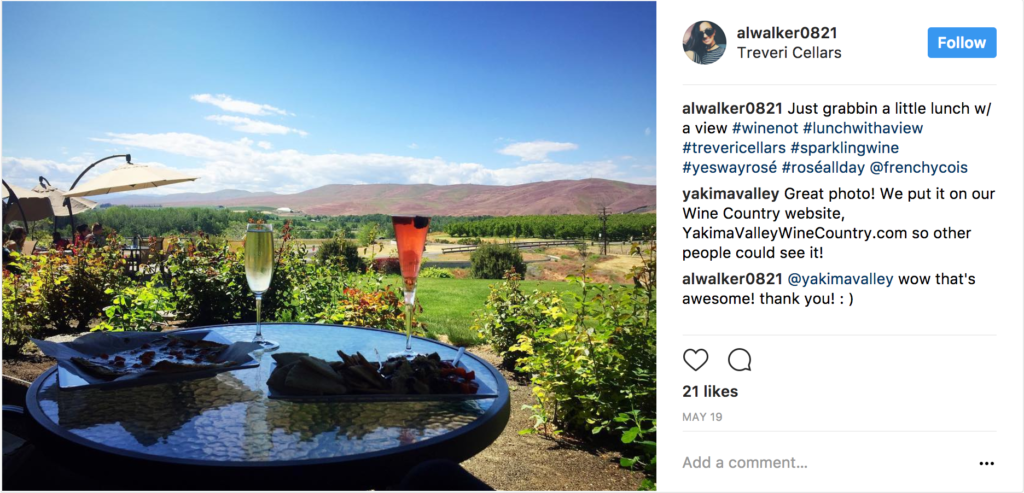 "We're still small potatoes compared to a lot of the big guys, but it's exploded for us. In a year, we went from 1500-1700 likes to over 5000 now."
"People are very excited that they're acknowledged," says Jared. "We've seen screenshots of our website on Instagram because people are excited [to see] their photo on there."
4| Even small destinations have volumes of quality user-generated content
Yakima Valley Tourism used to spend tons of money on professional photo shoots that didn't paint an authentic picture of their destination.
Though they still commission photographers for print ads, every page on their website now hosts its own UGC gallery. Jared spends less than ten minutes a day quickly and easily adding awesome new photos to the appropriate galleries.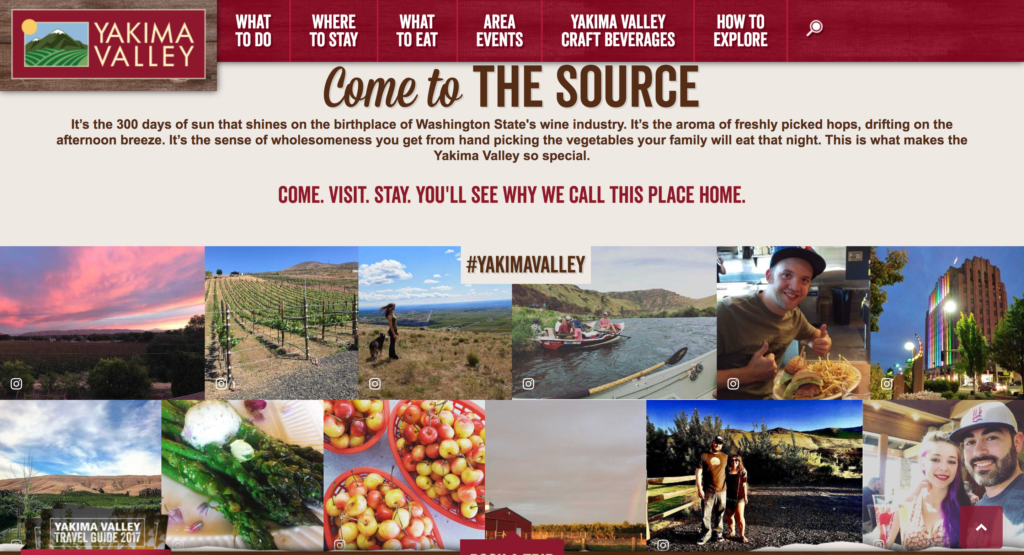 One thing that initially surprised him was just how much UGC is out there. On average, Yakima Valley sees half a million visitors each year — so Jared was blown away by the amount of content CrowdRiff surfaced.
"The day we opened CrowdRiff we had something like 30,000 photos to choose from and it just continues to grow from there. It surprises us constantly."
As Jared puts it, CrowdRiff pulls in much more visual content than your typical hashtag search, including some photos you likely wouldn't discover on your own.
You don't need a large budget to do great marketing.
If you're interested to know more about how Yakima Valley has used CrowdRiff to stretch their marketing budget, see their customer story right here, or watch the full live Q&A.