9 In-Depth Examples of Creative Facebook Ads from the Travel Industry

When was the last time you came across an ad on Facebook that really made you stop in your tracks?
As a marketer, you take the time to strategize on how best to phrase this line of copy, which visuals to use – all to make sure your ads are still standing out to your audience.
After a while, though, even the most creative minds can run dry.
If you're looking for some new ideas to get people clicking, I hope this post will give you some fresh ways to think about your own Facebook ad strategy. The ad examples we've included below are ones that use out-of-the-box thinking, and really break the mold of what a typical travel ad on Facebook looks like.
1 | Travel Alberta's 360-degree video introduces international visitors to the lesser-known dinosaur badlands
This summer, Travel Alberta is putting a focus on promoting their unique Dino experiences. This Canadian province is one of the best sources of dinosaur fossils in the world – especially the Drumheller area, which is northeast of Calgary. However, many international visitors aren't aware of what this rich region has to offer dino-fanatics.
The resulting Facebook ad
Travel Alberta posted this 360-degree video on their Facebook page and gave it a boost with some ad dollars.

A viewer is first shown the striking landscape of Drumheller and then led to the Royal Tyrrell Museum, where one can explore its impressive collection of fossils. In every scene, you can click around to immerse yourself in the environment.
What makes it noteworthy
The interactive element of this post allows an ad viewer to actively engage with the content.
"The motivation behind creating a 360-degree video was that we wanted travelers to get a more immersive experience than just a photo or video. We really wanted people to get the feeling they were right there in the Badlands discovering dinos on their own."
– Kristie Nicol, Global Social Media Specialist at Travel Alberta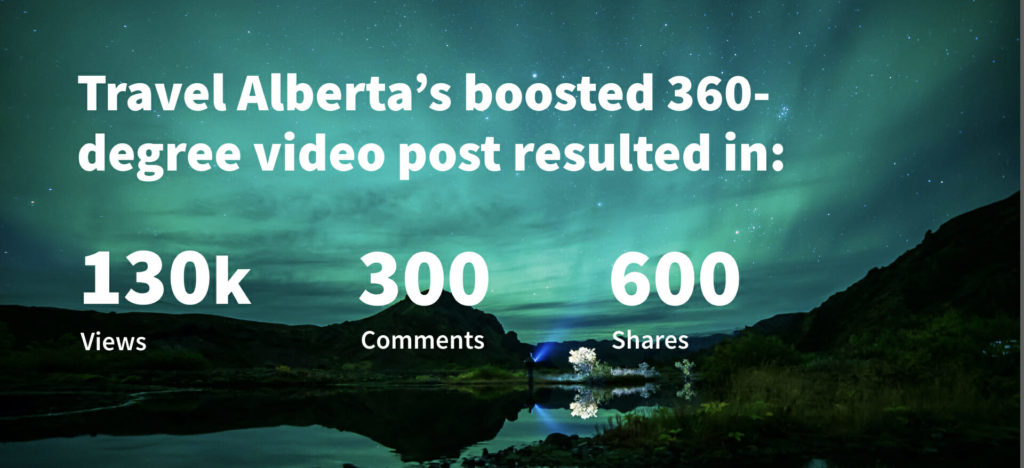 2 | Traverse City strategically uses the Facebook Pixel to pin down audiences during shoulder season
Tourism to Traverse City in the summertime has never been a problem – but in the off-season, especially in the spring – travelers don't always know what there is to find in this region. So, the team at Traverse City Tourism wanted to generate more awareness for some shoulder season business – and a big pull they could leverage was their cherry blossoms.
The resulting Facebook ad campaign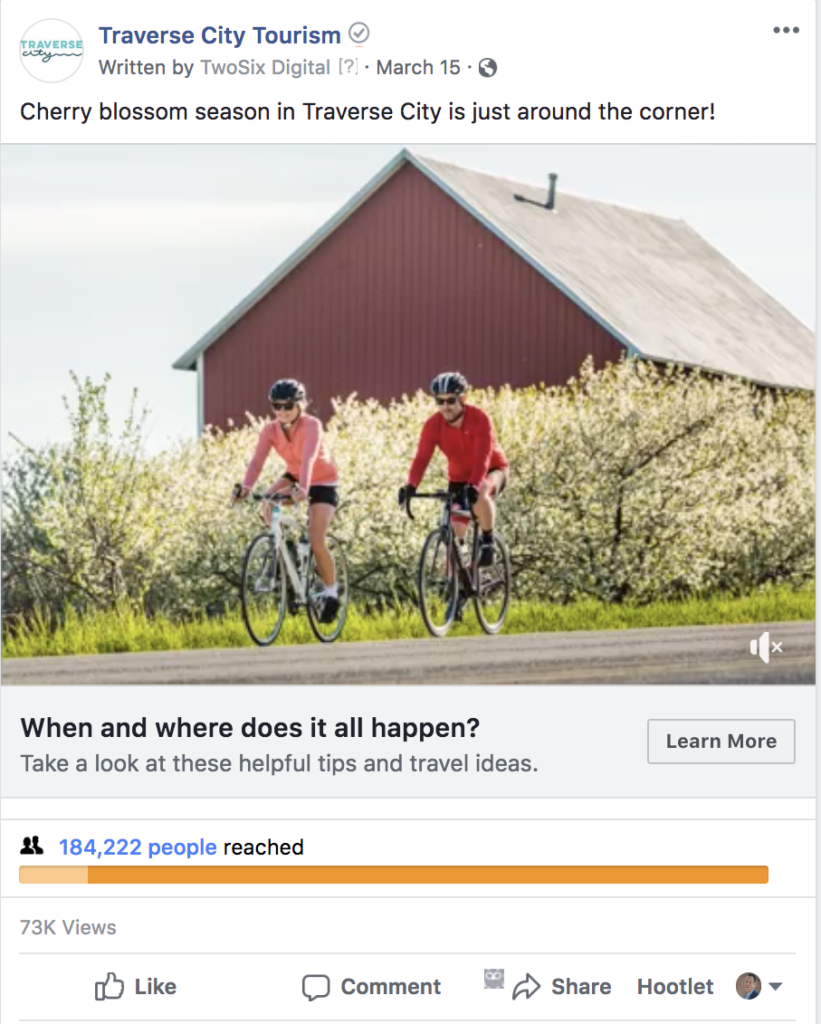 TwoSix Digital, the agency that manages Traverse City's ad campaigns, built an audience using Facebook Pixel data.
First, they created a custom audience of people who visited specific pages on cherry blossoms from the Traverse City website.

Then building on top of that, they created a lookalike audience (people who have similar traits and characteristics of their custom audience) to maximize their reach

Lastly, they cut this group down to the specific geographic regions where people have showed a greater degree of interest to travel to Traverse City
What makes it noteworthy
Finding people who travel or who have an interest in the Traverse City area isn't hard, but finding people who has those traits along with an interest in cherry blossoms, is a bit more difficult, as that data set isn't easily defined. By strategically targeting people based on their behaviors and interactions with their content, they were left with a highly-targeted audience to serve specific ads on cherry blossoms to.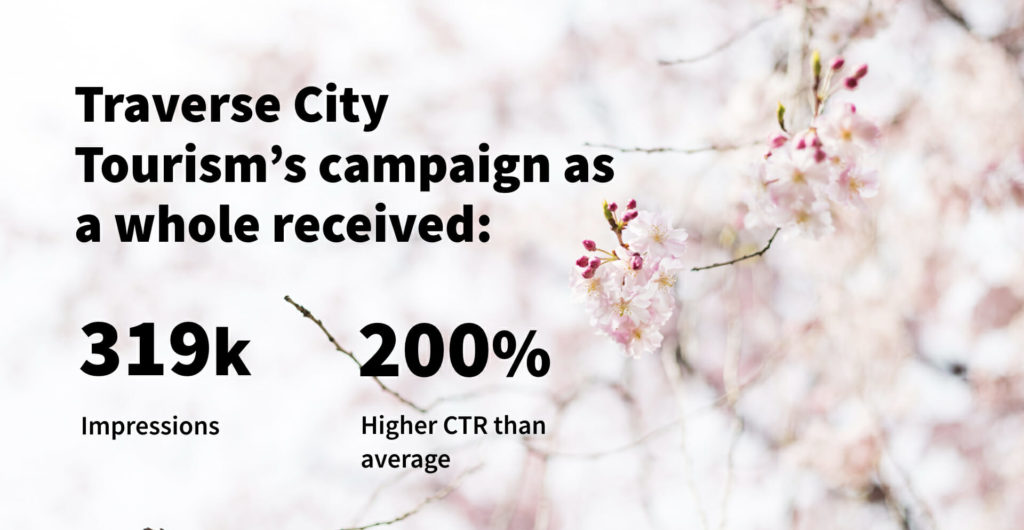 3 | Discover The Palm Beaches targets locals with their own UGC, to encourage conversation about tourism
After finding research that showed word of mouth from friends & family was the most powerful driver of tourism, Discover The Palm Beaches dove into UGC marketing and found a lot of success with it. Their "Friends Trust Friends" campaign used only authentic imagery from locals and travelers – and a 23% increase in number of overnight stays came from it.
In order to dive deeper into this content, Discover The Palm Beaches created an exclusive Facebook group for locals – and invited people through some unique ads.
The resulting Facebook ad campaign
Discover The Palm Beaches targeted a 30-mile radius around the town of Royal Palm Beach, which is centrally located in Palm Beach County, and served up ads like this one: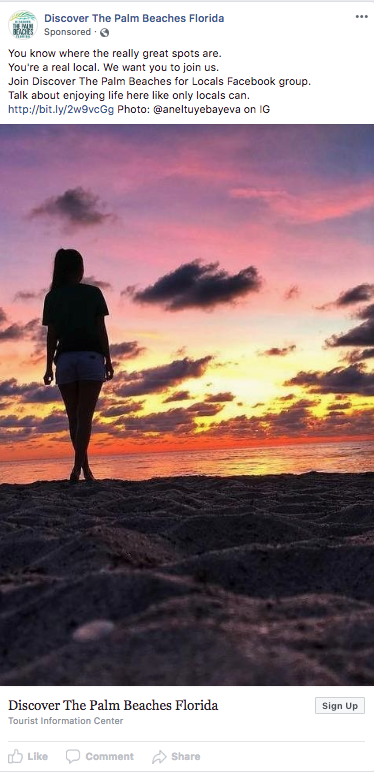 There were 5 different posts in total, all featuring photos from locals, sourced and rights-approved using CrowdRiff.
What makes it noteworthy
The primary goal of this Facebook group is to attract out-of-market tourists – and yet, they're investing in ads that target and invest in their residents.
"The reason is because research shows us that just after the beach, visiting friends and family is the #2 reason why people travel to The Palm Beaches. Therefore, it's our locals who often have to play the role of 'tour guide.' By educating our locals about the many tourism assets – and learning from them as to where hidden gems can be found – we strengthen our communal ability to prove why The Palm Beaches are 'The Best Way To Experience Florida.'
Gerry Marcelo, Senior Manager, Social Media at Discover The Palm Beaches
Enjoying this blog? Subscribe to get more like this, straight to your inbox
4 | Visit Montana's Canvas ad immerses mobile viewers in a first-hand ski experience
With plenty of national and state parks, breathtaking open country, and mountains, the State of Montana is a haven for those who love the great American wilderness. In the wintertime, their biggest pull is snow sports.
In January of 2017, Visit Montana wanted to break out of the mold with a bolder, more visually immersive way of demonstrating its top-tier ski attractions.
The resulting Facebook ad
The Montana Office of Tourism created an incredibly immersive visual experience that takes you as close to the slopes in Montana as you can possibly get (without actually being there!), with a mobile-optimized Facebook Canvas ad.
Video: Facebook
This ad allowed viewers to swipe up, down, right, or left through images of stunning white vistas and cozy cabins, tilt-to-pan through panoramas taken from the tops of ski hills, and explore 360-degree of the best slopes. At the end, viewers are led to swipe up to Visit Montana's Ski Areas & Resorts webpage.
What makes it noteworthy
This is an incredible use of visuals to create an interactive and immersive ad experience. The combination of cinemagraphs, images, panoramas, video and VR makes the ad exciting and fresh, and offers a near first-hand look at how it feels to dive into Montana's ski experiences.
"Canvas allowed us to tell a story as big and diverse as Montana in a captivating way. Facebook's 360 Video, tilt-to-pan creative and cinemagraph integration let us paint Montana's story in a way other platforms couldn't."
– Raylee Honeycutt, Consumer Marketing Manager at the Montana Office of Tourism and Business Development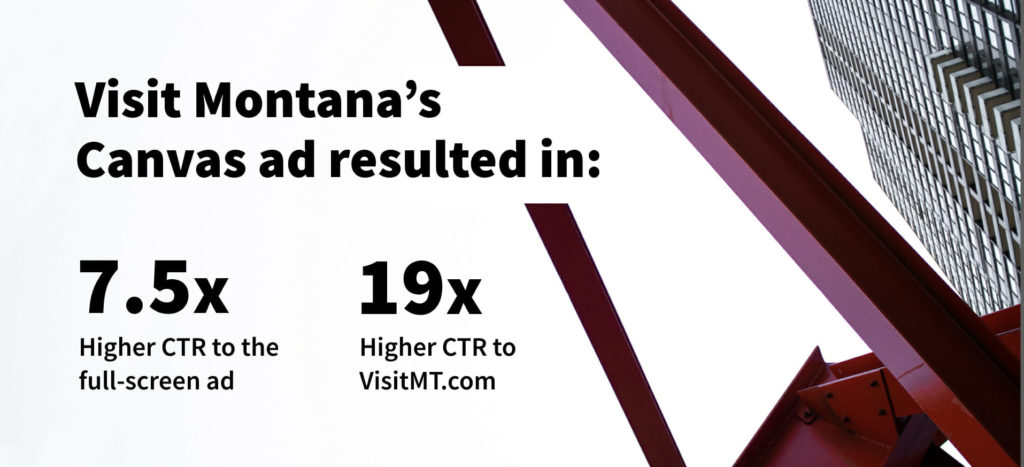 5 | Visit Indy's persona-based ad videos are made entirely of themed UGC
In the beginning of 2018, Visit Indy decided that this was the year they were going to exclusively use user-generated content in their digital ads. Besides just using images, the team experimented with UGC videos – specifically created for specific personas.
The resulting Facebook ad campaign
Thus far, Visit Indy has released videos for five of their personas created entirely using UGC, with the goal of creating one for all nine personas by September 2018.

They are fast-paced, 15-second long videos that incorporate minimal text overlays on top of social media photos, videos, and boomerangs. Each ad links to a specific landing page, built for that persona. For example, the foodie video links to the "Things Every Foodie Should Do In Indy" webpage.
What makes it noteworthy
The team did not have prior experience creating video, and yet was able to create a variety of highly-targeted videos by using CrowdRiff to pin down the specific visuals they needed for each persona and stringing them together in a video editor.
The rawness of the videos and the imagery shown within them, help the ads feel more native to the platform and allows them to fit more naturally into a user's Facebook feed.
"We're seeing a three times stronger click-through rate within Facebook (and Instagram) than we are with display ads. Over the last year we've been able to shift our funds, and we've been really optimizing more and more towards our Facebook ad buy with these UGC videos feeding that content."
– Christine Zetzl, Digital Marketing Manager, Visit Indy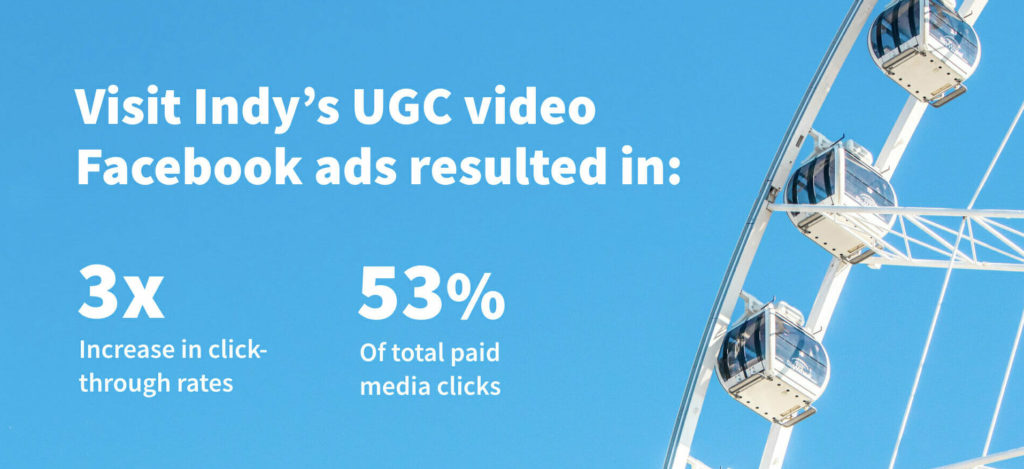 6 | Visit St Lucie works to attract out-of-market visitors by first incentivizing their locals to spread the word
After completing their first visitor study in 2017, Visit St. Lucie found that the top reason people come to St. Lucie County (encompassing Fort Pierce & Port St. Lucie) was to visit family and friends. The DMO realized that instead of reaching a new traveler directly, getting their locals to "Share Your St. Lucie" to their networks could be a breakthrough way to attract more visitors.
The resulting Facebook ad campaign
Visit St. Lucie launched the "Share Your St. Lucie" campaign to target locals. Through Facebook (and Instagram) they ran ads that promote weekly contests, offering surf lessons, golf lessons, kayak tours, gift certificates to local restaurants, and more.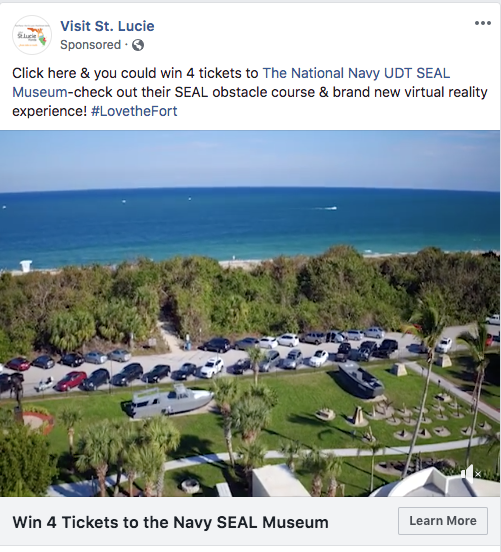 Once a local enters the contest they're then encouraged to share links to vacation packages on their social media channels, to give friends and family a good reason to come visit.
In a few of their ads, they choose to target people who are "away from family" to identify those who are more likely to have family members living elsewhere.
What makes it noteworthy
Like Discover The Palm Beaches, Visit St. Lucie went against the grain: instead of target travelers directly, they knew it was locals they needed to speak to. Since the biggest draw of St. Lucie are its people, and used this campaign to amplify what was already working: locals encouraging friends and family to come for a visit.
"We are using a UGC gallery from CrowdRiff on our landing page for the campaign displaying photos & videos with the #LovetheFort and/or #LovethePort hashtags for additional inspiration.
The campaign not only incentivizes residents with great weekly prizes, but it also creates a sense of pride of loving and "sharing" where we live."
– Tayler Hardison, Administrative & Marketing Assistant, Visit St. Lucie
7 | Nelson & Kootenay Lake Tourism's UGC ads promoted a live stream event… to showcase off more traveler photos
Nelson & Kootenay Lake Tourism has an ongoing photo contest campaign, called #FindingAwesome, to encourage locals and visitors to share what they love most about the destination through social media photos. After a year of implementing this and tracking all the pictures with CrowdRiff, they ended up with over 10,000 images and 1500 videos of their destination.
They had so much content they decided to host a live stream event to showcase all this imagery, and spread the word with Facebook ads.
The resulting Facebook ad campaign
To give people a taste of what to expect, Nelson & Kootenay Lakes Tourism created a series of carousel ads using real traveler photos, to invite people to their event.
Here were some of the beautiful rights-approved photos they used:
The carousel ads themselves invite people to scroll, explore, and browse the imagery that people have taken in the Nelson area, and lead them to the event page, where they can find more.
What makes it noteworthy
Nelson & Kootenay Lake honed in on a specific part of their marketing strategy that was already seeing a lot of success – encouraging locals and visitors to post more photos and videos of their experiences in the area – and chose to amplify that. They used traveler photos to promote an event that focussed on exactly that: authentic traveler photos.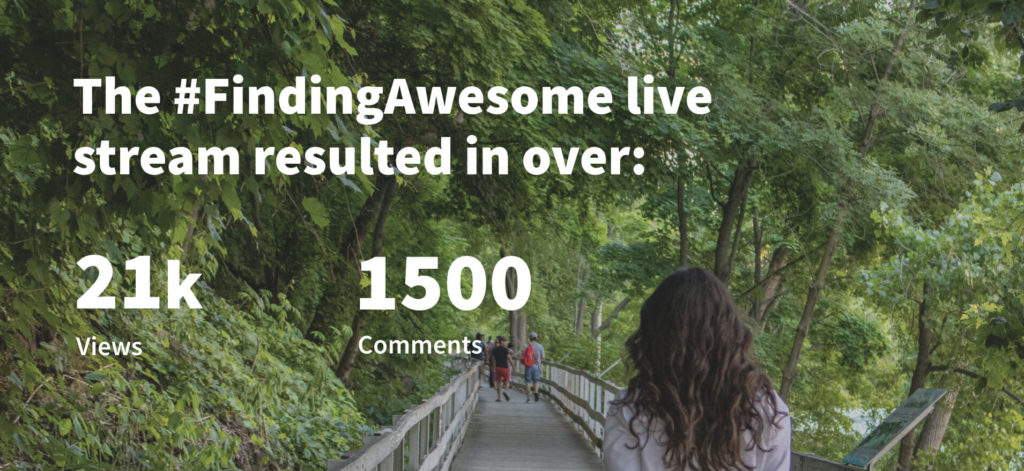 8 | Visit PA uses connected imagery on carousel ads to get people clicking to see the full picture
Pennsylvania's State slogan is Pursue Your Happiness – a theme that's very prominent in Visit PA's latest summer campaigns. To make a push to position Pennsylvania as the perfect summer getaway to their domestic market, they chose to weave in one of their strongest selling points: the great classic American outdoors.
The resulting Facebook ad
Visit PA decided to take Facebook's carousel ads format, and tweak it to work for them.
Carousel ads let you show multiple pictures at a time – so typically, DMOs and travel brands might show, say, 5 pictures of family activities for an ad aimed towards parents. However, instead of uploading a couple different photos, they showed one panoramic photo, in parts.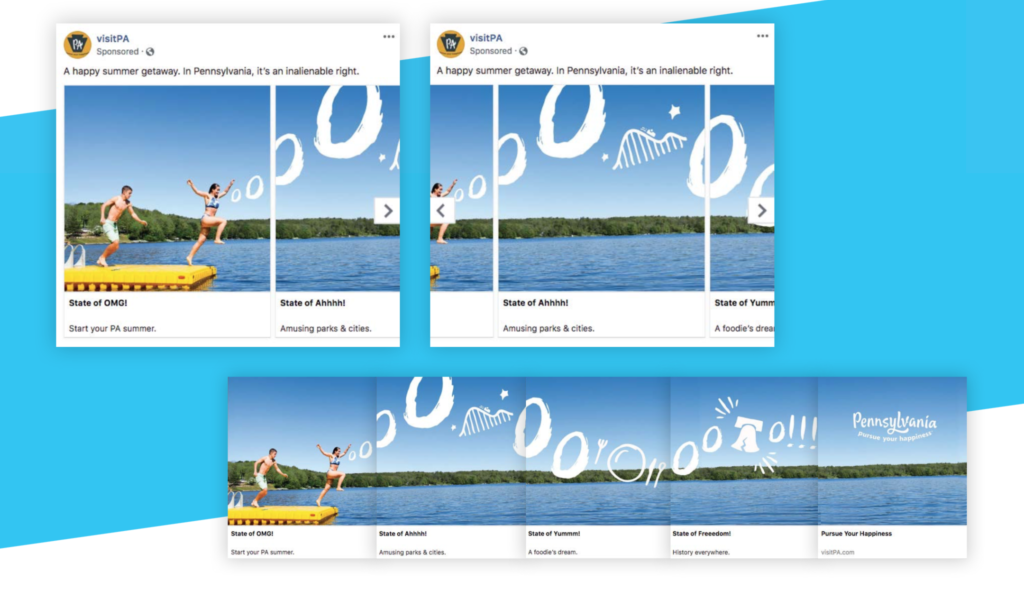 What makes it noteworthy
Visit PA used some out-of-the-box thinking in order to encourage more engagement and more clicks. The idea is that someone who sees the ad only catches a part of the picture, sees that there's more, and is more compelled to click right (in other words, take an action to engage with the ad) to see the whole thing.
What's more, they added text that connects the length of the whole image. So in addition to the feeling of only catching part of an image, the ad viewer also feels like they're reading half a word.
It translates the "curiosity gap" strategy in an aesthetically interesting visual format. Very clever and creative use of carousel ads!
9 | Discover South Carolina's food cinematic videos draw in viewers with the cuisine, not restaurants
Food has always been a big part of South Carolina's culture – to locals and also for attracting travelers. In fact, every year, the South Carolina Department of Parks, Recreation and Tourism names four chefs to serve as Chef Ambassadors for the State. To further put South Carolinian cuisine on the map, Discover South Carolina has produced some great food-themed Facebook ads to get people dreaming about fresh SC produce and food.
The resulting Facebook ad campaign
The ad creative is made up of 5-15 second videos, with of close-ups on vibrant ingredients as they're chopped, tossed, and transformed into a local dish. The videos feel very cinematic, as many shots are in slow motion, yet scenes switch quickly, so as to not lose a viewer's attention.
What makes it noteworthy
Travelers are used to seeing food videos on Facebook – especially when it comes to restaurant recommendations and the next "biggest thing". However, the content in these video ads is refreshingly different.
While typically, DMOs tend to showcase popular dishes from their best restaurants in food-themed campaigns, what Discover South Carolina does is a little different. They're featuring recipes for staple South Carolinian dishes in their ads. The CTAs then lead to the recipes on the Discover South Carolina website.
Instead of using physical places or attractions in the State, this food campaign relies on the pull of its unique local culture.
Looking for more inspiration?
Read our Guide to UGC for Travel and Tourism Brands, an eBook created in partnership with Skift. It's full of actionable ideas, tips on getting rights to photos, and examples from global museum, airline, resort, and destination brands.