How to Get Board Approval for a Visual Marketing Platform

We've been to a lot of tourism conferences.
We've talked to a lot of destination marketers and tourism brands.
And something that we keep hearing is this: I want to do more, but with the same budget.
That's why it can be difficult choosing which tools are worth the investment, and give you enough value to justify it in your marketing budget.
And after accomplishing that, you've got to convince the rest of your Board too. We want to make this process easier for you.
First off, what is a visual marketing platform?
A visual marketing platform is a system that allows you to:
Source user-generated photos and videos that exist around your brand,
Organize them along with your all your owned photos,
Acquire rights to them at scale,
Publish them to any marketing channel you want to build your visual influence on
On Instagram alone, there are 300 million daily active users, and more than 80 million photos are uploaded each day.
Can you imagine how many of these photos are showcasing your destination, hotel, or museum?
We believe in the ROI a visual marketing platform can offer destinations, hotels, and museums — and this is how you'd make a business case to your Board or your manager.
1 | You get access to (thousands) more authentic visuals
How much money do you spend on professional photography? Or on individual stock photos?
Consider this: a visual marketing platform can provide a constantly growing collection of brand visuals, simply because people keep sharing photos of your destination.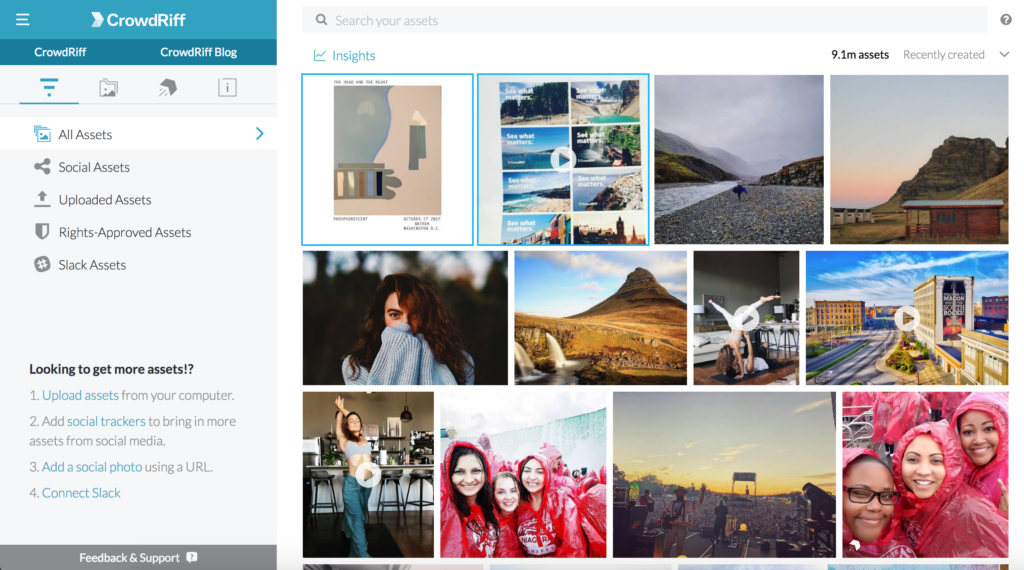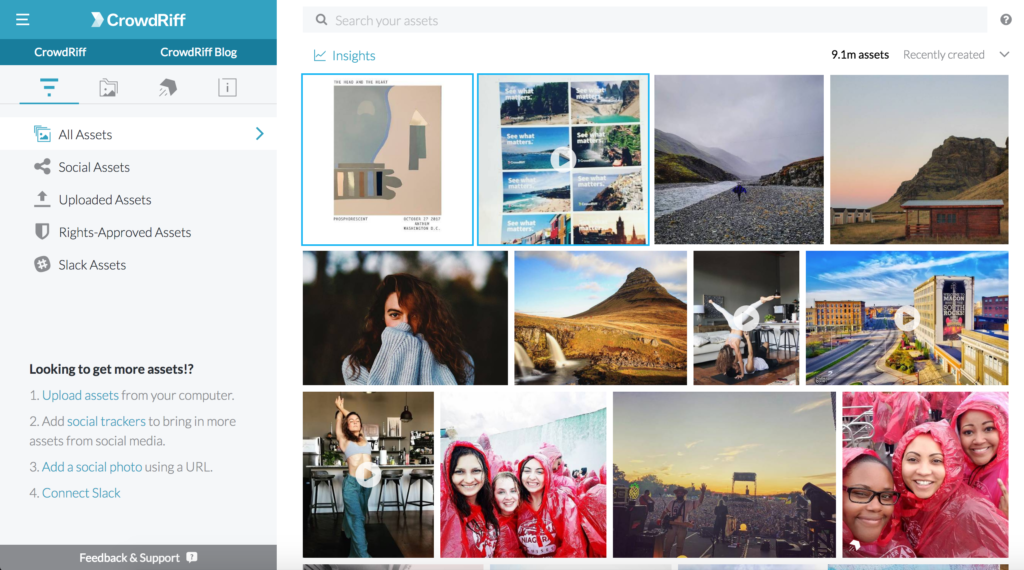 And such a platform is also going to give you an easy way to acquire rights to these visuals at scale, so that you can use them in your marketing — everywhere from your website to digital ads to print materials.
That means you don't have to dip into your marketing budget each time you want specific photos to use in your social media or your website.
And what's more — these photos speak to people more effectively. User-generated photos have proven to be 20% more influential on purchasing decisions; because they're perceived to be more authentic coming from customers themselves, not the brand.
Investing in a visual marketing platform means investing in a collection of visuals that grows each day.
Metrics that demonstrate ROI:
Exponential increase in number of brand visuals available for use

Reduced cost per visual

$5000 saved yearly in commissioned photography*
*metrics CrowdRiff customers have seen
2 | It helps you engage your social community
How important is your online social following to you?
Sharing user-generated photos on social will increase your number of followers, and increase their engagement with your brand. After all, you're commenting on and sharing their photos.
A robust visual marketing platform can surface photos that are already popular on social, as well as some hidden gems you might've otherwise overlooked. By sharing these photos, you not only engage with known visual influencers, you also turn every visitor or local into an ambassador for your brand.
Metrics that demonstrate ROI:
Increased engagement on each post or tweet
3 | It turns your website into a more effective marketing tool
There's no getting away from it: People love visual stories.
And user-generated photos act as visual stories, telling a real person's travel experience with your brand.
A visual marketing platform not only makes it easy to find these visuals, but easy to incorporate them into elements on your website and showcase them.
Using CrowdRiff, Fort Worth chose to devote an entire section of their homepage to an interactive UGC gallery. Users can click into each photo to see the original caption, tags, and poster of the image.
That means more elements to engage with, translating to more reason to stay on the page, and more reason to come back. After integrating user-generated photos on their website, Fort Worth saw a 32% jump in time-on-site.
By creating unique, interactive elements for your website, a visual marketing platform will increase your web performance.
Metrics that demonstrate ROI:
4X increase in time on site*
30% reduction in bounce rate*
19% increase in number of users*
10% increase in pageviews*
4 | It saves you time
Let's say you want to attract more families to your destination or brand, and you're looking for a picture that can capture the family experience of hiking in your destination.
Can you imagine how much time you'd take manually searching the web for those specific user-generated photos? You'd have to comb through multiple social channels, searching the same terms and hashtags each time.
With a visual marketing platform like CrowdRiff, you only have to do one search to find everything there. We have lightning-fast searches for multiple attributes (including keywords, hashtag, author, channel and more).
Finding visuals to illustrate something like "family hiking" — simplified.

Going one step further, CrowdRiff has integrated with Google Vision, which means all the visuals sourced into CrowdRiff are auto-tagged — that means that once you add them to our platform, they're automatically searchable, along with all the user-generated photos in your collection.
On top of that, as mentioned earlier, a visual marketing platform lets you comment on multiple photos at the same time, with just the click of a button.
Forget the manual process — time is money, and a visual marketing platform saves you both.
Metrics that demonstrate ROI:
90% reduction in time in finding on-brand social content*

1.5 days saved monthly in social routine*
5 | It helps you drive traffic and interest to your partners
Your DMO is promoting more than the destination — they're promoting the local businesses and organizations, from hotels to museums to zoos and parks.
A visual marketing platform can showcase photos that locals and visitors are sharing of all the neighbourhood cafes, local galleries, tour operators and independent boutiques that don't have the horsepower to market themselves the way a DMO can.
Visit Stockton uses CrowdRiff's calls to action feature, that links photos directly to member listings within their site as well as the local business websites themselves.
That means means a visitor can go from admiring a photo of a freshly baked dessert to making a reservation at that restaurant, in just one click.
Metrics that demonstrate ROI:
20% increase in click-through rates from DMO website to tourism partners*
So is a visual marketing platform worth it?
When making the business case for a visual marketing platform, share metrics that reflect both the hard dollar savings as well the incredible brand impact that will pay off in the long run.
The benefits listed above ladder up to 3 key things that every marketing leader or Board will care about:
Scale.

Marketing teams need to find and deploy more visual content than ever before, and a visual marketing platform enables you to accomplish that easily.

Savings.

Find real cost savings by growing your visual media library with fresh content with social photos obtained with permission, at no extra cost to your organization.

Brand authority

. By using these authentic photos throughout your marketing channels, you'll give people a reason to come back seek out your brand as a trusted authority.
Ready to see for yourself what visual marketing platform can do for you? Request a free visual marketing review with one of our team members, and we'd be happy to show you.