How 5 DMOs Attract Adventure Seekers Through Creative Visual Marketing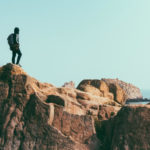 For true nature lovers and outdoor enthusiasts, few things are as irresistible as the call of the wild.
Show potential visitors that your great outdoors is, well, great, and you'll start to attract more of the adventure-seeking, wilderness-loving travelers who appreciate the awesome experiences your destination has to offer.
So, whether you want to reel in some fishing fanatics or encourage explorers to discover the best natural beauty of your destination, here are five DMOs that can help inspire you.
1 | Northern Indiana: Pairing eye-catching visuals with actionable inspiration

Northern Indiana uses authentic traveler photos to brands themselves the "Cool North," an outdoorsy paradise for hiking, biking, relaxing, and reconnecting with nature.
Their website is filled with picturesque visuals of Northern Indiana's diverse landscapes, from crisp lakes to beach sunsets to hiking trails in the wild countryside — and many of them are user-generated.
The star of their homepage is the section that's dedicated to the scenic photos and videos taken by other travelers.
Here's why it's so remarkable: each image is overlaid with a clickable caption that leads to another page with more details about the location or activity.
So as curious adventure seekers explore what other like-minded people have done here, they have an easy way to get more information or even book their trip right then and there!
2 | Travel Oregon: Bringing travelers along for the ride with VR

Travel Oregon's Salmon360 is a superb example of how DMOs can get creative with their visual content.
First, this DMO's homepage greets you with an oddly intriguing request: "Pretend to Visit Oregon with this Robot Fish," with a large salmon jumping out of the river periodically in the background.
This is the entryway to Travel Oregon's clever and amusing virtual reality tour which highlights activities for outdoor enthusiasts. In a series of interactive 360-degree videos, a baritone salmon brings you along as you explore dune riding, fly fishing, wine tasting, bike riding, and star-gazing together all over Oregon.
It's a sure win to reach the explorer within all of us (and give you a good laugh!).
Interactive content like virtual reality can provide viewers with memorable snapshots of your adventures. Bonus points if you can throw in a splash of humor!
3 | Cody/Yellowstone Country: Authentic visual branding gone wild west
Yellowstone Country has embraced its outdoorsy, wild west culture so strongly that it's one of the first places that come to mind when travelers envision the American wilderness.
Their visuals pack a big punch: within seconds of looking at their website, you know they are the place to be if you're looking for an authentic wild west experience. A big driver of this impression comes from all the visual user-generated content they feature on their site — unbranded, unfiltered, and absolutely inspiring.
Cody/Yellowstone Country has curated a significant amount of gorgeous authentic photography from both travelers and locals, and showcase it on a homepage gallery.
This DMO doesn't have to tell people how beautifully scenic their destination is — their fans are spreading the word for them. Another lesson here is that there's a lot of UGC today that's top-notch – as evidenced by the abundance of high-quality visuals featured in their gallery.
4 | Discover Ohio: Using 360-degree video to transport to where the action is
Discover Ohio goes further than simply suggesting or showing places to explore – they take viewers along for the adventure, literally virtually!
Whether thrill-seekers want to parasail next to Cedar Point or go zip lining through the treetops of Hocking Hills, Discover Ohio's immersive YouTube videos give viewers a taste of the adventure that awaits them, before committing to a full trip.
Hands down, this is some of the best use 360-degree video we've seen. These videos throw you right in the middle of the action — and there are just so many videos to experience. Watching their playlist takes you from one adventure to the next in quick succession.
No better way to get someone's heart pumping and wishing for a trip to your destination.
5 | Blue Mountain Resort: Amplifying social voices digitally and physically
Blue Mountain Resort is Ontario's most popular four season resort, famous for skiing and snowboarding, but offering exciting activities for outdoor enthusiasts all year round.
On the Live it Outside page of their website, they feature a tremendous gallery of curated photos and videos from social media.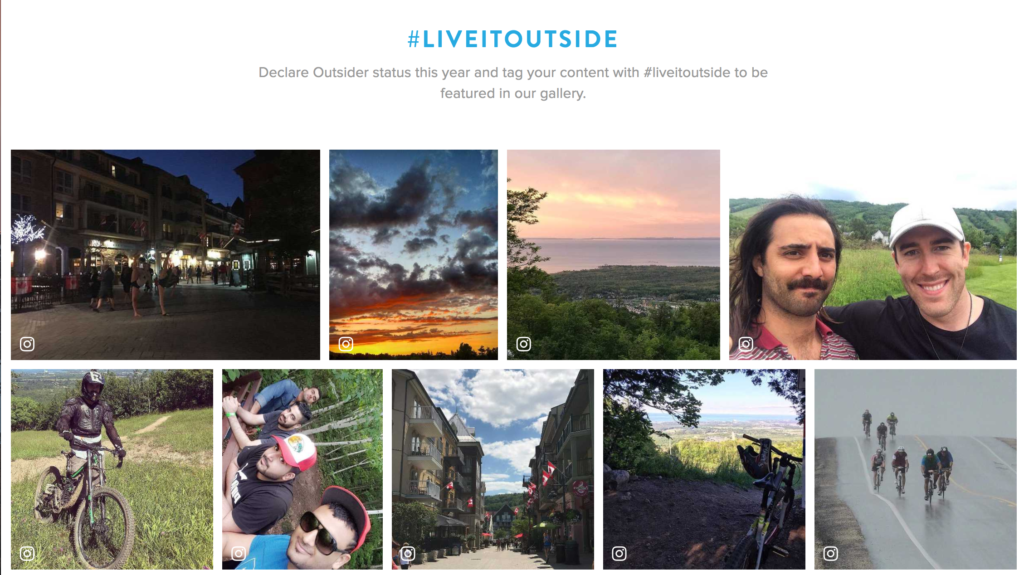 These photos feature current, diverse, and authentic experiences from other visitors, who do the talking for them. Through all these visuals, anyone can see clearly the plethora of fun activities Blue Mountain offers year round.
What's more, they also play curated slideshows of these visitor photos on numerous large screens across the resort.
These digital displays get visitors excited when they arrive and encourage them to share their own photos online, which in turn provides Blue Mountain with a steady stream of authentic visuals from every season.
Let travelers know that adventure awaits through inspiring visuals!
Get creative in your use of visual content to offer exciting experiences online and your customers will flock to explore your destination for themselves.
We hope these examples have sparked your own ideas for marketing your destination as an adventurous destination!
---
Recommended Reading