How and Why Visit Indy Adopted an All-Digital Marketing Approach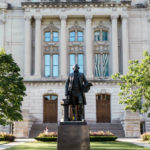 When Jeff Robinson began working for Visit Indy as a digital designer 11 years ago, the destination marketing organization had only just begun its transition from print to digital.
But a couple of years ago, while serving as the organization's Director of Marketing, Robinson decided to leave all other advertising mediums behind, and dedicate its entire $1 million ad budget to digital products.
Opting for an all digital strategy
According to Robinson, who spoke about the transition at the U.S. Travel Association's Educational Seminar for Tourism Organizations (ESTO), the move was borne out of a need for greater targeting, and greater visibility year-round, as opposed to the previous strategy of pursuing all mediums during a brief seasonal window.
"When we did TV, radio and digital as a mix, you can't stretch that over a year," he said during the event's Learning Lab workshop.
"So how do we get beyond just a three-month campaign and spread [our messaging] to leisure visitors coming in year-round?"
The answer, according to Robinson, was a more targeted digital strategy that could spread across a 12-month period by focusing on certain audiences during certain key periods.
Making the most of ad dollars with sophisticated ad targeting
Instead of heavily promoting Indianapolis in its peak season during the summer months, a digital campaign could target students ahead of spring break, sports enthusiasts in the run-up to the Indy 500 and families just before the fall family travel season.
"One year we did a $10,000 test on Facebook, out of a $650k spend, and it was the top performer for us that year. Now [Facebook] represents 40% of our ad spend."
The all-digital approach lets Visit Indy stretch its ad dollars further, its advertising season longer and direct its messaging at specific target markets, or in Robinson's words, "no food messages are going to people who aren't foodies."
Instead, the all-digital strategy mixes significant social media spends with real life activations and user-generated content.
Ramping up the use of visual user-generated content in their digital strategy
In the run-up to the NCAA Tournament Final Four in 2015, the DMO set up three life-sized sculptures with the letters "NDY," letting users literally become the "I" in "Indy." Visitors were encouraged to share their pictures on social media using the hashtag #loveINDY, and the DMO was able to use CrowdRiff to track the campaign's success with the platform's ability to source and monitor all the images being shared.
"We wanted to capture the UGC photos and put them in a gallery on our website," said Robinson. "CrowdRiff was great to help us launch that and leverage UGC."
The visual marketing platform also enables Visit Indy to search social photos based on hashtags, geo-locations and search terms to curate those images and feature them on their website, thus encouraging more visitors to get their own pictures taken with one of the signs.
Visit Indy has also utilized CrowdRiff to create galleries for partnering attractions that are featured on the website. Users exploring information about the Indianapolis Zoo on their website, for example, can also see user-generated photos sourced from social media that provide an authentic representation of the experience.
"We have listings on our website for each partner, so we started building in galleries for each of them. It's a great way to show visitors an attraction from the perspective of another visitor."
The payoff: key metrics steadily improve
Taking a purely digital approach was risky, but thus far it's paid off, explains Robinson. Convention room bookings have more than doubled from 400,000 to 815,000, while leisure travel grew from 21.5 million in 2005 to more than 26 million in 2014.
Robinson adds that the next phase of Visit Indy's marketing plans center around further expanding and cultivating its visual assets.
A new way of storing visuals: from hard drive to visual marketing platform
CrowdRiff has successfully converted Visit Indy's vast media library from a dormant file on his hard drive to a searchable library of visual content that's utilized by the entire staff. With CrowdRiff's amazing auto-keywording capabilities, powered by Google Vision's artificial intelligence technology, all their uploaded visuals are instantly analyzed and tagged with relevant keywords based on what's in the photo or video.
These processes will ultimately enable greater efficiency and asset utilization, because now every visual in their library is only one quick search away.
So armed with the tools and workflows they need, and a proven strategy that works, there can be no doubt that Visit Indy going forward will ultimately continue to trailblaze the way in 100% digital.
---
Interested in how CrowdRiff can transform your visual marketing workflows? Let us show you: