How Bishop CVB Captivates and Educates Visitors, Achieving 185% Web Engagement Rates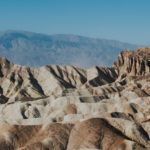 Nestled between the mountains of the Sierra Nevada desert, near California's eastern border lies the town of Bishop, known to many as the gateway to a myriad of outdoor activities in the surrounding wilderness.
"Our tagline is 'a small town with a big backyard,' and that's essentially what it is," said Julie Faber, the Digital Marketing Manager for the Bishop Chamber of Commerce and Visitors Bureau. Faber adds that activities range from world-class hiking and bouldering to some of the state's best trout fishing and bike trails. "It's just kind of a Mecca of an outdoor playground."
While the town attracts visitors far and wide through its peak season, the destination had always found it challenging to inspire visits from October through April, in spite of the fact that most of its attractions remain open.
Changing visitor perceptions of winter in Bishop
That is because the nearby town of Mammoth Lakes is well known for being a fantastic winter skiing destination, making it easy for would-be visitors to assume that Bishop is similarly covered in snow throughout the winter.
"Bishop, which is literally 45 minutes down the hill, is a high desert climate, and we don't have snow, but people think we get buried in the winter just because of our proximity," said Faber.
"A good chunk of our challenge is educating people that there are year-round activities here, and the winter is actually the best time to be here, even though our occupancy is around 90% in the summer."
Not only are its hiking trails, rock climbing sites and bike paths open in the winter—with more manageable weather than the summer months—but Bishop is among the few places in the state that can offer fishing in the offseason.
"California as a state entity has a very distinct fishing opening date and closing date," said Faber. "The majority of rivers are closed to fishing, but we just happen to have one of the best fisheries, and the portion that the majority of people fish is indeed open year-round."
While its off-peak season has just as much to offer visitors, the destination's messaging has historically been overshadowed by the larger DMO up the hill, making it difficult to attract visitors during the winter months — at least until recently.
Using date-stamped user-generated content to show what's happening in real time
This past October the Bishop DMO became a customer of CrowdRiff, and began using user-generated photography to showcase all of the summer activities that are still available in winter.
"We're using a lot of the social images where people are taking them at that moment, and you can see there's no snow on the ground; there is in the mountains, but people are in t-shirts and tank tops."
"When we repost our rights-approved [content] we've started to put date stamps on a lot of things so people understand that this is happening right now," said Faber.
The DMO's website, Bishopvisitor.com, now boasts over 40 live UGC galleries, and user-generated shots of t-shirt wearing visitors set against snow-covered mountains can be found in a variety of print outdoor magazine advertisements for the destination. Though the integration of these CrowdRiff galleries only began in October, Faber says they're already seeing significant results.
Time on page has lifted nearly 50%, and engagement rates are through the roof
"When people come in [the visitor center] they seem to have a much better idea of what to expect, and they have very specific questions now on where they want to go, and that was not happening prior to CrowdRiff," she said.
Now rather than asking generic questions visitors are actually arriving with images taken from the website and saying "I want to take a picture right here,' 'I want to go here,' 'tell me how to get here,'" Faber adds.
Since the transition towards more authentic imagery began in October Faber says time on pages with galleries has increased between 40% and 48%, depending on the page. "Our engagement rate is 185% on a lot of these gallery pages," she adds. "For example, on the backpacking page there have been 54 views but 100 interactions."
For more high-traffic pages like the one featuring Bristlecone Pines (a tree native to California, known for its winding trunks) CrowdRiff shows there have been 1000 views but 1,600 interactions. These insights suggest that visitors are engaging with multiple visuals within the gallery each time, and that the user-generated content is time and time again captivating their web visitors and giving them the information they're looking for.
Moving forward the DMO is looking to use CrowdRiff further in its digital marketing efforts, with an emphasis on distinguishing between different visitor psychographics, and appealing to each more precisely.
"It's been a game changer, for sure," said Faber. "As we continue to learn more about how to utilize it, it's going to continue to be beneficial for us, so I'm excited to see where it all goes."
---
Recommended Reading