How Content & Design Work Together at Visit Milwaukee to Create a Magazine-Style Visitor Guide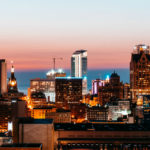 With a hundred glossy pages of vibrant photography, interactive content and articles that range from blurb to multi-page feature, it's easy to think at first glance that Visit Milwaukee's visitor guide is a travel magazine.
Produced entirely in-house by two team members (along with the support of other staff members) the Milwaukee visitor guide went in new direction 2 years ago following the hiring of Kathryn Lavey, the former Art Director of Milwaukee Magazine, as the Graphic Design Manager. In collaboration with the destination marketing organization's Content Manager, Jennifer Posh, the two combine elements of the traditional publishing world to create the DMO's visitor guide.
"When we gave it the overhaul two years ago to give it that magazine feel we created departments like the front-of-book section, so that if you're a visitor to Milwaukee you're able to easily find what you're looking for," said Lavey. "We wanted to have those quick entry points to really drive home that easy to digest content as well as larger features."
Visit Milwaukee keeps their process agile, and starts with a team brainstorm
Producing a 100-page visitor guide that reads like a magazine is a full-time project for Lavey and Posh, who begin the annual process with a company-wide brainstorming session in early summer.
"We actually involve the entire staff in pitching ideas and sharing their feedback and criticisms or things they really liked about past guides, then we huddle back in as a smaller marketing team and continue to brainstorm," said Lavey.
From that point onward Lavey and Posh establish a series of rolling deadlines for content, copy and layout.
"Once they're proofread and in production we set up a weekly meeting to go through the layouts that are developed and the stories we want to cover," said Lavey. "If something's not gelling quite right we'll have a little session on how to fix it or on changes that are needed."
How the team balances ad content with editorial
Once ad sales close Lavey creates a pagination dummy that outlines how many pages each story requires, ensuring enough space remains for listings, before strategically including advertiser placements so that everything fits.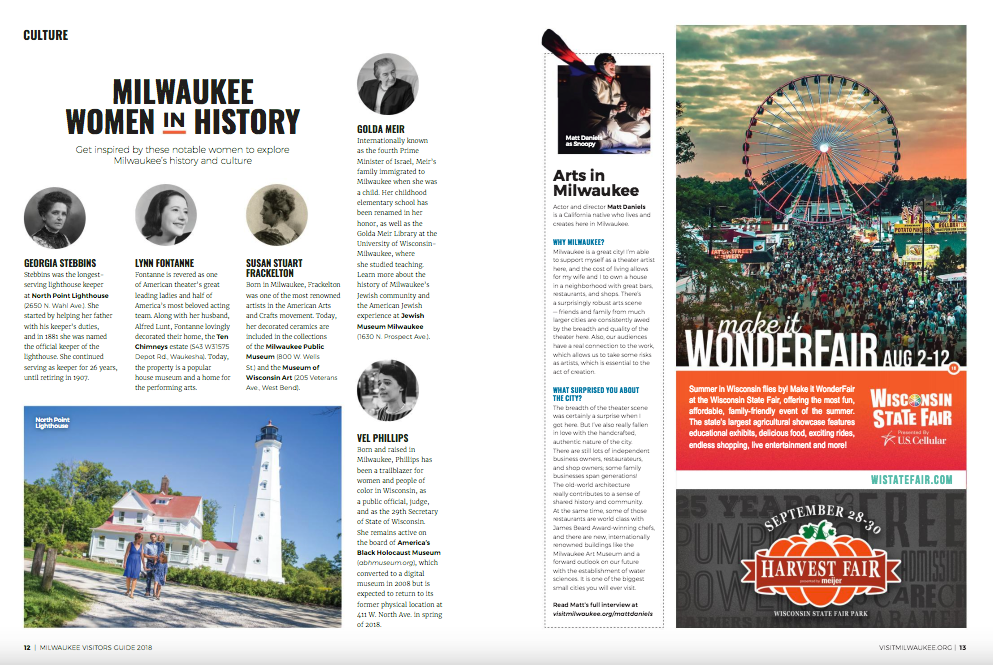 "It can definitely be a challenge; it's like a giant game of Tetris," she said. "We sneak advertisers into content and we want everyone to look good so nothing is being sacrificed."
While Visit Milwaukee runs the ads in their visitor guides exactly as is, they take care to consider how the ads will interact with different elements on different pages of their guide — factoring in things like clashing colors and competing imagery — before slotting each ad into its placement.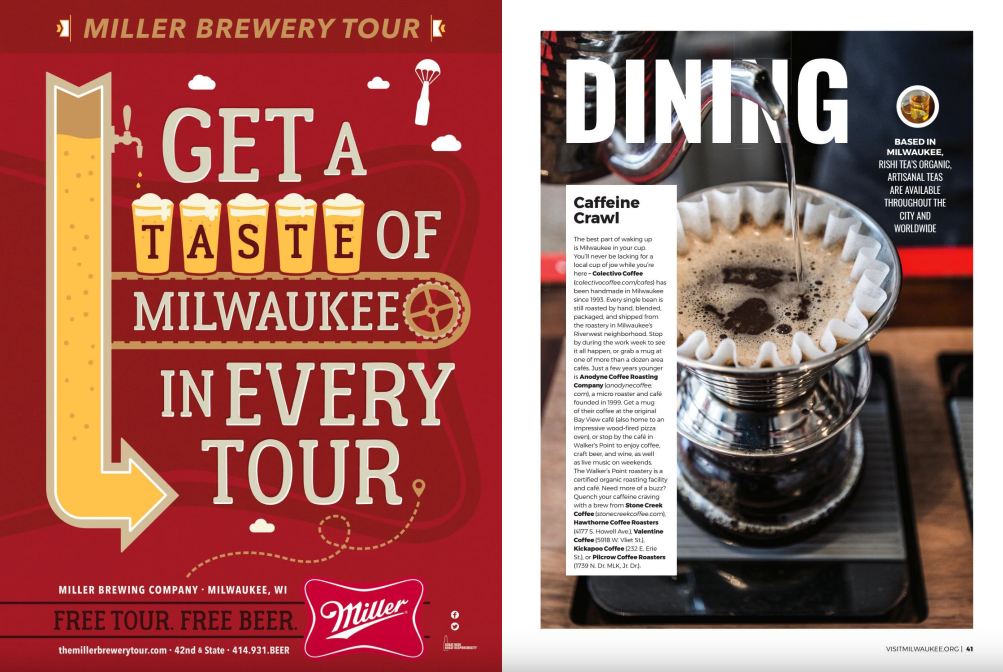 Ongoing collaboration between design and content is key
Though there are a lot of moving pieces both Lavey and Posh say the secret sauce that helps keep the flavor of the visitor's guide consistent and engaging through 100 pages, is the flexibility afforded by doing the project in-house.
"We can be really critical with things and say, 'this isn't quite fitting, can we swap out this?' 'Can we add in a sidebar?' 'All these pages are starting to look the same, can we add some shorter content in there?" said Posh. "We can work on that even as we're developing the project."
One of the key elements that elevate the visitor's guide to that more premium publication level is a strong balance between visual and written content, and an emphasis on how they interact on the page.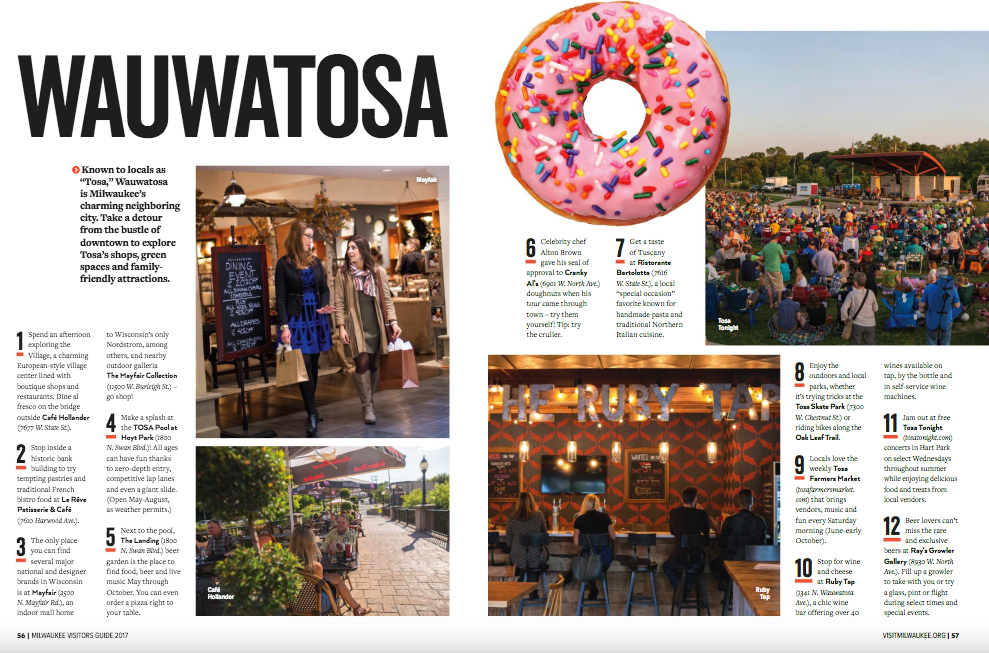 "I think that that really helps make this visitor guide and any piece of content into a more visual piece," said Lavey. "It's not just about copy or the layouts but about them working together."
Along the same lines, a key factor in achieving a balance between a great visual design and written text is the continuous back and forth between designer and content manager — another advantage of doing things in house.
"The collaboration is what's really important there," said Posh. "Kathryn is always really willing [to make it work] if I'm like 'Can we fit one more partner here,' or 'Can I fit one more paragraph here?' At the same time I'm generally a person who's very unsentimental about copy, and so if Kathryn comes back and says something's over by two lines or something, I'll go right in and cut it."
Visuals are a key element the team pays extra attention to
While many of the visitor guides' vibrant images are commissioned photography and illustrations, the DMO will purchase existing images on occasion, explained Posh.
"The photos are super important to us, and while we do use a lot of photos from our library of shoots we've already done we're definitely willing to go shoot something new or purchase a photo that's just perfect," she said. "We're always willing to do what we can to find the perfect image."
Keeping in line with typical magazine formats, many pages feature a vibrant cover photo at the top, copy throughout and smaller images dotted between the words and along the margins.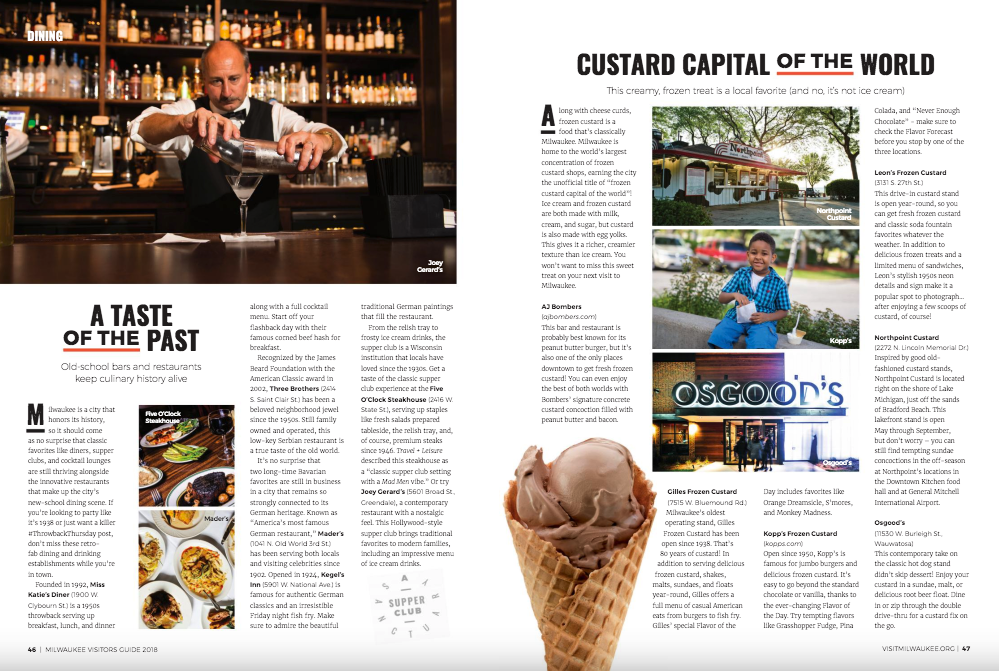 "Visuals are really important," said Lavey. "I'm trying to tell that story in a different way than just through words and drawing people in through imagery. For some of the more visual stories too we'll also literally sketch that out on paper so Jennifer has a really good feel of what it'll look like before writing the content."
Finding creative ways to spotlight tourism partners, beyond traditional listings pages
Unlike most magazines, the annual publication can't avoid repeating some content from one year to the next, especially when it comes to showcasing partners and key attractions. What makes Visit Milwaukee's visitor guide so impressive, however, is its ability to present similar information in completely unique ways with each new edition.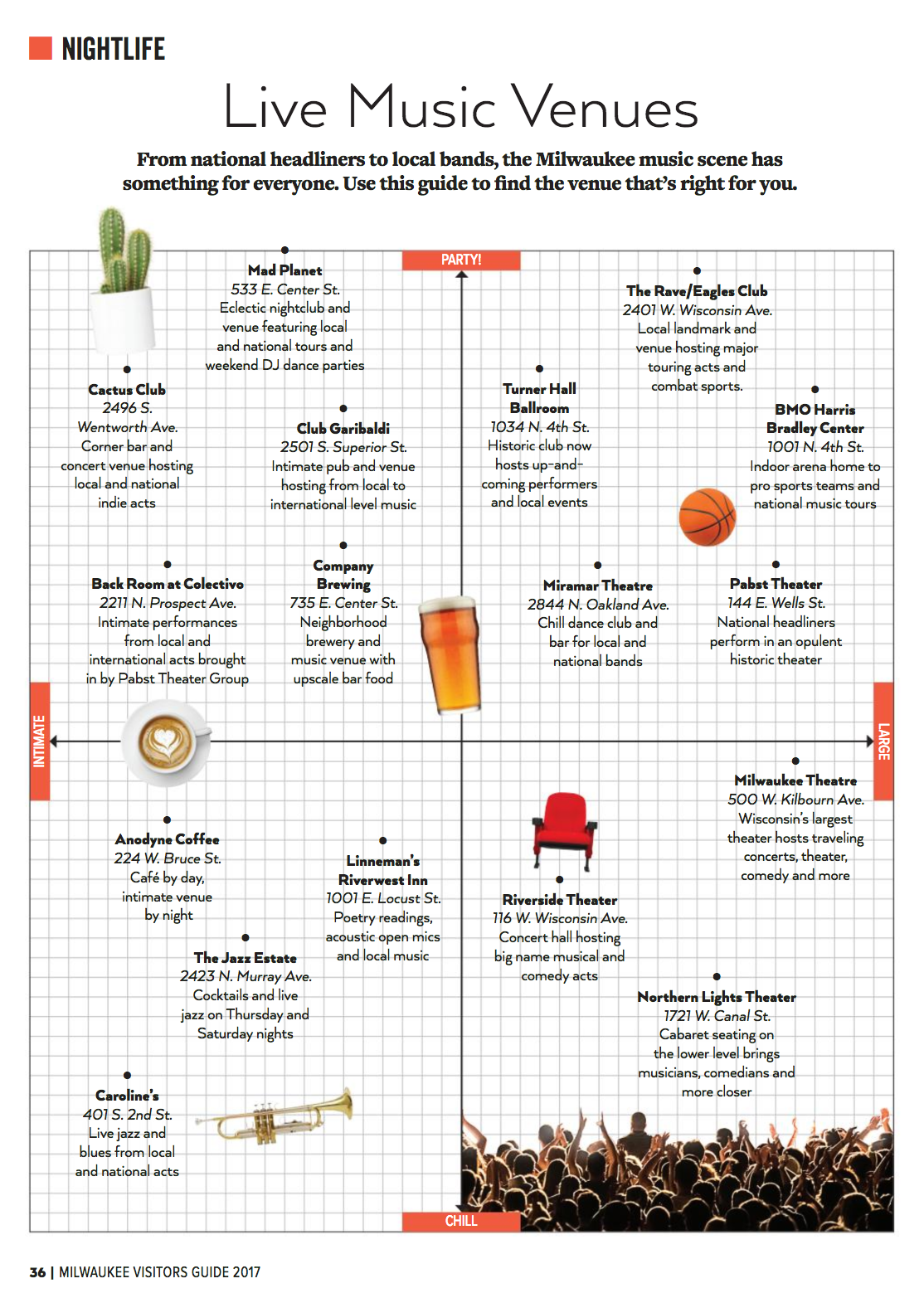 "We want to present something that is new and interesting and exciting but we also recognize that most people will only ever read one visitor guide that we produce, so we do have to talk about our major partners," said Posh.
"Finding these different charts or quizzes or flowcharts might be a good way to talk about the partners you need to talk about every year but in a different way so you don't feel like you're just kind of reprinting the same thing over and over again."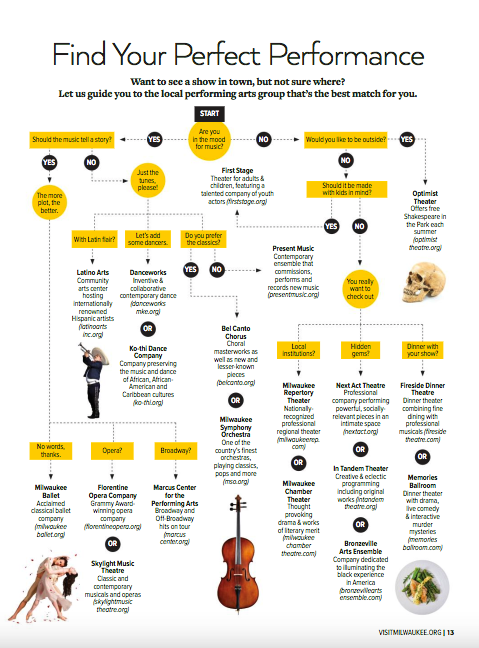 When it comes to picking and choosing between the "million things" they're tempted to include in the visitor's guide, Posh and Lavey say they've taken cues from the magazine industry to weigh the value of each piece of content.
"It's not possible to talk about all of it all the time, so if you can pick out some of those really neat places or people or experiences that can be representative of the larger experience, that's a good way to get people intrigued, and they can always dive deeper on our website," said Posh.
The objective of the guide is to communicate what Milwaukee is all about
"It's about creating really approachable content that's easy to digest, which can include a mix of visuals and short form and other quality formats only where they're really necessary to tell that story," added Lavey.
"Always, our end goal is to educate people on Milwaukee — why they should come here and [prompt] why haven't they come here yet?"
---
Recommended Reading