How CrowdRiff Helps Attractions Drive More Website Ticket Sales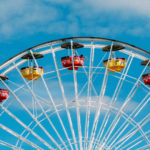 When someone's browsing your website and sees a photo that sparks their interest… what happens next? Are they presented with a clear option to buy tickets right then and there – or do they just keep scrolling?
As an attractions marketer, you know the importance of capitalizing on those moments of inspiration and excitement. That's why you need every element on your website to be optimized for conversions, and drive ticket sales.
With CrowdRiff's unique features, you can create more opportunities to optimize your visual content, and inspire website visitors to scoop up tickets. Here's how attractions can increase web ticket sales with CrowdRiff.
Create opportunities for guests to take action with clickable captions
The harder it is for someone to find your ticket purchasing page, the less likely a customer is to follow through in that moment of inspiration.
CrowdRiff allows you to direct someone straight to your ticket sales page at the second they want to purchase their tickets.
As your web visitors are taking in the visuals on your website, CrowdRiff allows you to add clickable captions as overlays to any photo or video in a website gallery — which you can link to your ticket sales page. That means as soon as inspiration strikes, the next step (ie. purchasing their ticket!) is right in front of them.
Hornblower Niagara Cruises, a boat tour operator in Niagara Falls Canada, uses CrowdRiff CTAs on the galleries throughout their website to create interest and drive ticket sales.
When a visitor hovers over an image they like in the homepage gallery, they not only receive more context – including the location, caption, and name of the Instagram user who posted it – but they're also prompted to buy tickets with a CTA that leads right to the tour sales page.
We all need a nudge to take action every now and then. Even if a customer is planning to visit in the future, a well-placed CTA can inspire them to commit to buying tickets today.
Use self-optimizing galleries to automatically get more out of your imagery
Do you always know which of your visuals get clicked on the most? In an ideal world, you'd be tracking this data granularly and continually swapping out your imagery to display the most effective combination.
Unfortunately, constantly monitoring, tracking, testing different visual galleries requires time that most marketers simply don't have.
But what if you could put your website galleries on auto-pilot? With CrowdRiff's self-optimizing galleries, this is entirely in reach.
Using artificial intelligence, CrowdRiff's smart galleries automatically test and update your visuals to maximize performance and conversions. This includes prioritizing visuals that get the most engagement and switching out the ones that don't. CrowdRiff galleries will always be optimized to present the most effective content first.
Self-optimizing galleries increase the effectiveness of your images and calls-to-action, with virtually no extra effort on your part.
Gain insights on which visuals and content drive ticket sales
On top of seeing how many clicks each photo, video, and CTA gets in CrowdRiff in-app, you can dig deeper into your data by using CrowdRiff's integration with Google Analytics.
Combining CrowdRiff's insights with Google's rich demographic and behavioral data gives you a more complete picture of exactly how visitors interact with your website.
For example, you can:
Discover which galleries are driving the most ticket sales with international visitors vs. locals

See which specific CTAs and photos are directly linked to ticket sales

Compare the percentage of ticket sales from people who have engaged with a gallery vs. from those who have not
This allows you to make data-driven decisions on the type of online experiences, actions, and visuals that can be used to trigger more sales. You can also apply these insights in other areas of your marketing, like repurposing particularly impactful visuals in targeted digital ads.
Want to increase ticket sales for your attraction?
Find out how you can use visuals to drive ticket sales and conversions for your attraction. Get in touch with our team and see CrowdRiff CTAs and self-optimizing galleries in action.