How CrowdRiff Helps Stretch Your Photography Budget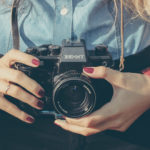 These days, marketers everywhere are finding they need more and more visual content for their marketing.
But as a destination marketer, getting all the visual content you need can be a challenge. Your budget for professional photography often isn't enough to keep up with the volume of content needed for all your marketing channels. And the variety of experiences in your destination are too numerous to capture by a single photographer or videographer.
With that in mind, we've been able to help over 250 DMOs make the most of their photography spend — keeping a budget for professional and stock images, yet finding ways to extend the rest.
Read on to see 4 ways CrowdRiff gets you more bang for your photography buck:
1 | Getting rights-approved social photos at scale to beef up your visual content library
User-generated visuals are a budget-friendly source of visual content for your brand, and CrowdRiff makes it easy for you to tap into them.
When it comes to images captured by locals and travelers, these photographers are fans of your destination. So since they already love your brand, as long as you ask nicely, people are usually happy to give you rights their photos to use in your marketing!
But the challenge is this: Commenting on every single photo that you'd like rights to takes time. Then, you'd have to track requests and responses somewhere, plus email back and forth for the photo.
CrowdRiff, however, automates much of that manual process. This means that for the time it takes to request one photo, you could request tens or hundreds, and build up a huge library of user-generated visuals to use in your marketing.
For example, boat tour attraction Hornblower Niagara Cruises received rights to more than 2,000 social photos within one week of first using CrowdRiff. Since then, their library of rights-approved UGC has grown to house more than 16,000 images.
How this works
Within the platform, you can choose your favorites from the content coming in every day, and with a click of a button, request rights to all of them.
CrowdRiff keeps track of which photos you've requested rights to, which are pending, and which have been approved — and we take a screenshot of the response for extra security. Approved content automatically appears in a dedicated section, so you don't have to keep going back to Instagram and checking — you can just start using them!
Bonus fact: When you download a photo, CrowdRiff retrieves the high-resolution version of it for you.
2 | Updating website visuals easily and often
Modern travelers want current information about the places they're planning to visit. So, as a DMO, you strive to keep the images on your website as recent as possible. But often, there simply isn't room in the budget to get entirely new website visuals every month.
With CrowdRiff, however, you have the ability to change up your website visuals with new content not just every month, but every day if you wanted to.
CrowdRiff galleries are dynamic. By embedding them on your website, not only is it quick and easy to add or swap out visuals in your gallery (it can take as little as 5 minutes), but there's always an abundance of new content to choose from.
How this works
People snap and share new photos of your destination every day, and CrowdRiff sources this all into your library.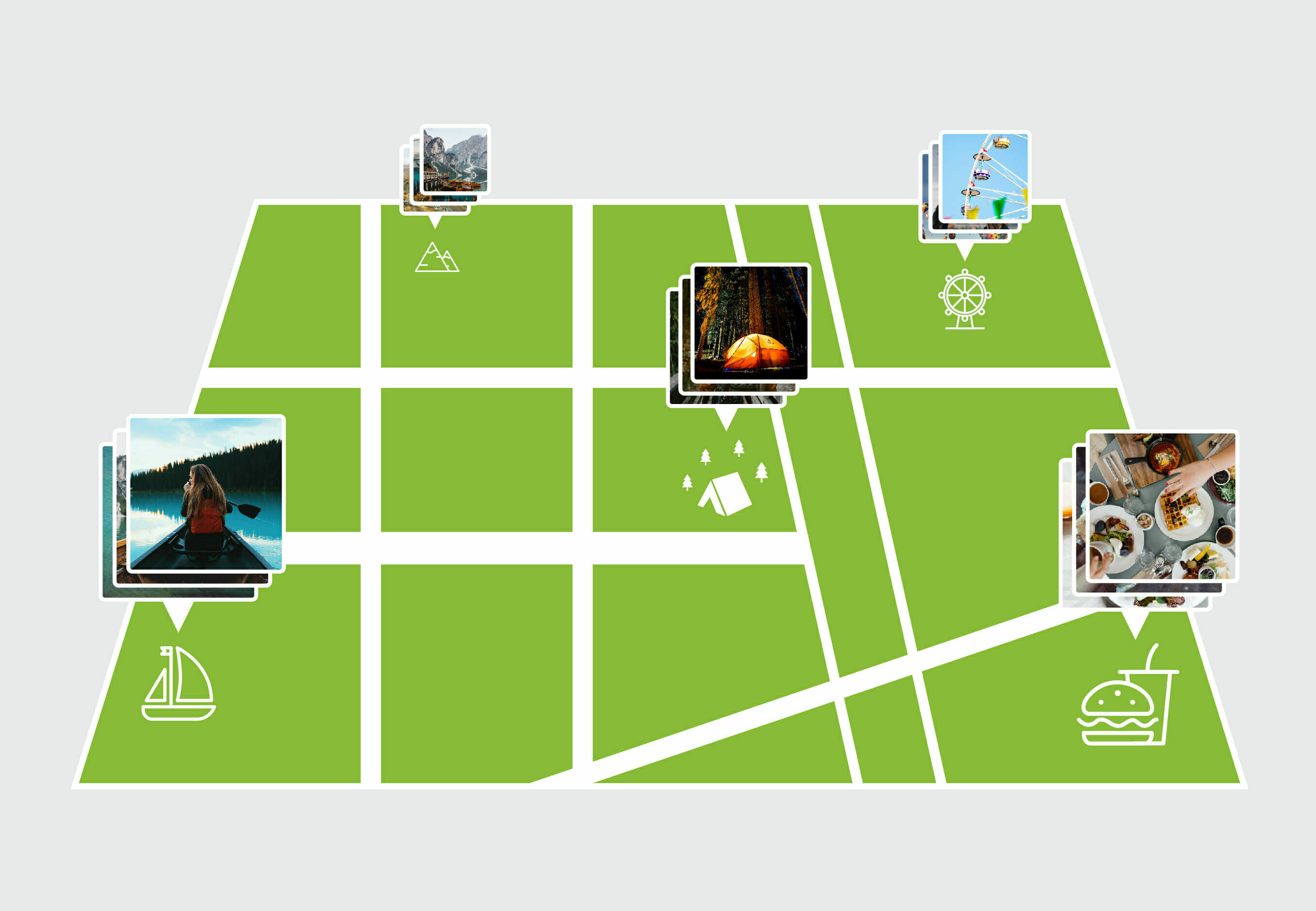 That means you always have access to fresh, current, and relevant imagery directly, which you can push live without leaving the platform.
Whether you're looking for owned or UGC visuals, you can quickly update any CrowdRiff gallery with a few simple clicks – no need to dive into any code or wait on a developer.
3 | Making it easy to find what you need from your existing library
How many times have you purchased a stock photo, only to realize that you already own a very similar image?
When you have hundreds (or thousands!) of visuals in your media library, it's only too easy to lose track of the content that's already available to you.
However, with an industry-leading image search, CrowdRiff ensures that all the content you already have is always at your fingertips.
How this works
With CrowdRiff's Google Vision keywording and intelligent image search, there's no need to remember obscure image file names. Every photo and video you upload gets crawled and auto-tagged with relevant keywords, using the industry's leading artificial intelligence technology.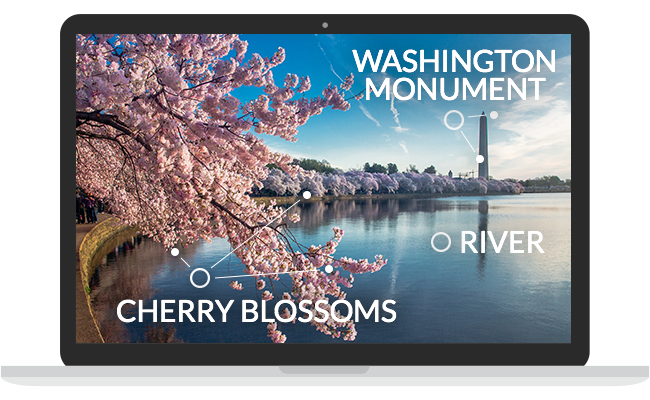 That means when you need to find a certain photo, even if you can't recall something specific, you can simply search for whatever you want to find, and CrowdRiff will sort through your library and show you all the content that matches – both owned and UGC.
So, rather than buying the same kind of photos over and over, you can quickly and conveniently surface forgotten content whenever you need it.
4 | Accessing hard-to-find visuals
Some visuals are harder to get than others. Think about it:
Maybe you already own a ton of photography featuring, say, twenty-somethings – but your destination probably appeals to people of other age groups too, that your current library doesn't represent.
Or perhaps you have an abundance of food photos from your most popular restaurants, but want imagery for a dozen of your smaller local gems.
It isn't always possible to source all this specific content and stay within budget — but with CrowdRiff, it's easy to find the imagery you need to fill the gaps.
For example, prior to becoming a CrowdRiff customer, Lauren Joseph of Hammock Coast struggled to find enough imagery that reflected the diversity of her destination's travelers and locals. Now that she's got CrowdRiff on her side, Lauren can easily find and curate photos from actual visitors and feature a wider range of people — old and young, and of different ethnicities — on her website.
Wedding photography was another type of photography she wanted more of, but was never able to fit into her budget.
"We have beautiful wedding venues – and wedding photography can get expensive. But if you go to my weddings page we just have a plethora of beautiful user-generated wedding photography."
– Lauren Joseph, Tourism Marketing Director, Georgetown TMC
How this works
Because CrowdRiff gives you access to all the photos being shared in your destination, which are taken by thousands of different people in your destination, you have a greater variety of visuals to choose from. No matter how niche it is, someone in your destination (likely many, in fact) has shared an image of it.
CrowdRiff makes it easy to supplement your owned photography by tapping into UGC to fill in areas that are underrepresented.
CrowdRiff helps you expand your visual library without expanding your budget
CrowdRiff gives you access to the thousands of social media visuals that exist around your destination. And better access to the visuals you already own.
When it comes to visual marketing, leveraging CrowdRiff helps you do more with the visual content you have, and extend your visual library with authentic, affordable content.
So, what are you waiting for? Get in touch with our team today to get a product tour!