How Destination Niagara USA Uses AR in their Visitor Guide to Fully Immerse Travelers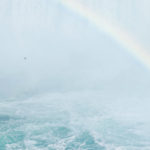 When one thinks about visiting Niagara Falls USA, the first thought goes immediately to views of the world's largest waterfall.
Alongside the iconic Falls boat rides and cave tours, however, the region is also home to a flourishing winery and brewery community, outdoor adventure sports, historic landmarks, hiking trails and more. While the waterfall itself has always attracted visitors from far and wide, Destination Niagara USA's task is to encourage them to stick around and explore all there is to see and do in the surrounding region.
Find Your Roar: A new brand story focused on highlighting adventure experiences
"In March of 2017 we unveiled a new brand positioning, a name, identity, a campaign to the world where we really are highlighting the American side of The Falls as a true adventure brand," said Libby Woock, the Senior Marketing Manager for Destination Niagara USA. "The narrative concept of 'Find Your Roar' was designed to drive consumers beyond the Falls, guiding them to find their own particular 'roar.'"
In their new messaging, Destination Niagara USA uses taglines such as "Find your roar," "Lose your voice" and "Sometimes you need to get lost to find yourself".
To highlight this theme, the team not only launched a brand new website, but also managed to encapsulate this feeling of adventure fully in an incredibly innovative visitor guide.
Creating an immersive destination visitor guide with augmented reality
For their visitor guide, they wanted their new editions to be consistent with their brand's increased focus on immersive, genuine experiences from the first-person perspective. So, Destination Niagara USA took their visitor guide one step further by introducing an augmented reality (AR) feature.
Early in the guide, readers are invited to download the Layar app to unlock an augmented reality experience.
The layer of AR brings an unexpected immersive element to print. When a reader scans the page with their smartphone, the page on their screen magically turns into a video that auto-plays to take the viewer on a myriad of adventures.
This is the video shown:
The video takes you on a first-hand journey staring down the edge of the falls, riding a boat straight up to the Falls, boarding a helicopter, exploring nearby hiking trails, traveling through the endless rows of a vineyard, watching cannonballs explode from an 18th-century castle.
"We're always trying to deliver a deeper, more usable level of content for visitors to the region," said Woock. "The live-action destination video experienced through AR really put users in the heart of adventure."
Putting a focus on visuals that bring out the first-person experience
The team at Destination Niagara USA was very selective in the content they chose to include in this guide – particularly when it came to visuals.
"We really want to put people in the heart of adventure, so [we include] very vibrant, in your face content," said Woock.
All the imagery was selected to inspire travelers, leave them with a feeling of excitement about the region, and lead them to imagine themselves there. Throughout the guide, there are shots of people with their mouths opened in wonder or exclamation, with their hands raised in action, and soaking in the wonders of the Niagara USA region.
"All the photos feel real and in your face, so we hope people will look through this and feel 'I want to be there.'"
Keeping in line with their focus on the first-person perspective, Woock adds that they make it a point to incorporate authentic traveler photos too. "We use CrowdRiff assets throughout the travel guide, said Woock, referring to the rights-approved social media images sprinkled throughout the guide. "We love showcasing user-generated content."
Over 500,000 guides have been distributed to travelers in surrounding regions and Canada
The innovative 2018 Travel Guide is on display at key drive market distribution centers in New York, Pennsylvania, New England, Ohio and Canada. The publication is also being promoted on the destination's digital channels, allowing visitors to request a free copy or view the PDF online, which also supports the AR experience. In total, over 500,000 of their travel guides have been distributed.
Developed in partnership with the destination marketing organization's creative agency, FourthIdea, Woock says such early experiments with incorporating the technology into its visitor guides will allow them to develop more advanced augmented reality assets with each new guide.
When it comes to immersing visitors with AR, Destination Niagara USA is just getting started
"We'd love to continue using [AR], but maybe expand on how we use it," she said, explaining that integrating their tourism video is just the first step.
Beyond the video, Woock says there are opportunities to put more of a spotlight on their partners. For example, they may integrate technology that allows someone to hover over someone's face in the guide, and hear their story.
"AR gives us an opportunity for us to showcase all there is to see and do, and maybe change the perception for people of what we offer here in Niagara Falls and Niagara County," said Woock. "There's always something new and exciting happening, and maybe they'll discover they've never experienced before."
---
Recommended Reading