How DMOs Can Engage Travelers Better with Personalization & UGC Marketing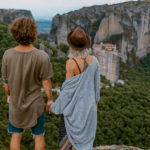 Earlier this year, we had the pleasure of hosting a webinar with Bound (formerly known as Get Smart Content), a tool that helps brands deliver personalized digital experiences to website visitors.
Modern day travelers are visual decision makers, who are increasingly expecting tailored experiences online. So, we took this opportunity to discuss how DMOs can leverage the combined power of UGC marketing and personalization to deliver the best visuals at the right time.
Background on Personalization in Tourism Marketing
While one-size-fits-all web content was the accepted norm several years ago, today's consumers expect digital personalization.
Brands today have access to more actionable data than ever, including a website visitor's location, entry path to the site, time spent on each page, and what type of content they engage with.
If you know your visitors are from, say China, show them Chinese traveler content! If you know they're foodies, show them mouth-watering photos of your destination's most popular eats.
Consider these compelling results from destinations who have combined personalization and UGC marketing:
So, if you know what a visitor is interested in, show them what they want to see!
How Personalization Ties In with Visual Marketing
Authentic images and videos inspire visitors to make important travel decisions. This includes everything from where to stay and where to eat to when to visit and what to do on a given day in a destination.
So for maximum impact, DMOs are using personalization tools like Bound in tandem with CrowdRiff to show the right visuals at the right time.
In this way, DMOs can show the most useful and impactful visuals to create personalized experiences for each visitor.
3 Examples of DMOs Successfully Combining Personalization and UGC Marketing
1 | Explore Branson: Personalized UGC Galleries Based on Customer Interests
On their website, Explore Branson displays custom galleries of visual user-generated content tailored to their visitors' known interests.
How? They analyze what the visitor has previously looked at or engaged with online and use Bound to deliver the most appropriate CrowdRiff galleries.
For example, they can identify which website visitors have a passion for outdoor activities and then display a custom gallery of people hiking, wakeboarding, and surfing in Branson like this one:
Of course, they also have a generic CrowdRiff gallery with a range of photo types to appeal to any visitor who doesn't fall into one of the special interest categories they're targeting.
2 | Discover the Palm Beaches: Personalized UGC Galleries Based on Visitor Location
Understanding visitor demographics opens up an entirely new way to customize visual content. Discover the Palm Beaches takes advantage of Bound to deliver a custom CrowdRiff gallery of UGC visuals linked to each web visitor's geographic location.
Like many DMOs, Palm Beaches has several geographic markets they target and they understand what those different markets are most interested in experiencing when they visit. So, they use that knowledge to create personalized UGC galleries that correspond with market interests.
For example, people currently in Palm Beach like to see images of the beach and events, so there is a personalized gallery based on those topics for locals.
Palm Beach has a number of drive markets that come for the restaurants, culture, and brewery tours, so they also created galleries reflective of those interests.
Palm Beach's key fly markets, on the other hand, are drawn by outdoor activities, but they also want to see images of parks and popular restaurants.
If your different markets have distinct interests, you can develop unique UGC galleries for each so they see the most relevant images as soon as they visit your site.
3 | Visit Franklin: Personalization Based on Paid Media Engagement
Visit Franklin uses CrowdRiff and Bound to complement their paid media campaigns. Bound identifies which campaign each visitor has clicked on and then CrowdRiff delivers the most appropriate UGC gallery.
Like Explore Branson and Discover the Palm Beaches, they have a standard one-size-fits-all gallery on their homepage with a variety of images.
However, the real magic is how they take data from their paid media campaigns, which target travelers based on different interests, and provide truly powerful, personalized experiences.
For example, Franklin has a fantastic music scene that they've created a paid campaign around. Whenever someone clicks on a music-themed ad, Visit Franklin knows two things with certainty: the visitor is interested in music (because they were targeted with the ad) and it resonated with them enough to click through (which is how they reached the site).
The next step is coupling what they know about the visitor to curate and deliver a personalized music-focused gallery – which is much more compelling than generic images of the destination.
Key Takeaways on UGC Marketing & Personalization
Your website is your most important asset as a marketer.

It's where you're driving traffic to. Whether you're serving a digital ad to someone or advertising in a magazine, the goal is getting visitors to your website.

When thinking about your website, shift from just words to visuals.

Visual content plays a huge role in attracting visitors and telling the story of your destination, both when it comes driving clicks as well as branding to help consumers understand why they should visit your destination.

Personalized content increases engagement conversion.

There are many different aspects to personalization. By providing more relevant content based on visitor context

(Are they a first-time visitor? Part of your fly market? Driving in?)

you can increase conversions and engagement on your website.

Connecting your tech stack helps you realize higher value.

For instance, using CrowdRiff and Bound together allows DMOs to serve up relevant content to any visitor based on their interests.
Create the Best Experience for Your Web Visitors
Personalization can take your UGC marketing to the next level, and vice versa. To get a glimpse of what you could be doing, watch the full webinar today.