How Enjoy Illinois Relaunched an Award-Winning Website that Increased Traffic by 74%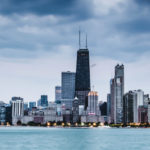 Though it's one of the biggest destination marketing organizations in the country, fluctuating budgets have historically left the Illinois Office of Tourism with inconsistent messaging, an out of date online presence and little in the way of visual content.
Illinois' tourism marketing strategy needed some major refreshes
When the office's current director, Cory Jobe, began in his role less than three years ago the website had not been updated in more than five; no photo or video shoots had been commissioned in over three years; and the state's 40 regional DMOs had little cohesion in their messaging and strategy. "There's never a steady year-to-year budget, so it's difficult to plan anything," he said.
While the city of Chicago will always draw tourists, Jobe explains that it is not without its competition amongst other Great Lakes cities like Detroit, Cleveland, Cincinnati and Minneapolis. Furthermore, the city and surrounding state receives a vast majority of its leisure travelers during a small seasonal window, and can't really compete with southern cities and states like Florida and California for the remaining half of the year.
"When you're not in the market [with ads] and other states are you begin to lose market share, and we've experienced that a little bit with the uncertainty of budgets."
After he was hired as the Director of the Illinois Office of Tourism, Jobe quickly discovered that the state was in desperate need of a new website, but had to remain patient.
"That was something I wanted to look at, but it just took us some time with the budget," he said. "In fiscal year '17 we finally had the ability to do something."
Building an entirely new website from scratch
With a rare opportunity to create an entirely new website, Jobe began an extensive, almost year-long research process to better define and understand the destination's key market segments and personas.
"That was done collectively within our ad agency, our PR firm and media buying teams along with the Illinois Office of Tourism staff," he said. "We learned that our audience had changed a lot; we learned that a lot of our audience today are millennials and Gen X-ers, so we began to create content that would speak to them."
In studying those segments Jobe decided to put authenticity, visual storytelling and video content front and center of the website redesign plans, building in user-generated content as much as possible.
"It's all about top of the funnel inspiration, and we know that this industry loves images. People want to see an image of where they might be going. Video and photography and content are king, and an easier way to fill that void for any size DMO is through user-generated content."
The launch of the newly designed Enjoy Illinois website
The new website, which launched in early March, is packed with breathtaking images, videos and interactive content showcasing not only Chicago but other Illinois attractions as well, including the scenic Route 66 Trail, the state's outdoor adventure attractions and the local craftspeople, who are featured in a series called Illinois Made.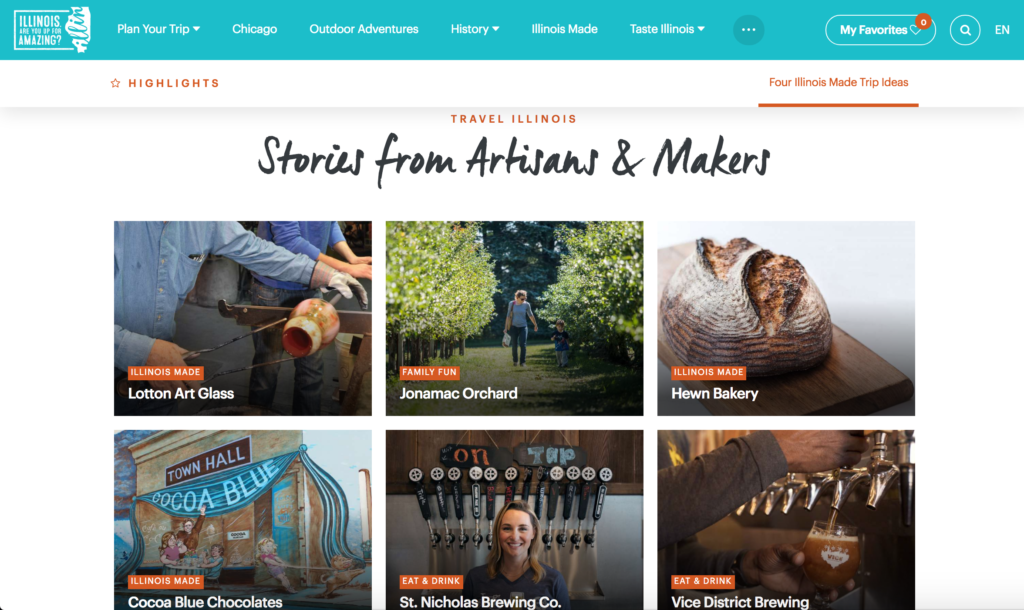 The website also features an interactive gallery of user-generated content, created using CrowdRiff's API, where people can select various hashtags to see different curated collections of photos.
"CrowdRiff has been a major enhancement to the site. It also helps us find content that we can display on our social channels, and that gives it an even greater personal connection with our marketing materials."
The resulting website has blown all of the Illinois Office of Tourism's original benchmarks and KPIs out of the water, going above and beyond what Jobe thought was possible to achieve with a website redesign.
Since its launch the website has generated a 74% uptick in traffic, a 447% increase in newsletter subscribers and a 14.5% increase in hotel accommodations and flight bookings. It was also awarded the US Travel Association's 2017 Mercury Award for outstanding travel website.
Best travel website award goes to @IllinoisTourism Congrats! #ESTO17 pic.twitter.com/7ExkwDzk1i

— CrowdRiff (@CrowdRiff) August 30, 2017
Solving the problem of an unpredictable budget
"Another benchmark, which was not an original KPI strategy, was that for the first time ever we were able to put banner ads on the website," said Jobe.
"Now we're going to be going out and selling those banner ads, and bringing new revenue in to continue to enhance the site and make additional changes to the site and grow the site, whereas we might not be able to do that without this new revenue coming in."
Having a reliable source of income is a big step for a DMO whose budget is always in flux, but now Jobe says the Illinois Office of Tourism can rest assured knowing that they will have the funds to keep enhancing the site, in spite of any future budgetary issues.
He adds that one key to maintaining a successful DMO website with banner ads is only soliciting advertisements from brands that are already affiliated or aligned with the destination's marketing efforts. The other is ensuring the ads are not intrusive or overbearing.
Why finding a great agency partner is key to a successful website redesign
Jobe says that there were times in the past when the organization's RFPs were structured in a way that disqualified local boutique agencies, as they required firms to have a great presence in their key foreign markets. He adds that much of the credit for the website's success, however, belongs to local boutique creative partner TimeZoneOne, who helped execute the strategy of the website and continues to populate it with content today.
"Going with a boutique agency, it was a very personal approach; the team was approachable, they listened and understood what we wanted to do," he said.
"The work they do day-in day-out is the reason why it's an award winning site."
Jobe adds that EnjoyIllinois.com came together relatively quickly and successfully because of that original investment of time and resources into research and planning. While many ideas were proposed throughout the process Jobe says it was those original data points that guided most decisions.
"Early on, if you're organized in terms of your personas and your KPIs, the process works a lot easier and you can really stay focused," he said. "Having those as your benchmark will keep you grounded and not going off the beaten path too far."
---
Recommended Reading: