How I Travel 10x a Year while Working an Office Job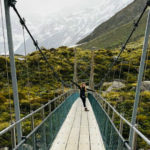 I've always loved the idea of being a world traveler.
While growing up in the small town of Port Perry I would spend days at school dreaming of climbing mountains in the Himalayas, surfing in Hawaii, and eating street food in Thailand. After hearing stories and seeing photos from my Dad's 3-month solo backpacking trip across Europe, I knew that had to be me one day.
By university, I'd only traveled to Costa Rica and taken a few road trips across Canada, but that was enough to catch the travel bug. I made plans to do The Big Trip when I graduated- I was going to spend at least 3 carefree months padding around Europe or Asia.
Then, life got in the way.
Right before I graduated, I was offered a job I felt I couldn't turn down. A big financial organization I respected offered me a rare chance to join their team and so off I went in my power suit to the 32nd floor to meet a bunch of bankers.
However, I wasn't ready to give up on my travel dreams. I made a pact with myself- I would keep working, but I would travel to every single continent before 30. Not an easy feat for a 23-year old working in finance with your standard 2 weeks of vacation. Back then, I had no idea how I'd ever accomplish my goal.
Finding a new workplace in the travel industry
Years later, I was looking to bring my financial knowledge to a smaller innovative financial company, when I heard about a startup working on technology for tourism boards all over the world. If I couldn't be across the globe, I figured I'd at least love talking to a wide variety of people who were.
I joined CrowdRiff as an Account Executive in March 2016 and immediately felt at home. Not only was I feeding my passion for travel, I was working with a diverse group of interesting people and learning every day. As the company and my role expanded, I began to travel to meet customers in places like Denver, and Newport Beach, and to attend international conferences representing CrowdRiff.

In September 2017, I traveled to Tahiti representing our team to speak about the power of visuals and user-generated content. While I was there, I took an extra day to enjoy the island and spent the full day swimming and snorkeling in the crystal clear waters and hiking in remote parts of the island. (One day was not long enough, for the real experience I need to go back to explore the other 117 French Polynesian islands.)
Taking advantage of CrowdRiff's Travel Research Program
This past November, I checked a major continent off my list and visited a customer in New Zealand, through CrowdRiff's Travel Research Program. The program allows employees at the company to take a paid, extended trip to a customer destination of their choice to discover and understand the travel experiences our customers promote.
I visited our awesome customers in Queenstown, drove the South Island in a campervan stopping in remote locations along the way. I hiked into the snowy mountains near Aoraki/Mount Cook and took an overnight kayaking trip at Doubtful Sound in Fiordland National Park. As a highlight to round out the trip, I also complete one of New Zealand's "Great Walks"- spending 5 days hiking the Abel Tasman Coast Track.
While I still have Antarctica and Africa to visit, I'm thankful for having the opportunity to grow myself professionally while also living my dream of seeing the world. This year, I'm planning a camping safari in East Africa and visiting friends in Pender Island, BC.
Admittedly, few workplaces have opportunities as awesome as the travel research program, but that doesn't mean you have to be stuck to your desk all year round.
Here are my top tips for maximizing travel while working a desk job:
Maximize your vacation

. Negotiate! You never know if you don't ask. Often, more vacation time is easier for a company to wiggle than more salary. You can also look into companies with unlimited vacation plans, but be sure to ask about how often people actually use it.

Business travel.

Be sure to raise your hand for any business travel opportunities that arise at your company. Be sure to see if you can extend your trip for a couple extra personal days. Often, your company will allow you to do this if you pay your own accommodation costs for extra days.

Conferences.

You can also see if your company will cover the costs of you attending a conference for your own learning and development. Alternatively, if you are an expert in your field, you can apply to speak at a conference, which might provide a travel costs stipend.

Research companies with travel perks.

Companies like Buffer work remotely, but bring everyone together to a different global destination every year. Some companies, like Unbounce and CrowdRiff, both offer not only vacation time, but opportunities to travel on behalf of the company for research.

Work in travel. Working for an airline isn't the only option if you want to see the globe. Consider working for a travel agency, a tour operator, or even a travel tech company (check out CrowdRiff's job listings here!).
With that, you should be well on your way to achieving both your travel dreams and career aspirations.
Interested in learning more about how we balance life, work, and travel at CrowdRiff?
You can shoot us a message at hello[at]crowdriffv2.wpengine.com and check out our job openings here!