How Nelson & Kootenay Lakes Tourism Sources UGC to Connect with their Target Traveler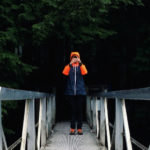 While most destination marketing organizations focus their efforts on specific demographics, Nelson and Kootenay Lake Tourism doesn't really look at where you're from, how old you are, your interests or your tax bracket.
Instead, the organization responsible for marketing the vast patch of land, mountains and lakes in southern British Columbia is more focused on "psychographics," seeking to appeal to a very precise personality type.
The six communities that comprise Nelson and Kootenay Lake only count about 25,000 permanent residents, but plays host to more than 250,000 on an annual basis, arriving from as close as Calgary and Vancouver and as far away as the United States and Europe.
A destination catered to a very specific psychographic
"It's an unknown destination, which is kind of okay. It's not like we want to tell
everyone
to come here. We're quite particular on the people who we invite."
Dianna Ducs, the Executive Director of Nelson and Kootenay Lake Tourism, explains, "We are a place for free spirits and well-rounded squares. That's the true definition of our marketing positioning statement."
The six communities that fall under Ducs' purview offer a wide range of diverse activities and hobbies to explore, which leads the destination to attract those with an open mind and an appetite for exploration. While the destination is home to the third largest lake in the country and some of its freshest powdered ski hills in the world it's also dotted with artisan workshops, restaurants, theatres, microbreweries and galleries that encourage visitors to try something new or master something they already know.
"We cater to someone that's looking for something relaxed and different," said Ducs. "As for that well-rounded square part, our interpretation of that is the intellectual person, maybe a bit of a geek, like someone that's really into pottery or clay, because we actually have a school of the arts that does teach pottery and blacksmithing and jewelry."
While the psychographic marketing strategy helps the DMO keep the community filled with like-minded travelers it can be very difficult to advertise to a specific personality type across multiple continents on a shoestring budget of $300,000 annually.
Realizing the Unifying Message of "Finding Awesome"
As the four-member marketing committee reviewed the same old comments in their visitor surveys about the natural beauty and relaxing atmosphere of the destination last year, one member got frustrated at how respondents were avoiding the two words that could accurately sum up the experience.
"He said 'you know we just talk around it all the time, like come here because it's gorgeous or beautiful or relaxing,' but you know what, it's just awesome."
"So it just sort of worked into 'finding awesome,' which was just perfect," said Ducs. "We use it all the time: Come find awesome in our dining experience, come find awesome up at our ski hill, come find awesome looking at our heritage tours. We encourage people to come and find their own awesome. It's a unifying message that brings all of our attributes together."
After playing around with the marketing concept last autumn the DMO decided to go all-in on Finding Awesome this past January with the launch of a microsite and a contest by the same name.
(Ducs explains that the only reason why FindingAwesome.ca lives on its own microsite is because nelsonkootenaylake.com is already a long enough URL.)
Using Visual User-Generated Content to Resonate with their Psychographic
"Right now the hot trend is user-generated content, so we had to figure out a way to get more user-generated content," said Ducs. "Using one exciting hashtag, #findingawesome, seemed like a good way to do it."
So to encourage more UGC , Finding Awesome has run two photo & video contests — each receiving over 1500 submissions via social media tagged with the campaign hashtag — with winners receiving cash prizes. When winners are announced, the team at Nelson and Kootenay Lakes Tourism writes up blog posts featuring the best social posts in each category.
But for the submissions that don't officially win, they still get a spot on the extraordinarily visual microsite. The site is filled with photos and videos from locals and visitors alike, using CrowdRiff to curate and create dynamic website galleries with this user-generated content.
The authentic content is meant to show off their destination's personality, which will likewise resonate with the specific type of traveler Nelson and Kootenay Lakes Tourism targets.
A seamless workflow for getting rights to UGC
"We have bought into the rights extension on CrowdRiff, so we can just click on the image, click on the little 'rights' button, and it sends off a request to the person who posted the image or video with the legal details and an explanation of what we're going to use it for," said Ducs.
"If they agree they just send back a 'yes.' That's as complicated as it gets. It's a really good system."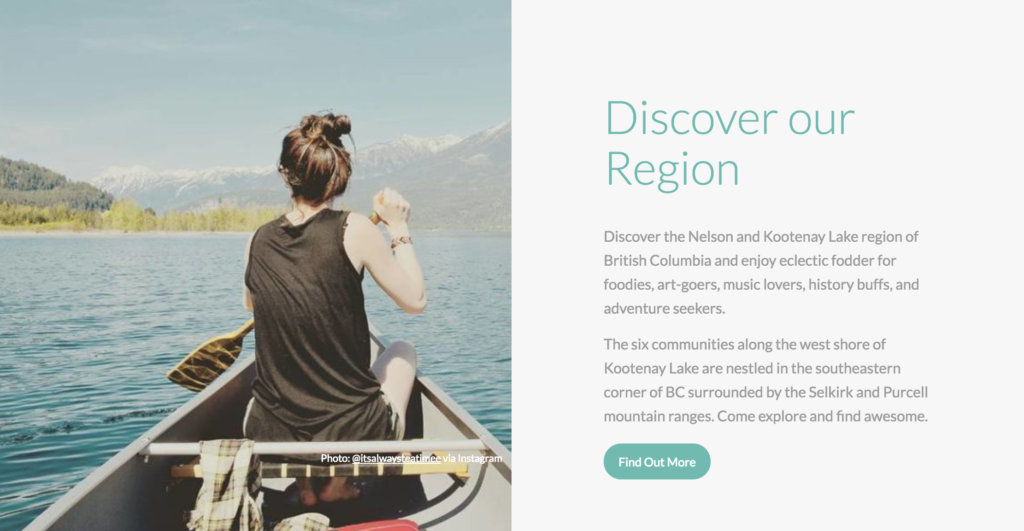 Much of the feature imagery (outside of the UGC gallery) on Finding Awesome is user-generated content, sourced from Instagram.
The method has been so easy and seamless that Nelson and Kootenay Lake Tourism offers to enrich the digital exposure of all of its local small business partners with user-generated content.
Next Steps for "Finding Awesome"
The Finding Awesome campaign has struck such a chord with locals and tourists alike that Ducs doesn't see it going away anytime soon.
In fact, locals have begun adopting the slogan for their own events, such as the area's microbreweries' upcoming "Fermenting Awesome" event, or the local film committee's "Filming Awesome" initiative.
"I think Finding Awesome fit perfectly for our free spirits and well rounded squares," said Ducs.
"When people come here we don't say 'this is what we have to offer, these are the four things you can do.' We want you to find it, we want you to discover it, we want you to be surprised with what you see when you find your own awesome. That's what we offer our psychographic."
---
Interested in CrowdRiff's rights management? Book some time to chat with us today!