How New Orleans TMC Evolved their Blog & YouTube Channel into the Ultimate Insider's Guide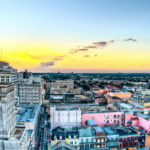 Some tourist destinations have to dig deep when promoting attractions that might lure visitors. New Orleans, on the other hand, has the opposite problem.
As one of the oldest cities in North America (New Orleans will celebrate its Tricentennial in 2018), the birthplace of Jazz, the home of Cajun and Creole traditions and the world famous Mardi Gras, New Orleans is the kind of destination whose main attractions need no awareness campaign.
But while the world famous hotspot continues to inspire visits to Bourbon Street, the French Quarter, and major events like the New Orleans Jazz Festival, some of the city's approximately 10.5 million annual visitors often only scratch the surface of what it has to offer.
When the New Orleans Tourism Marketing Corporation first launched its blog, GoNOLA.com in 2010, the goal was to capture the sights and sounds of the world's most festive city and in a fun, quick, and conversational way.
"This city can be a sensory overload when you're here, with the food and the music and the colors and the architecture and the history," explained Jeremy Cooker, the Vice President of Marketing and Special Projects for the New Orleans Tourism Marketing Corporation. "If you look back at [our first posts and the first videos in] the archive of GoNOLA's YouTube channel, it looks like a[n] . . . approach of 'let's just capture as much as we possibly can.'"
Transforming GoNOLA into a True Insider's Guide
Over the years, however, GoNOLA has matured from its humble roots as an archive of the city's most famous attractions and events to an exploration of those sides of the city visitors are less likely to find on their own.
"GoNOLA allows us to peel the layers back a little bit for our visitors," says Cooker.
The YouTube channel does provide one-minute guides to the Jazz Fest and a behind the scenes series on the making of Mardi Gras, but some of its most popular videos are those that touch on those lesser known part of New Orleans culture. Some of the most watched videos include a guide to eating crawfish, a tour of the city's storied cemeteries and an explanation of the difference between Cajun and Creole cooking.
"There's just a lot more to the city than some people realize," says Cooker, adding that New Orleans is home to over 135 annual festivals, several of which are not commonly known outside of the city.
"The way we've presented GoNOLA is as somewhat of an insider's guide: internally we talk about it as your cool friend who lives here and knows all the fun things that are going on."
These videos, in other words, strive to equip potential visitors with a local's depth of understanding so they can discover some of the city's hidden gems before being lured to its handful of world-renowned attractions.
"In New Orleans we have an embarrassment of riches in terms of what people look for in a travel destination, there's no shortage of content here, no shortage of things we can put out there," explains Cooker.
"It's just a matter of what's going to make people lean in, sit up, and say 'I want to see more of this.'"
Choosing Content to Create for GoNOLA
Deciding on which of those riches to hone in on, says Cooker, starts with a combination of audience feedback and the city's events calendar.
The social and search teams present some of the most popular queries, search terms and questions they receive, coupled with upcoming festivals and events, and work with the editorial team to put together a production plan.
"We have a full team meeting every month with all the agency partners, search, social and our in-house editorial team, as well as our colleagues at the New Orleans Convention and Visitors Bureau (NOCVB), and we all lay out what the month will look like," explains Cooker, adding that the vision is ultimately brought to life by a local production team, Calm Dog Productions.
"I think there's some inherent sense, internally, of whether it's good enough if all of us want to share the video immediately with as many people as possible."
Shipping GoNOLA Videos to Thousands of Followers
The videos are published on the GoNOLATV YouTube Channel, which has over 6,000 followers, and sometimes shared on New Orleans Tourism's Facebook page, which has over half a million.
The videos are also promoted through the organization's newsletters and paid social advertising. New Orleans-based social advertising agency FSC Interactive has managed GoNOLA and its video content on behalf of NOTMC for the past several years, in addition to managing NOTMC's and NOCVB's social channels.
Video viewership on GoNOLA's YouTube channel, according to Cooker, can range from a few hundred to a few hundred thousand, but the less viral videos are often intended to tap into a more niche audience.
Their fun, playful videos have won them a 2017 VIZZI Award for best video storytelling.
"New Orleans is Built on Stories" — Future Endeavors
Cooker adds that while the GoNOLA videos have been very successful in the past viewers can expect big things starting in September, as the city prepares to celebrate its 300th birthday.
"New Orleans is built on 300 years of great stories, and we're going to be inviting people to come and be part of that history, part of our story, and make New Orleans part of their story."
Cooker acknowledges that while some other destinations may want to keep their stories within the destination, New Orleans opts to ask people to share and share often their experiences.
To give web visitors an authentic lens into these experiences, NOTMC is partnering with the New Orleans CVB to launch a brand new website in the fall at NewOrleans.com which will feature galleries of user-generated content made with CrowdRiff throughout.
"We want to keep showing the stuff we know people love, and showing the stuff people might not be aware of," says Cooker. "There's always something to explore here, so we've got a lot more to cover."
---
Recommended Reading