How Sioux Falls Uses CrowdRiff to Leverage the UGC that Speaks to their Visitors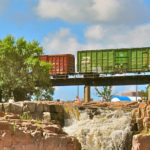 As longtime CrowdRiff power-users, the marketers at Sioux Falls CVB have found visual user-generated content (UGC) to be key in their efforts to engage and connect with both visitors and locals.
They've fallen into a great rhythm of finding social photos and visuals and publishing them to their marketing channels with CrowdRiff, as well as seen huge increases in social engagement.
I recently sat down with Krista Orsack and Matt Barthel of Sioux Falls to chat about their experience using the platform for their visual marketing, and here's what they had to say.

A CrowdRiff Conversation with Sioux Falls on the Power of User-Generated Content
Amrita: Thanks, Krista and Matt, for giving me some of your time today. I'd love to first get to know a bit about the two of you. Are you from the area and have you been working in the tourism sector for a while?
Krista: I'm the Director of Marketing here at this CVB and I've lived in Sioux Falls my entire life, and I've been in the tourism industry for about fifteen years.
Matt: I also grew up in Sioux Falls and have lived here my whole life. I've only been with CVB for two and half years – so a small chunk compared to Kristen's time here.
Is it the two of you on the marketing team? What does the Sioux Falls CVB look like specifically in marketing?
K: We have three people on our marketing team: myself and Matt, and our creative development manager.
We're always collaborating with the sales team and doing what we can to best come up with the latest and greatest ideas. We're a small marketing team of three people and we could definitely add another person.
Do you market to both leisure travelers and business travelers?
K: Yes. Here at CVB, we handle all the leisure and group sales activities, including group events, group tours, international marketing, as well as meetings and conventions.

I'd love to learn about what you were doing when you decided to start using a tool like CrowdRiff. Can you give me a little background on what prompted you to start working with it?
M: Initially, we were looking to expand our social reach and gain more followers, so that was the primary reason we joined CrowdRiff. As we started working with it and doing some research, we realized how much more could gain from CrowdRiff, including gaining user-generated content and incorporating it into our website as well.
Speaking of which, I'd love to learn more about what you're doing with CrowdRiff on your website.
M: On our website, we have a bunch of directory listings that include attractions, hotels, and restaurants. Within each directory listing, we chose to add a gallery using CrowdRiff for each one. For example, a certain attraction will have a certain amount user-generated content, so we incorporate that into directory listings and in our content. A piece of content can have anywhere from 5-12 different galleries.
K: It definitely adds an element of engagement. We've seen our engagement metrics increase since working with CrowdRiff. Everything we do in the tourism industry is visual. From an efficiency standpoint, the platform really allows us to showcase actual visitors in our location and in real-time because the pictures update on a regular basis.
A: That makes a lot of sense. We all understand that visuals are a big part of how we choose what to do and where to go. The fact that you're putting those not just in one place but throughout the website is something that a lot of destinations would be interested to learn more about.
Who works with CrowdRiff directly and what does your typical workflow look like? You've got a lot of visuals on your website, so I'd like to hear more about what that means on a day-to-day level.
M: I'm the one who primarily works with CrowdRiff.
On a day-to-day basis, I check CrowdRiff for anything that's come in recently. Then I just add certain photos to page-specific galleries or to our main gallery on our website. Sometimes this involves trying to get rights for photos; I find unique photos that qualify for that and put them in appropriate folders so they're ready to go when we need to use them.
How often do you find yourself adding new social trackers, Matt?
M: It depends on how often things are popping up in Sioux Falls. For example, our new visitor guide comes out in February, so there can be anywhere from 10-20 new additions at that time. Throughout the year, we just have the ones that come up now and then. I would say, on average, I add something new once a week.
You mentioned that you're using galleries on your directory listings. Did you start out using galleries throughout your website or did you do one page first and go from there?
M: We started with one or two galleries on a content piece or on a landing page. We started to see the effects and thought, "Hey, why don't we incorporate these galleries throughout our whole website?" So, we made the decision to put CrowdRiff galleries on every directory on the website.

K: Working with CrowdRiff has opened doors to tracking more hashtags than we normally would have done. Also, thanks to the photo rights element, we're getting user-generated content to use across all our digital marketing.
Could you share any examples of the kinds of digital marketing you've had UGC approved in?
K: Digital banners, email creative, social ads, Facebook canvas ads – any place we can find a good use for them.
In addition to UGC, do you still commission photography? Can you talk a bit about this mix of using CrowdRiff on social media and using other visual content?
K: It's a learning process and it'll be different for every DMO. The platform has really helped us gain those pictures that we can use in digital.
We're building a great digital library of images and we're going to be getting higher resolution images. Having a social library also allows us the flexibility to change the creative more often, which we've never been able to do before.
How has CrowdRiff added value to your DMO?
M: We're gaining a huge library of UGC photos. In the past, we'd sometimes use the same images for print and elsewhere, but with CrowdRiff we have so many photos to choose from. We're at a point now where we don't need to replicate anything.
Have you had anyone in the community respond to your use of UGC?
K: It's funny you should ask, because we ended up meeting with a prominent local firm that focuses on visuals. We used the term "user-generated content" in the meeting with this individual and they asked us to clarify what it meant. We thought, "Wait a minute – we thought you were the expert!"
Visual content to us is real people and real places. Visuals to them are more graphical in nature.

M: We've had positive feedback. Not just about using the photos, but on social media in general. Engagement has been way up since we began using it and that's great to see.
A: Our business is all about relationships with other people and that's one of the benefits we hear about a lot. Certainly, you want people to have that communication and human engagement. That's why we travel – to meet other people and see new places.
You've been a CrowdRiff power-user for a while now. What's next for you in the coming year? Any dream projects you'd like to be able to do?
K: We're also looking forward to what's next. We're planning to launch an app and we're using the API code offered by CrowdRiff to give our app's social gallery the best appearance possible.
A: We're excited to see the app, as well, and we're looking forward to working with you on it!
And that's a wrap!
It was a pleasure speaking to Krista and Matt. Among the many reasons they love to incorporate UGC visuals into their digital marketing, Sioux Falls appreciates the ability to share the authentic experiences of the real people who visit their city.
We're excited to be a part of Sioux Falls CVB's future visual marketing efforts, and are happy to them promote their destination with more visuals and less words.
Header photo courtesy of Kris Horvath.
---
Recommended Reading