How to Capitalize on Travel Micro-Moments with Visuals

Having a world of information at our fingertips has changed the way travelers think about, research, and book vacations.
So how can you as a DMO keep up with this shift? It's time to pay attention to micro-moments.
What is a micro-moment?
Micro-moments are spontaneous moments of inspiration when consumers are looking for the answers they need in order to take some specific action.
For example,
"Where should I eat lunch?"

"Where should I take my vacation next month?"

"What is there to do in [your destination]?"

Micro-moments are fast and fleeting – so the answers need be easy for customers to access and digest.
That's why visuals are the perfect medium to communicate at these moments. A picture speaks a thousand words and, more importantly, does so in an instant.
For travel marketing, micro-moments present an opportunity for DMOs to provide travelers with inspirational images that motivate them take the next steps in planning their adventure.
These travel micro-moments break down into three main categories that DMOs can direct their visual marketing towards: I-want-to-get-away moments, time-to-make-a-plan moments, and let's-book-it moments.
We've all been there. Wistfully daydreaming about taking that next getaway. Unsure of the specifics – like when or how these dreams might become reality – but certain that adventure is calling!
Would-be travelers experiencing these I-want-get-away moments often don't have solid plans, brand loyalties, or set travel dates. Which means they're open to any possibilities that catch their eye.
They might not even know where they want to go yet. According to Google, one in three travelers haven't chosen a destination when they first start thinking about taking a trip.
How DMOs should respond: Get on their radar!
Share stunning visuals on social media.

Did you know that

over half of consumers dream about vacationing when on Facebook

, even if they haven't planned a trip yet?

T

ravelers in the dreaming phase are the perfect audience for inspirational visuals. Why not unearth the gems that your visitors are already posting? Curate a collection of top-notch images to create a stunning visual experience to ensure your destination shines and stands out on social.
Create more visual content.

Today's travelers love consuming visual content that sparks ideas for their own travel plans.





That's why Marriott Hotels created an entire online magazine and visual content hub,

Marriott Traveler

, to cater to potential customers in their I-want-to-get-away moments. Complete with visual articles and plenty of video, Marriott gives travelers the content they want to see, when they want to see it.
When responding to this micro-moment, your goal is to make people feel something.
Travelers are still deciding on their destination, so if you can use visual content to inspire, excite, or compel them to want to visit, you'll be at the top of their mind once they're ready to make a plan and start booking their trip.
These moments are when travel plans begin to take shape. At this stage, customers are thinking more seriously about where they want to go as well as what they want to do once they get there. They're seeking real-world examples of what their trip might look like.
How DMOs should respond: Show travelers the experience you can offer
Create visual neighborhood guides. Give travelers a taste of each part of your city by offering image-driven neighborhood guides. Promote local hotspots, activities, and events to help travelers develop a clear picture of what your destination has to offer. Provide concrete examples of what people like to do and see when they visit different pockets of your destination.
(Psst! If you're new to creating neighborhood guides or want more tips on how to do it, we've got the perfect blog post to get you started!)
Destination BC's visual trip planner is another great example of how brands can connect with potential visitors in moments of inspiration.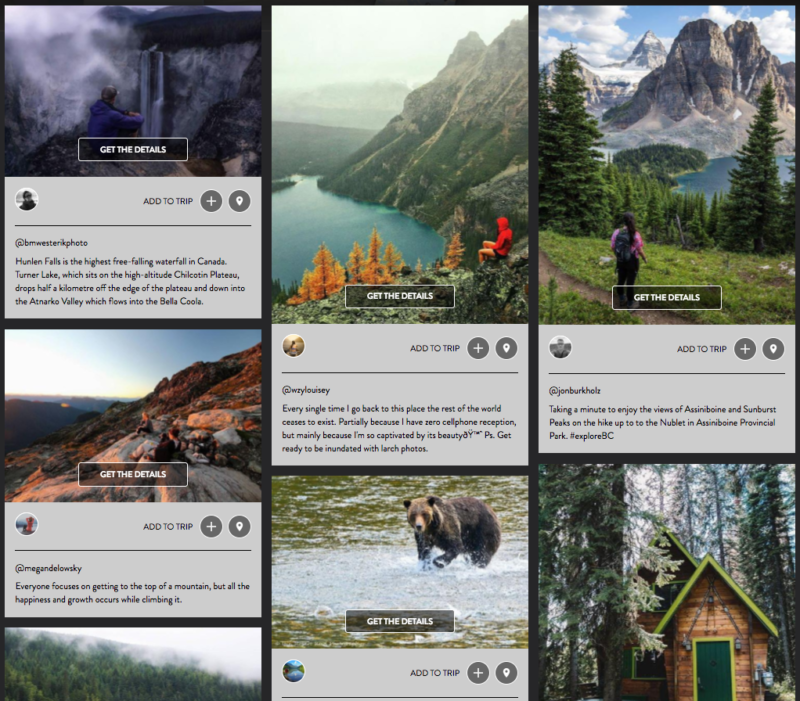 The BC Explorer displays curated user-generated content from Instagram using the popular #ExploreBC hashtag. People who are researching and planning their trip can scroll through and click on these images for ideas on what to do and see in British Columbia.
This is it – the moment when your customers are ready to make their dream vacation a reality. At this point, travelers are looking for specific information to help in booking their trip.
DMOs can take advantage of these micro-moments by simplifying the booking process and making it as easy as possible for customers to take action.
How DMOs should respond: Place the next steps within visuals
Put links in your Instagram Stories.

If you have a verified account, it's easy to

add links to your Stories

. For example, when people swipe up on your Story, you can take them to a webpage where they can book directly. Your Story's purpose is now two-fold: inspire viewers with the content itself (perhaps an ocean view or stunning sunset)

and

give them an easy way to take the next step to book their trip.
[Pro tip] If you don't have a verified account, you can still make the most of your Stories by tagging other Instagram accounts and using hashtags. Showcasing a local museum on your Story? Link their Instagram handle!
Take advantage of Instagram ads.

Try retargeting people who have been visiting your website (as these consumers are more likely further along their research journey) with Instagram ads. These ads pack real hit because they pair inspirational photos with built-in calls-to-action. Use the CTA to lead to a page where customers can go ahead and book. This takes advantage of the wanderlust you've inspired to encourage them to book in the moment.

Here's a handy guide on Instagram ads

from our friends at Hootsuite if you want to learn more.
Add CTAs as overlays to your photos. When someone gets inspired by the beautiful photos on your website, you want it to be easy for them to take the next step. For instance, Visit Stockton uses CrowdRiff to embed calls-to-action within their image galleries. This connects customers who are primed to purchase with the websites where they can book recommended hotels and packages.
An irresistible visual experience can put your destination on the map
As you read this, your next visitors are experiencing travel micro-moments.
Whether they're fantasizing about their next getaway or finalizing their itinerary, you can provide visual content to help fill in the gaps. Leverage these micro-moments with images that feed your audience's travel bug, show why your destination is a must-visit, and encourage travelers to bring their dream holiday to life.
So, what are you waiting for? Get out there and seize the micro-moment!
Header photo creds: @melanie_patrone
---
Recommended Reading