How to Gather High-Resolution Visuals in No Time with Direct Uploading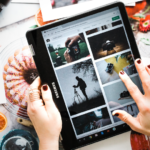 When it comes to sourcing visuals, you probably think of the discovery aspect first: finding images that inspire you to tell new stories and introduce new voices. Developing those narratives is critical, so focusing on the creative side first is natural.
But as a marketer that uses visuals all the time, you know that execution is as important as ideation. In the context of sourcing, the execution sounds simple: after discovering content, you have to get the files from the source to your content library. It's often overlooked, but that file transfer process can take up more of your time and effort than you realize.
When your freelance photographer wraps up a promo shoot, how do the raw files get from their camera to your content library?
If you're running a photo contest, how do people send you their submissions?
When you find an image on social media that would be perfect for the cover of your next visitor guide, how do you get the high-resolution version from the person that posted it?
If you wanted a high-resolution version of this photo to use in print, how would you go about getting it from the person that posted it?
Each scenario might involve different tools, people and processes.
File delivery is like the accounting department of sourcing: you might not post too many Instagram Stories about it, but it's vital to your success.
Having an easy way for people to add to your content library directly not only saves you time and keeps you organized, but also encourages them to keep feeding you great visuals.
Here are a few ways a simple upload portal can make you a more effective marketer.
1 | Run contests to get high-quality images
Photo contests are a great way to engage your audience and generate buzz.
Organizations often use social media to collect contest entries (e.g. "Tag your photos with #VisitCity for your chance to win"), but there's value in including a direct upload option as well.
As part of their monthly ticket giveaway, CityPASS allows people to submit photos through CrowdRiff's simple drag-and-drop upload portal, which feeds that content directly to their content library.
Having an upload portal offers a few advantages over hashtag contest entries.
First, it allows people to upload high-resolution images (those posted on social are often scaled down) and submit multiple photos at a time.
It also gives you an opportunity to secure rights to use that content in your paid marketing as part of the entry process. By including clear terms and conditions that people can read before submitting content, you can create a frictionless approval process, giving you ad-ready high-resolution visuals as a natural byproduct of running your contest.
2 | Create a direct pipeline from your community to your content library
Don't underestimate the power of convenience.
If you create a place for people to submit content to you directly, they're more likely to do it. If you create an upload portal that lives on your website, you could effectively create a public inbox for visuals.
Whether you stick to niche content (e.g. asking people to share their journey through the Tongariro Alpine Crossing) or create a catch-all community content hub, establishing that upload portal creates a drip feed, giving you a an renewable supply of fresh visuals with no effort needed on your part.
Newfoundland and Labrador put community content at the center of their new Iceberg Finder campaign, inviting frozen-water enthusiasts to upload photos of icebergs they see in the province and plotting them on an interactive map.

3 | Get visuals from partners more easily

If you have a brand ambassador tour your destination, how do they give you the footage they shot? A hard drive? A cloud storage link? In most cases, you'd have to download all that content just to turn around and upload it to your library. There's a better way.
With CrowdRiff, you can create an upload portal and share the link with your brand ambassadors, freelancers, PR team, channel partners, and anyone else that supplies you with visuals.
Whether it's to gather high-resolution content more easily or cut down on back-and-forth between you and your content providers, direct upload portals save you time and encourage people to share high-quality content.