How Tourism Toronto Captured Its Culture of Diversity in Video (& Went Viral)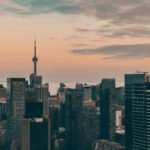 Much of what distinguishes Toronto from other major North American cities are completely intangible qualities, making it sometimes difficult to convince people from those other cities that it is worth the trip north.
It's more than the skyline that makes Toronto unique: there is a sense of not just being a diverse city, but of embracing diversity in a way that's uniquely
Canadian.
Diversity: a pillar of Torontonian culture
This diversity, according to Tourism Toronto's Chief Marketing Officer Andrew Weir, means lines for Bollywood films at the Toronto International Film Festival far surpass those of major Hollywood productions. It means festivals and events will celebrate specific international cultures, yet still welcome Torontonians of all backgrounds. It means not only being able to go out for Portuguese food, but also northern Portuguese seafood.
"And then what's really exciting is when they come together, like when you have a Portuguese chef who takes his Indian chef friend shopping and they go cook at a Mexican restaurant together.
He explains, "Then you get the product of diversity, not just the fact of diversity, but what diversity tastes like and smells like and feels like. That's what Toronto is all about."
While that unique approach to diversity is a defining characteristic of the city, however, it doesn't necessarily motivate travel.
"The research shows that people that don't necessarily live in what we think of as highly diverse cities think they live in diverse cities, so even for people that live in much less diverse areas, the fact of 'diversity' is not a motivator," he said.
"Diversity has to be more than just 'we have people from everywhere,' there has to be more to it than that, and that's what we've tried to capture in our new campaign and our new branding."
Tourism Toronto's "The Views are Different Here"
That new campaign tries to capture that uniquely Torontonian sense of diversity in a one-minute video spot, accompanied by three 30-second spots that focus on specific elements like food and culture.
The videos are fast paced with quick cuts that cram a lot of different elements of the city into a short timeframe, all while attempting to capture that intangible feeling. The main spot begins with the campaign slogan, "the views are different here," both a nod to its unique cultural perspective and an ode to the city's most famous resident, Drake, and his 2016 album Views from the Six.
The ad continues with fast paced shots of ballet dancers performing on subway cars, major league Toronto sports teams, skate parks, a model walking into a downtown rooftop pool, hetero and homosexual couples kissing comfortably in public, jellyfish swimming by the window of an aquarium and much more. There's even a shot of Drake himself.
The action shots are broken only by words that emphasize that sense of openness and diversity, such as "In this city, beauty has many faces," "Love is love is love," "In this city, it's okay to let your guard down," "All flavours are welcome" and finally "Canada's Downtown."
Weir says the ad includes shots of Canadian flag, sports teams that have their league's only Canadian representation in Toronto (ie. the Raptors and Blue Jays), the final slogan declaring the city Canada's downtown and even spells "flavours" the Canadian way (even though the ad was intended for an American audience) to intentionally emphasize that the city is not just another Chicago or Seattle or New York.
"The Canadian touches throughout the video and the campaign are very important, because we're not just a big global city, we're a big global city that's distinctly Canadian. Without that Canadian part it's easy to blend in with the other big cities in North America."
Though it took nearly a year to plan the entire series was shot in just 4 days across 38 locations. Weir says Tourism Toronto had to limit production to the downtown core for logistic reasons, adding that there was much more they originally wanted to capture beyond its limits.
Going viral and reaching a resounding success
The video was published online in late April, and though it was given a paid media boost it far surpassed all expectations.
"We had hoped that by the end of the year we would achieve more than 6 million views of the one-minute video. We just surpassed 13 million views over different channels. Those are complete views by the way; it doesn't count people who cut out part way."
The three other thirty-second spots, along with the minute-long video, have since been translated into six other languages, and have been viewed more than 26 million times combined.
Why "The Views Are Different Here" went viral
Weir says the campaign was different from the DMO's traditional focus, but its viral appeal proved that a key piece of the city's marketing effort was missing previously.
He explains that Tourism Toronto typically partners with major brands, such as its partnership with Air Canada that encourages American travelers to stop over in Toronto before flying abroad, or its partnership with Major League Baseball that uses Yankee branding to appeal to New York-based sports fan.
"We found that having everything in our partners' voices meant there wasn't something strong and identity-defining in our own voice."
"That was a gap in our program, and that's what this was meant to address," he said, emphasizing the importance of letting their own brand story shine through, alongside tourism partners.
The video illustrated this story of diversity and acceptance through showing Torontonians embodying these qualities themselves throughout the city. This being a point of pride, it resonated, and led to the video being shared fanatically over social media.
Now, at long last, the destination marketing organization and the city at large has something tangible that it can point to in order to describe a previously indescribable feeling: a clear view of what diversity looks like from Canada's downtown.
---
Recommended Reading