How Visit Houston Used Art, Food & Influencers to Rebrand as a Top-Tier Leisure Destination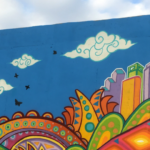 As the county's fourth largest city, Houston never really had to work too hard to attract visitors in the past.
Its size and location alone were always enough to draw business travelers to conferences and conventions downtown, fellow Texans from surrounding cities and towns, as well as a steady stream of Mexican visitors who often traveled north to shop or visit American relatives.

As a result the city's destination marketing organization, Visit Houston, focused much of its efforts on expanding its partnerships with local businesses, knowing that the travelers would come after.
However, when a couple years ago Visit Houston realigned with the Houston First Corporation, a local government corporation, together they were able to drastically increase the DMO's budget and resources. Then they began to rethink the angle they were promoting Houston.
Shifting Gears to Attract Leisure Travelers
"When this department was created and given a separate budget we renewed our commitment to promoting Houston as a leisure destination," said Pilar Florez, the Director of Tourism for Visit Houston. "The whole image of Houston as a leisure destination is a relatively new initiative."
Though a majority of the city's 20 million annual visitors live within driving distance approximately 17% are international. Visit Houston continues to target Americans in cities as far away as Chicago and New York, but were concerned that they were losing market share from one key international demographic.
"We've received over two million visitors from Mexico as of 2016," said Florez. "Our second largest international market is Canada, which is about 120,000 visitors, so you can see the difference is pretty large."
"People were very familiar with Houston, but the younger demographic were not so sold on the city, because there were other leisure destinations like Las Vegas and San Diego and Los Angeles that were doing a lot of promotion. We wanted to capture those younger new travelers."
Transforming the city's reputation into a true leisure destination required a completely new strategy, distinct from anything Visit Houston had attempted in the past.
"We wanted to revamp our approach to communications with the Spanish speaking market," said Florez. "We needed something friendlier and welcoming — like our city."
Enter: Hola Houston!
In order to connect better with Mexican travelers in their own language, Visit Houston launched a Spanish-language travel marketing campaign titled "Hola Houston" in 2016, which included a new website: HolaHouston.com. The organization used both traditional and social media marketing to promote the new website, and build an online following.
"We do these in-market activations to bring our own talent and share it with the people there," said Florez. "We bring chefs from Houston to Mexico to showcase the cuisine, we bring artists from Houston to Mexico to do murals in Mexico, and not just Mexico City but throughout the country."
Inviting Influencers to Rediscover the City
Visit Houston also partnered with a Mexico-based public relations agency to help onboard influencers south of the border to promote the Hola Houston campaign.
"We identified the passion points for the city first, and then with the help of our agency we identified a few people that were strong in those areas, and then we proposed the opportunity, and they were very excited about it," said Florez.
"[These influencers] were excited to rediscover a destination they thought they were very familiar with, which has been to me the most interesting part of the project."
This influencer marketing strategy is built around a Spanish slogan that translates to "there's a Houston for you." Hola Houston invited three influencers representing healthy lifestyles, outdoor activities and nightlife. All three were brought to Houston for three days and asked to produce six social media posts — and all three exceeded that requirement.
Over that three day visit, Hola Houston achieved nearly 10 million impressions in their target market, and all three influencers have returned for subsequent visits.
Each can be found on the Hola Houston Facebook page exploring their favorite parts of the city in videos, photos and blog posts, as well as actively engaging with their own sizable social media following.
The influencers had the experience Hola Houston was trying to provide an entire country of visitors that had been coming to the city for years without experiencing much of what it had to offer. "A lot of brands are looking for these marketing influencers, but I think we were the first ones and probably the only ones at that time engaging with influencers in Mexico," she said.
This year the campaign will invite two more, each representing a gender-specific itinerary for the city, such as showcasing shopping hotspots for women and sporting activities for men.
Lasting Results of Visit Houston's Brand Refresh
Since the launch of Hola Houston in March of 2016 tourism traffic from Mexico has increased by 300,000 visitors annually, though Florez says the campaign has also helped attract more Spanish-speaking Americans as well as visitors from central and South America.
The website has also seen a 17% uptick from last year and though Visit Houston began 2016 with what Florez admits is a low 13,000 followers on Facebook, the Spanish-language account is now followed by over 110,000.
"The campaign has been really successful, we think that we can continue benefitting from the same message for at least another year," she said. "We did lots of activations last year and those are the things that we need to reinvent just to keep it fresh, but the message and the brand will continue to be the face of our consumer facing brand in Mexico and other Spanish speaking markets."
Mural images courtesy of Visit Houston.
---
Interested in more travel marketing campaigns? This eBook is for you: