How Visit Napa Valley Partnered with AFAR Magazine to Tell the Greater Story of their Destination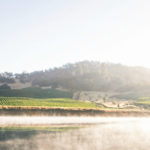 If asked to give one word describing the Napa Valley, most would say "wine." Asked for a second word, most would draw a blank.
While California's premier appellation is among a small handful of top wine-growing regions in the world, its culture of artisanal exploration and handmade craftsmanship have inspired many other flourishing creative pursuits.
"There is a perception that because it's a big name [in wine], and while it can be luxurious they may not realize how laid back and welcoming it is," said Lisa Poppen, the Vice President of Marketing and Communications for Visit Napa Valley. "Our effort is to communicate beyond the expected."
The Lesser-Known Story of the Napa Valley
"Our goal, specifically for content, is to tell the story about what makes the Napa Valley unique and special."
"Like its collaborative spirit amongst all the craftsmen and makers, in the wine industry but also in the arts, food, culture, wellness — and why they're so inspired not only working; but also living in the Napa Valley," said Poppen.
The true story of the Napa Valley is larger than that. It's about the culture of artisans and craftspeople from around the world that gather there to pursue their passion. Some of the resulting masterpieces can be bottled and poured into a glass, while others may require a canvas, fork or yoga mat.
The Valley's wine story is so widely known that the destination marketing organization spends most of its advertising spend during the half of the year that doesn't draw as many tourists to its vineyards, namely November through April.
An Out-Of-The-Box Storytelling Partnership
With the 2016 fiscal year coming to an end last spring, Visit Napa Valley was considering how to best tell the deeper story of their destination, sending a request for proposal to travel publications asking for out-of-the-box storytelling ideas.
"We were looking at planning our paid efforts in a more holistic and impactful way. Historically, we were somewhat event-driven with our messaging and placement."
Though they received many responses, experiential travel publication AFAR Magazine stood out for its alignment with the brand's goals, audience, and storytelling idea.
"They have a very unique point of view as a publication, this idea of travelling deeper, of personal fulfillment through travel," said Poppen. "It was a nice fit, and really you never know until you start working together, but it's been incredibly seamless and quite a joy to create special content with them."
Partnering with AFAR Magazine to Create "Makers of the Napa Valley"
Together with AFAR Magazine, they created a series of content that highlighted five makers of different backgrounds and expertise, each telling the story of how the region inspired their craft in a two-minute video.
"Along with print advertising, there was advertorial that helped further tell the story, " said Poppen. "In addition to video content, there are supporting itineraries where each maker shared their knowledge of the Napa Valley and things they like to do."
"We were trying to tell the story of not just the wine, art, food, culture and wellness that exists in Napa Valley, but also who these individuals are and how Napa Valley inspires them."
The AFAR Magazine production team sourced many of the featured makers, finalizing their selections in September 2016. Videos were shot in October and went live in November on both AFAR's Napa Valley Travel Guide and Visit Napa Valley's website.
The Makers of the Napa Valley Series' most popular video features husband and wife pottery makers William and Nikki Ballere Callnan, and was viewed more than 125,000 times. In the video, the young couple discusses how they work with local wineries and restaurants to produce dishes and serving utensils as unique and artfully crafted as the culinary masterpieces they carry.
"It was quite beautiful and it came out naturally," said Poppen. "Each of these individual artists and makers were drawn to the Napa Valley for a variety of reasons, but what really came out was how collaborative they are, how they're inspired by each other, how they help each other out and often work together in various ways."
How Makers of the Napa Valley Surpassed Initial Goals
On the whole, the campaign ultimately surpassed every single one of its original KPIs, achieving more than double the clicks, click through rate and number of sessions initially set out in the RFP. Total clicks reached just under 20,000 with a 0.15% click through rate and almost 11,000 sessions. Overall impressions surpassed the initial goal of 10 million, topping out at 13.6 million.
"Some of the standout numbers include nearly 800,000 engagements and almost 3,000 hours spent on the videos."
"AFAR was equally thrilled; it was driving so much traffic to their site that they actually put additional paid media of their own into a network buy to drive new audiences," adds Poppen.
She attributes the success of the campaign to the way in which it captures the relaxed and creative atmosphere of the region, exposing viewers to a side of the Napa Valley they likely didn't know existed.
"It shows that if there's authenticity in the people who are sharing their story then it will truly resonate with the visitor. That's what's interesting to them."
What's Next
While Visit Napa Valley did share some behind the scenes content with their social media followers during production, they want to take their social media efforts to the next level in fiscal year 2018's iteration of the Makers of Napa Valley series.
"The makers try to bring their content to life in different ways, and I think this year that will grow now that we're working with CrowdRiff," said Poppen.
Poppen explains that since starting with CrowdRiff, the destination marketing organization has been able to incorporate more user-generated content to its website, and intends to utilize it further in building out the next iteration of the campaign. Specifically, Visit Napa Valley wants to encourage others to share that deeper story of inspiration, collaboration and craftsmanship that deserves to be as synonymous with the region as its wines.
"There's more opportunity now that we're using CrowdRiff for some of the user generated content on our website and our social media to take this message and allow our visitors to add their take to the story."
---
Interested in how CrowdRiff can supercharge your brand's visual marketing?