How Web Marketing Managers Entice Travelers to Stay 4x Longer on their Site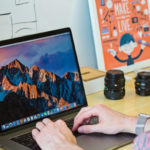 With travelers visiting an average of 38 websites while planning trips, one of the biggest challenges DMOs face is staying relevant as a trusted source of information.
As a web marketing manager, a big part of keeping your DMO's website engaging, memorable, and easy-to-use falls on you.
That's why DMOs all over the world are turning to CrowdRiff's visual marketing platform to create amazing visual website experiences for travelers.
We don't just make websites pretty, we help web marketing managers achieve results like a 4x increase in time on site and a 30% reduction in bounce rate.
Here are 4 ways CrowdRiff improves your website's performance to inspire travelers better.
1 | Putting diverse, relevant, and authentic visuals front and center with website visitors
What's the first thing a visitor sees when they land on your website? The same photo that's been there for months or photos people shared of last night's music festival?
Travelers want an authentic view of the kind of experience you offer, and that's what visual UGC shows. In fact, user-generated photos are 85% more influential and 35% more memorable than brand photos alone.
CrowdRiff gives you a way to leverage that influence on your website.
With CrowdRiff, you can curate the best social photos and videos that people are sharing in your destination, and publish them into interactive galleries on your site. These are great for social hubs, but they really come to life when DMOs show snippets of local life on relevant web pages, like this one from Visit Phoenix.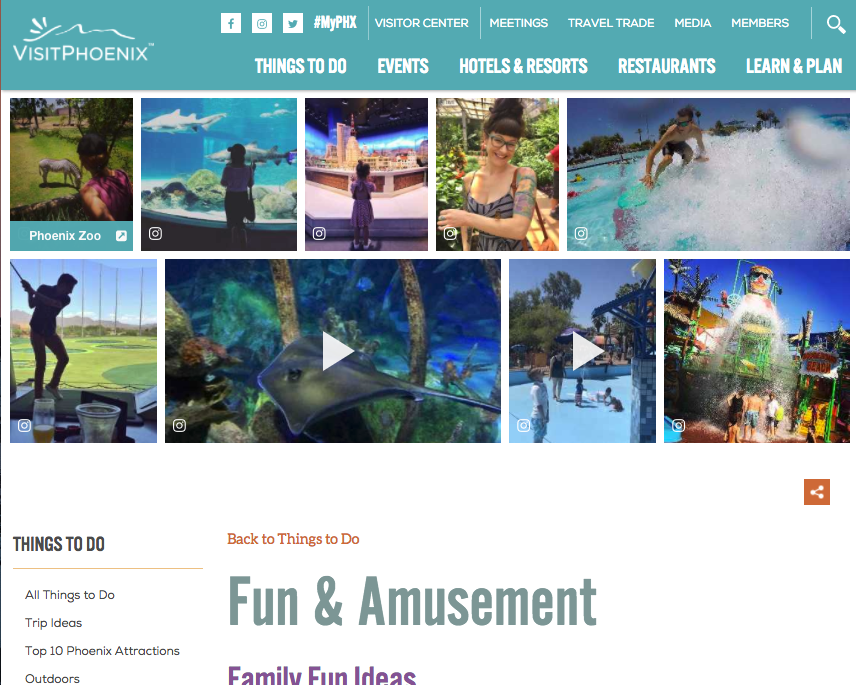 You can also click into individual photos to see the original caption, hashtags, geo-location, and users too. So not only can you show someone a real-time window into your destination, you give them a way to explore the experiences other people have had and what they had to say about it.
What's more, galleries give you the opportunity to showcase more imagery. Simply put, instead of displaying one gorgeous photo in a section of your website, you can show 10, 20, 30 or more.
"[Using CrowdRiff galleries] we're able to showcase more of our resorts, more members, and more engaging pictures. A lot of them are directly from travelers."
— Chad Hays, Online Marketing Manager at Visit Phoenix
See how the marketing team at Visit Phoenix completely transformed the look and feel of their listings pages with CrowdRiff galleries.
Best part? There is no limit to how many galleries you can create to engage your web visitors.
2 | Making visuals actionable with clickable captions
Let's say someone's browsing the food gallery you've put on your Restaurants page. Suddenly the perfect scoop of ice cream catches their eye. They want nothing more than to know where to get the cone in the photo.
With CrowdRiff, you can overlay images with clickable captions (hover on the photos above!) called Calls-To-Action (CTAs) that link to another web page, where a traveler can find more information about what's shown in the picture. That might be a listing page on your site, a member's site, or even a booking portal.
So while you're wowing web visitors with amazing authentic imagery in your galleries, you can capture the in-the-moment desire to know more, that you might otherwise have missed out on.
With CTAs, CrowdRiff customers have sent over 20% of their website traffic to their partners.
3 | Driving more traffic to your website through social media engagement
Another way CrowdRiff helps web marketing managers is by giving travelers on social media a reason to visit their DMO website.
How? To start, we help you discover the 90% of visual content that gets shared without the official destination hashtag.
From there, you can use CrowdRiff to send out tailored comments on the photos they've featured in their galleries, to let people know to check out their website.
People get excited that their photo has been noticed and deemed good enough to be put on your website, and want to see it.
Regardless if you have 5 photos in a gallery or 50, you can send out multiple comments with CrowdRiff in the time it'd take to send one.
Not only does this drive people to your website, but it introduces your official social media profile and hashtag to them, if they weren't aware of it before.
See how CrowdRiff helps social media managers save over 12 hours a month.
4 | CrowdRiff makes it easy to keep your imagery fresh and relevant
Travelers in our digital age are used to real-time, current information. If it looks like your website visuals are outdated or stale, it's easy to then think you haven't got the latest information either.
The great thing about user-generated content is that locals and travelers are sharing photos and videos every single day — and CrowdRiff helps you take full advantage of the abundance of new visuals.
CrowdRiff makes it easy to update your website galleries with the newest content. As photos are being shared, CrowdRiff pulls them into your library in real-time, and adding new visuals to an existing gallery takes less than a minute.
It's so easy that if you browse the websites of some CrowdRiff customers like Visit Franklin and Visit Eau Claire, you'll see that the visuals in their galleries are never more than a week old.
Ready to see how CrowdRiff can increase your website's performance?
Inspire your website visitors with an extraordinary visual experience.
CrowdRiff helps over 200 DMOs of all sizes source, organize, publish and optimize both user-generated and owned visuals to their websites (and beyond!).
If you want to see improvements in your website performance (and an uptick in heads in beds), book a demo with us today. We're happy to show you what CrowdRiff can do for you.