Instagram Insights: How DMOs Can Tap Into Instagram's Built-In Analytics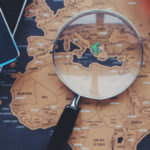 If you're like most destination marketers, you spend a lot of time cultivating your Instagram.
You've perfected the art of curating the best user-generated photos to share with your followers, to grow your visual influence and attract new travelers. And you've become adept crafting witty, yet informative, captions to match.
But are you making the most of what Instagram has to offer?
If you've ever wished for some sort of Google Analytics for Instagram, it's time to tap into the platform's Insights feature.
What is Instagram Insights?
Instagram Insights is a built-in analytics tool that gives you access to a range of stats, providing you with information about your followers and their behavior like:
Where they're from

When they're online

What content (of yours) they're engaging with

Their gender and age
Where do I find my Insights?
To access the Insights function for your page, click on the three bars beside your settings icon. This will bring up your Insights homepage, from which you can access a number of features.
If you don't see Insights available on your posts, it's probably because you're not on an Instagram business profile.
Switching to an Instagram business profile comes with added benefits such as direct lines of contact, the ability to boost posts, and most importantly, access to performance metrics and audience insights.
The good news? It's free. And it's easy to make the switch.
Here's how to switch to an Instagram business profile:
In your profile page, under 'Account Settings' tap 'Switch to Business Profile'

Instagram will ask you to login to your Facebook account

Choose which Facebook page you want to connect

You'll then be asked what contact information you want to pull from Facebook (like a customer service phone number or email/mailing address)
Once you have a business profile, people will now see a shiny new "Contact" button beside "Follow," as well as your business address. And on your end, you've just unlocked Instagram Insights.
What Instagram Insights Can Reveal About Your Instagram Presence
Once you've opened the Insights feature, you'll get an overview of your profile.
At the top you'll see a number of different stats, all offering insight into different aspects of your page and posts. This will give you a sense of how you're performing compared to the week before, and what engagement looks like right now in.
Here's a quick breakdown of the available stats:
Impressions. The total number of times your posts have been seen
Reach. The number of unique accounts that have seen your posts
Profile views. How many times your page has been visited
Website clicks. The number of people who've clicked the website link on your profile
Stories insights. You'll have access to a couple stats specific to your Instagram Stories:
Replies.

The number of times users have replied to your story using the

Send Message

function

Exits.

The number of times users swiped through your story to another story, or back to their profile
Your Top Posts
You can also see Insights for individual posts. Beside Top posts, click on 'See More' to get a better look at your top-performing posts.
You'll notice that the posts are sorted by impressions and are limited to the past 30 days. These are default settings that you can adjust to your liking. You can also sort them by likes, reach, engagement and comments.
Seeing Insights for Individual Posts
Click on any post – then tap 'View Insights' under the post.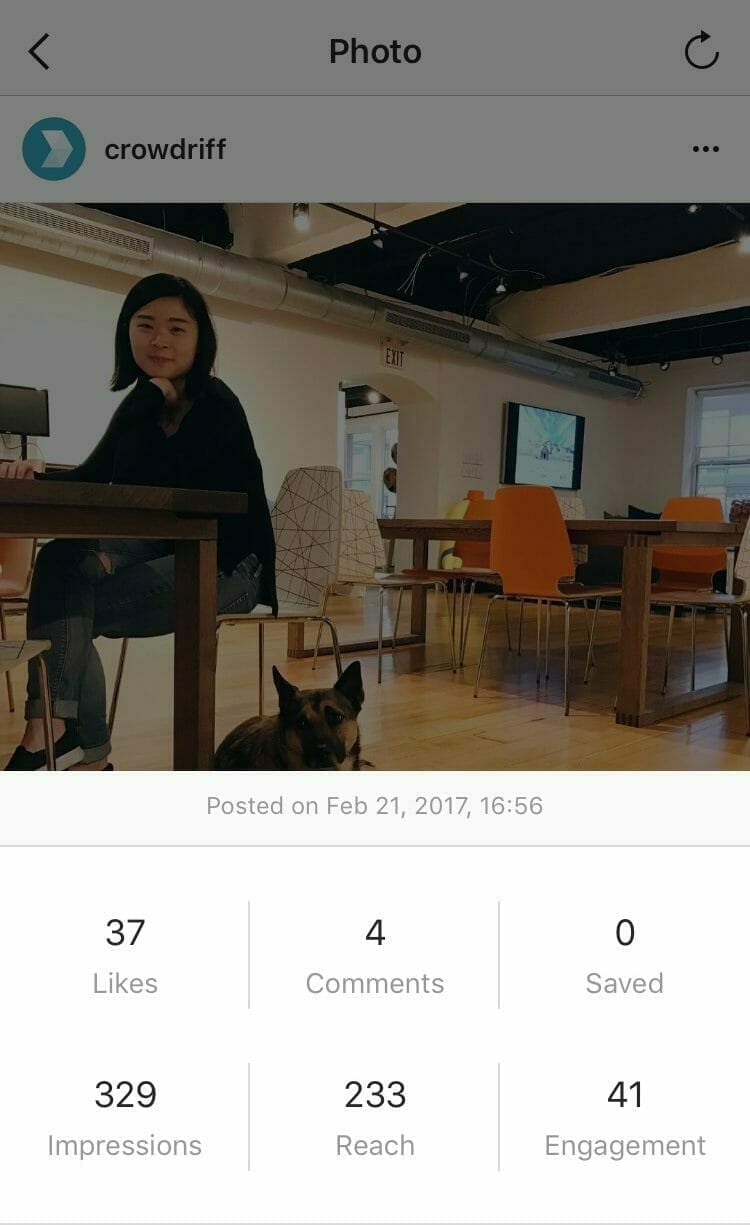 What Instagram Insights Can Reveal About Your Followers (AKA Future Visitors!)
From your overview screen, you tap on Followers. You'll see a range of information about your followers here, highlighted by these stats.
Here you'll see who's looking at your posts, when they're online and where they're from.
Gender.

The breakdown of men vs. women looking at your posts.

Top Locations.

Here you can toggle between cities and countries

Age Range.

See what age groups your audience falls into

Followers.

This shows you when your followers are most active on Instagram
Note: Unlike Google Analytics or other reporting tools, Instagram won't give you exact numbers. You won't be able to see exactly how many people are looking at your stories from, say, Toronto — instead it shows you the trends, which is ultimately what's going to help you shape your Instagram strategy.
How to use Instagram Insights to grow your visual influence on Instagram
Now that you've got this info at your fingertips, what can you do with it? It's time to take these insights and level up your Instagram to attract and inspire more travelers.
1 | Learn what's popular and post more of it
Take the guesswork out of your posting: learn what your audience loves, and design your Instagram plan to suit. Use your Top Posts feature to discover what makes your followers tick.
Do your followers prefer videos of your locale? Are they crazy about the great outdoors, culture or nightlife? Are Boomerangs big with them? You can get super specific here, testing what posts yield the best results.
Try this: Test the engagement numbers on user-generated content (i.e. the photos visitors and locals take in your destination) versus your own posts or professional photography. We've found that the leading destinations on Instagram are liberal with showcasing UGC!
2 | Timing is everything
Check when your followers are online in the Followers section. Posting at times when you have more followers online means you'll have a better chance of getting your photos seen. Plus, all those likes will expose your posts to an even wider audience.
3 | Target your content for your demographic
Along with the Followers insights, using the Location stats you can determine what groups are dreaming of their next trip to your destination — so you can create more targeted content when it comes to your marketing efforts.
Are baby boomers hankering for a trip to your locale? Show off the attractions you know this age group usually enjoy when they visit. Perhaps golf courses or wine tours?
Or maybe you'll discover a lot of millennials are dreaming of their next trip to your destination. Connect with them by showing off how other millennials have fun here!
Inspire more travelers by understanding Your Instagram Insights
Your Instagram feed might be gorgeous, but with Instagram Insights at your fingertips, you now have more concrete info into how all those pretty pictures are working together to inspire future travelers.
Take those insights, put some data behind what you post, and make your Instagram work harder and better for you!
Make sure all of your digital channels are up to date this year, and read our eBook on keeping your tourism website relevant. We've broken down modern consumers' buying behavior, and shared some tips, tricks, and trends that we've seen from our work with over 500 DMOs and tourism brands.