Your Brand is an Experience, Not a Logo: 5 Lessons from Visit Franklin

We recently hosted a joint webinar with Josh Collins of Visit Franklin, one of CrowdRiff's very first customers!
Visit Franklin first partnered with CrowdRiff way back in 2014. As a destination marketer who wanted to develop his organization's brand and connect with more visitors, Josh says choosing to work with CrowdRiff was a no-brainer for him and his team.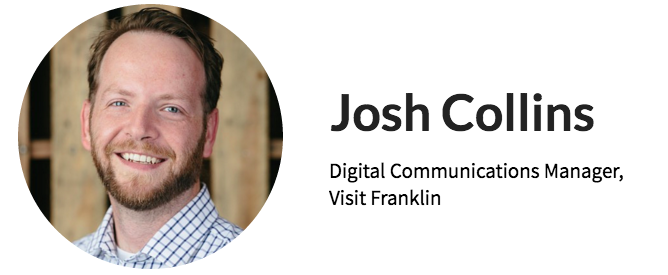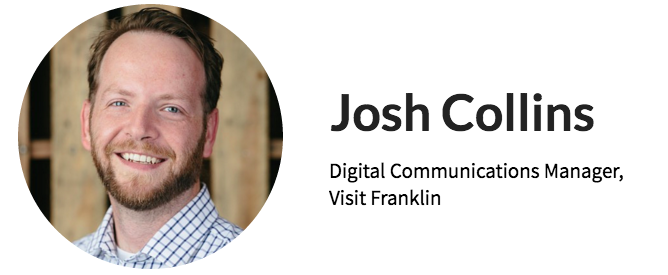 Since then, the good people at Visit Franklin have used our platform to source user-generated content (UGC) as part of their strategy to develop their brand image, build visual influence, and deliver powerful experiences that drive leads, visitors, and bookings.
What can other DMOs and tourism brands learn from Visit Franklin?
1 | Your locals are visual influencers
Showcasing UGC is an excellent way to attract more visitors to your destination – but the best visual influencers aren't necessarily travelers who blog about or photograph their visit.
That's because there are plenty of influencers who live right in the heart of your community. By encouraging locals to share their love of your destination, you're giving a voice to those who are most passionate about your culture and lifestyle.
Josh encourages DMOs everywhere to engage with those who spend the most time in your destination. By inviting locals to share more photos on social media, you're able to harness their passion and experiences to strengthen your own visual influence.
2 | Community is more valuable than competition
Like all smaller DMOs, Visit Franklin knows how it feels to be a little fish in a big pond.
Rather than viewing larger DMOs (with deeper pockets) as tough competition, Josh subscribes to, as he puts it, a "culture of abundance".
Visit Franklin partners with nearby destinations and encourages 'super users' who love the brands to continue sharing lots of content. They even partnered with a talented fan as she transitioned from hobbyist to professional photographer.
Your visitors are coming from everywhere, so why wouldn't you want to collaborate with other destinations? Keep an eye out for opportunities to form partnerships with local businesses, other DMOs, and travel brands.
3 | Your brand is an experience, not a logo
In today's world of digital marketing, there's a ton of emphasis on increasing conversions.
But before you can convert your audience into visitors, you need to provide a taste of your destination to get them hooked.
Visual marketing plays a big role in building a sustainable brand and providing engaging experiences. Visit Franklin achieves this on its homepage and social media profiles by curating visuals that capture the atmosphere of its destination.
"Visit Franklin isn't just about Franklin, Tennessee; it's about the culture and the atmosphere and the experience."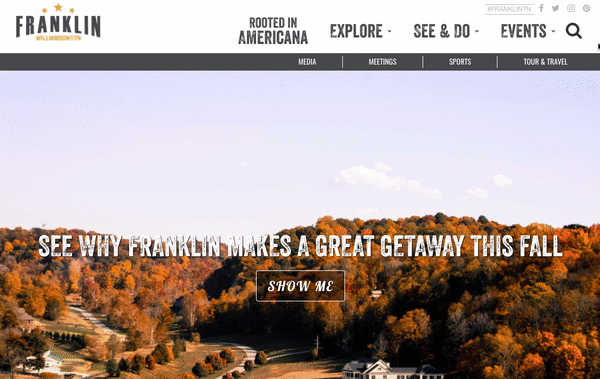 His advice to fellow DMOs? Treat everyone you interact with online as a human being, not just a number.
"In our approach, visuals are one of the biggest keys to our success. We are not looking for a transaction between visitors. We want to inspire people to want to visit and ultimately develop a relationship with them."
4 | People will shape your story, if you let them
Sharing visual UGC is all about encouraging and celebrating audience participation. Sometimes, this means giving up partial control of your brand's story – and that's a good thing!
Often when DMOs create a branded hashtag, they forget to look online to see what travelers are already using. Once Visit Franklin realized people were tagging travel pictures with #FranklinTN (instead of #VisitFranklin), they embraced their audience's preference and adopted the new hashtag themselves.
"If that's the conversation [visitors are] already having, I don't want to make them come to me. I want to go to where they are."
The lesson here? Be willing to let your audience influence your brand.
Look at how travelers and locals are talking about your destination. What your customers already doing, saying, and sharing online?
Letting go of the story can be a bit scary, but it empowers your visitors to become storytellers themselves.
5 | Don't try to dominate the conversation
Whether your brand has a ton of social engagement or is still building up an audience, you shouldn't try to force yourself into every conversation about your destination.
There's no need to like reply to every single comment on every single visual – especially if your community is thriving and chatting amongst themselves.
Visit Franklin's strategy is to listen to conversations and participate where it's natural to do so.
Josh illustrates this with a dinner party analogy: If everyone is talking around the table, it would be uncomfortable if one person tried to interject themselves into every conversation.
Certainly, it's important to jump in sometimes on social media, especially if there's a misunderstanding or questions that need to be answered. But it's better to authentically connect with a few followers than to try to respond to everyone.
Hear from Josh Collins himself
With years of digital marketing experience, Josh Collins has a brain to pick and valuable insights to share.
In this webinar, we opened the floor for destination marketers to ask their questions in a live Q&A. Hear from Josh himself as he shares how he approaches marketing at Visit Franklin.
If you'd like to connect with Josh, you can find him on Twitter or Instagram.