Lonely Planet partners with CrowdRiff to bring visitor visuals into digital Tourism Solutions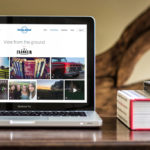 Tourism boards can amplify their online footprint through an innovative new partnership between Lonely Planet and CrowdRiff, pairing the experts in travel with the leading visual marketing platform for travel and tourism brands.
Lonely Planet's Digital Tourism Solutions program provides new and inventive ways for destinations to reach travelers on Lonelyplanet.com. Utilizing CrowdRiff's technology allows destinations the ability to publish curated traveler photos and videos to their Lonely Planet destination pages, bringing authentic visitor content together with Lonely Planet's trusted editorial. Lonely Planet's Tourism Solutions program is part of an ongoing effort by the global travel brand to grow its content offering across all media for travelers to ensure that they have access to the best travel content on the globe.
Lonely Planet is excited to officially launch Tourism Solutions with our first tourism partner and neighbor, Visit Franklin. "Tourism Solutions is an innovative product offering to connect local destinations to our engaged, global audience", said Daniel Houghton, CEO of Lonely Planet.
"We love working alongside great brands and are excited to participate in this partnership between Lonely Planet and CrowdRiff to showcase the best visual content from Franklin to travelers looking to be inspired to visit," said Josh Collins, Digital Communications Manager at Visit Franklin.
"Lonely Planet's destination page for Franklin, Tennessee makes a memorable first impression, and gives visitors everything they need to plan a visit to our community."
"Now, tourism brands can put their visitors and locals front and center on the most trusted travel content site in the world," said Dan Holowack, CEO of CrowdRiff. "Visit Franklin is a great example of how visual stories can bring a destination to life, and together with Lonely Planet, share this story globally."
About Lonely Planet
Lonely Planet is a leading travel media company and the world's number one travel guidebook brand, providing both inspiring and trustworthy information for every kind of traveller since 1973. Over the past four decades, we've printed over 145 million guidebooks and grown a dedicated, passionate global community of travellers. You'll also find our content on lonelyplanet.com, mobile, video and in 14 languages, 12 international magazines, armchair and lifestyle books, ebooks, and more. Visit us at lonelyplanet.com and follow us on Facebook (facebook.com/lonelyplanet), Twitter (@lonelyplanet), Instagram (Instagram.com/lonelyplanet) and Snapchat (@lonelyplanet).
About CrowdRiff
CrowdRiff is a visual marketing platform for sourcing user-generated and owned visuals and publishing them to digital and offline marketing channels. Its customers include Colorado Tourism, Destination B.C. and Visit Franklin. To date the company has processed over 100 million photos and videos for travel and tourism brands. Learn more at www.crowdriffv2.wpengine.com or follow CrowdRiff on Twitter & Instagram @crowdriff.