Meet the CrowdWoofers! CrowdRiff's Office Dogs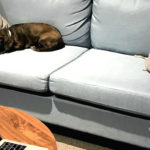 There's really nothing like the jingle of a dog collar to bring a smile to your face and brighten up a work day — that's why from the beginning, we've kept our office doors open to any furry friends.
At our downtown Toronto office, team members are endlessly encouraged to bring their pets with them to work.
Why we choose to have a dog-friendly office
Dogs are scientifically proven to reduce stress in the workplace.

A scientific study done a couple years ago found that people who brought their dogs into the office had

decreased hormonal stress levels

than those who didn't.

They stop us from staying too serious!

The happy-go-lucky nature of these pups reminds us to stop, relax, and enjoy ourselves for a while. You'll often find a group of CrowdRiff team members crowded around an office dog in the late afternoon.

We want to share the love!

It goes both ways: we love having dogs to play with, and our doggos love to be showered with attention and love.
So after hearing all that, aren't you itching to meet our honorary team members? Without further ado, here are a few of our beloved CrowdWoofers!
---
Bella
Breed: Toy poodle (but we're not sure, since she's adopted!)
CrowdRiffer: Leo Leung, VP Customer Success
Unique attributes: She loves sleeping on people's laps, she can walk on two legs better than some of our own team members, and squirrels are her mortal enemy.
Scenes from Slack:


If asked to imagine the cutest little dog, Bella is probably pretty close to the picture you'd have in your mind. With her curly coat and rounded fluffball head, she's a darling of a dog. If she's not weaving her way underneath desks and chairs, she's sure to be found sitting on Leo's lap as he types away. She follows him just about everywhere.
"Bella was the first office dog I met – I think I met her in my first week at CrowdRiff! When I saw her I opened my arms, and she came running over. I think she followed me for about five minutes afterward and I felt so special."
Elizabeth Ching, Content Marketing Manager
---
Maverick
Breed: Long-haired chihuahua
CrowdRiffer: Leah Conway, Front-End Developer
Unique attributes: He loves napping, being chased around the living room table — oh, and cheese. AND he weighs 6-pounds! Find him on Instagram @mavinthe6ix
Scenes from Slack: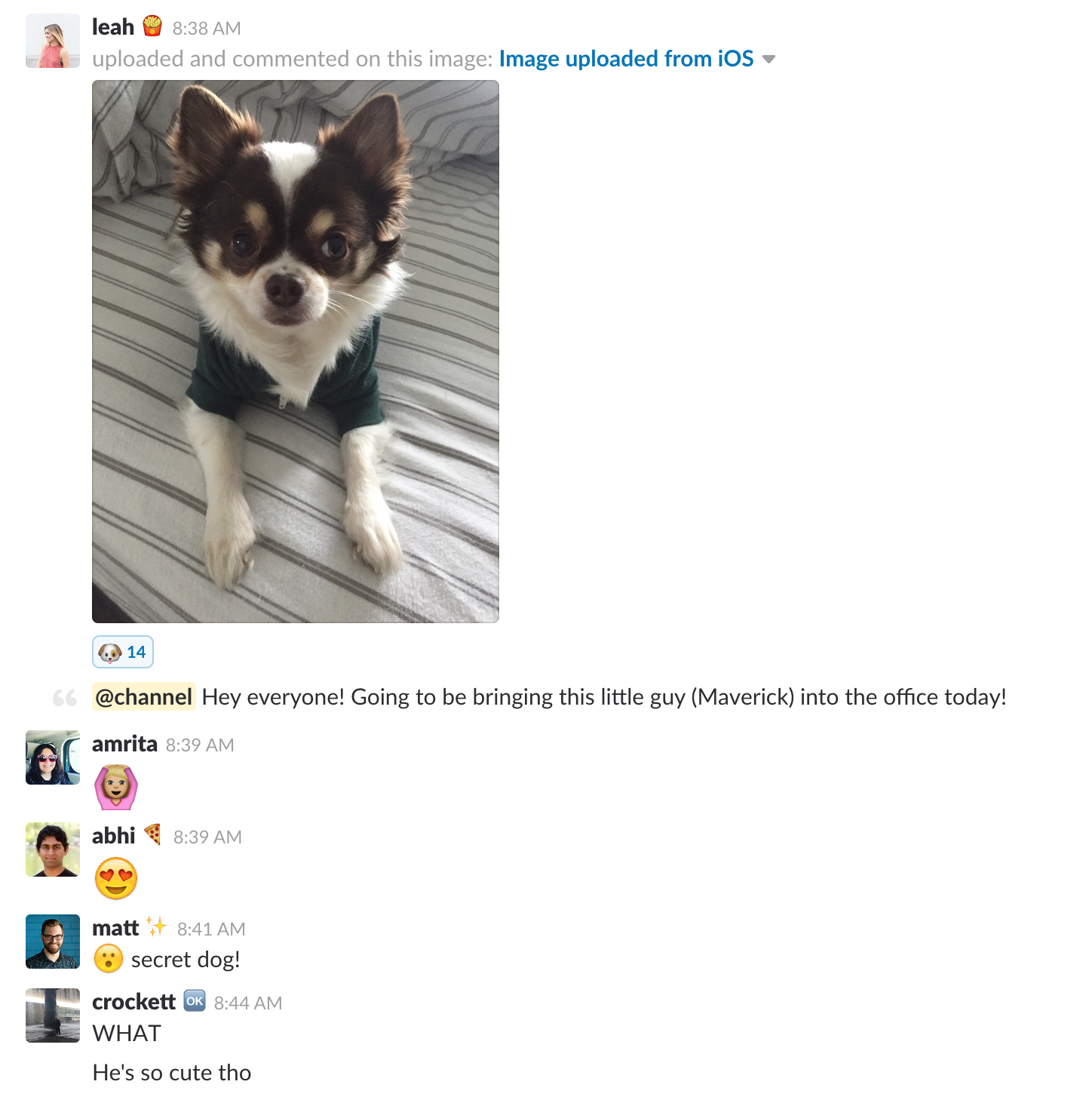 Maverick LOVES coming into the office (Mondays included!). Whenever Leah asks if he's ready to go to work, he wildly jumps up and down, making no attempt to hide his excitement. When coworkers approach, however, he plays hard to get. You can try and say hi to him but he might run away!
"Mav is so princely. My lap is his throne."
Kelvin Li, Back-end Developer
(When Mav isn't lounging by Leah, he likes to sit with Kelvin.)
---
Rory
Breed: Dachshund mix
CrowdRiffer: Dan Holowack, CEO and Co-Founder
Unique attributes: You'll often find Rory snoozing on a pillow or running across the office between the desks. She's also been known to occasionally hop up on laps to see what you're working on. She can be quite curious.
Scenes from Slack: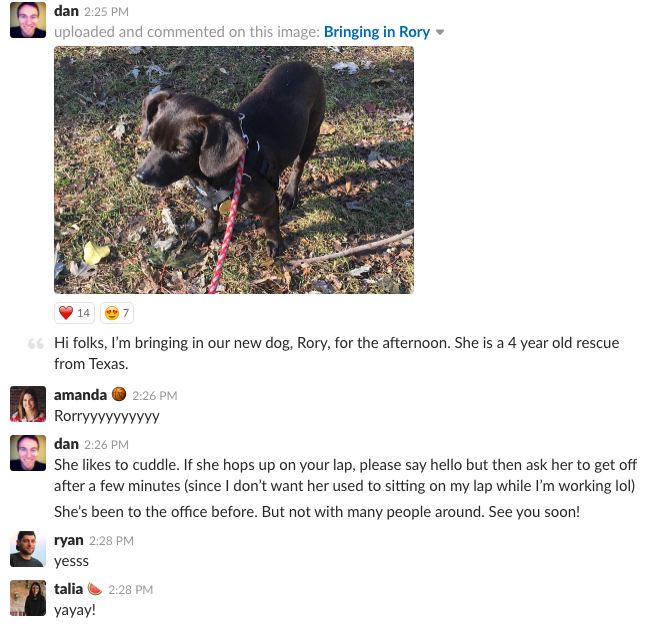 Rory is the newest member of the Holowack family, named after everyone's beloved Gilmore Girl. Dan and Preethi had only been fostering her a little while, when they decided they already knew they had to officially adopt her. To everyone's delight, she comes in a couple afternoons a week to run around, receive a few belly rubs, and stare at you with the biggest, most innocent eyes that ever existed.
"I think what I love most about Rory is how much she loves Dan, and how much he loves her. Even in a very important meeting, she'll jump up on him. He'll push her off and make her sit, and she'll sit… but then she'll do it again, and he'll give in."
Vonnell Law, Scrum Master
---
Bilbo
Breed: Bassett Hound/Boston Terrier mix
CrowdRiffer: Natasha Kubura, Customer Success Manager
Unique attributes: He absolutely loves to cuddle and is very sensitive. He doesn't like being left alone for too long which means: attention – bring it on!!
Scenes from Slack: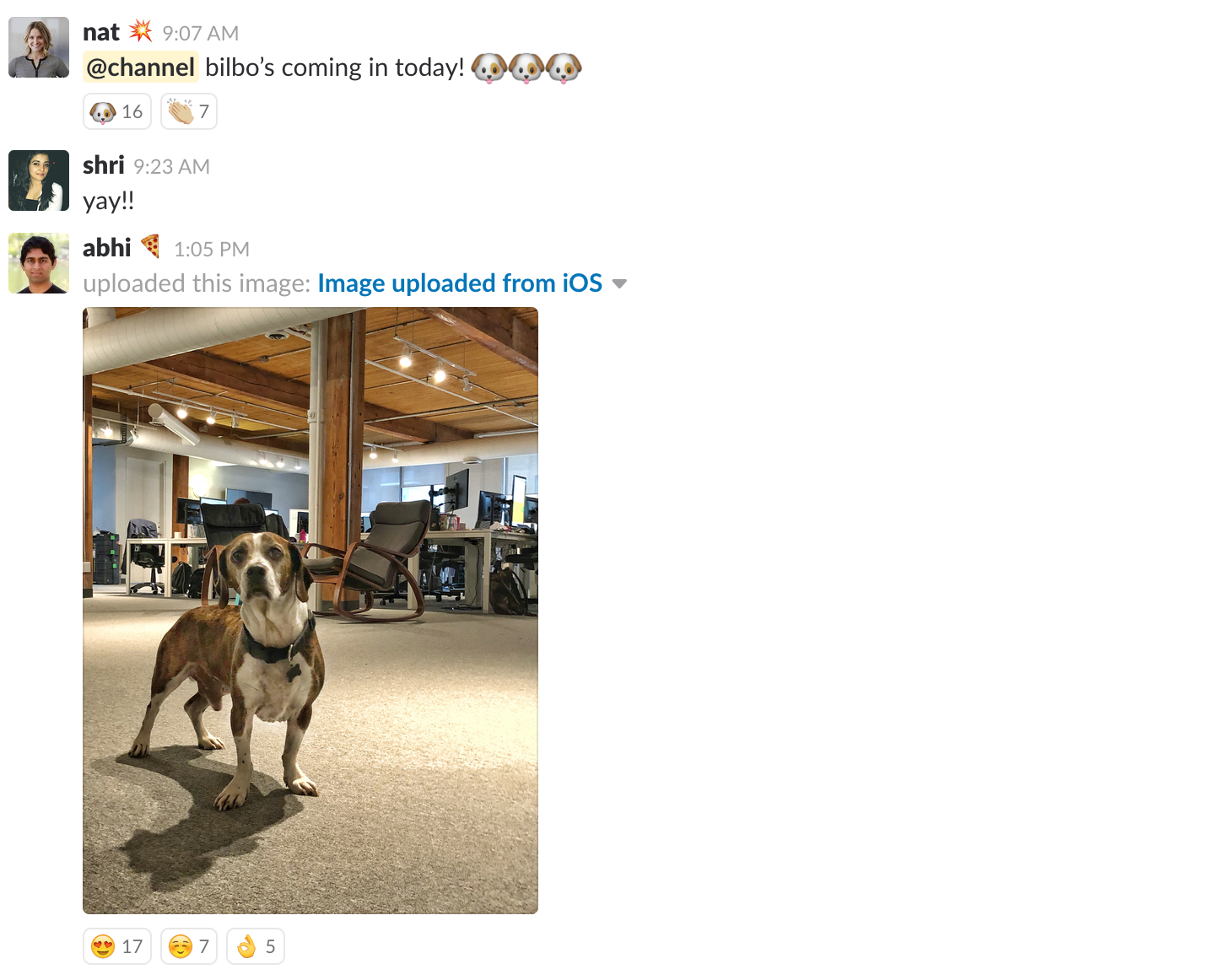 The party don't start 'til Biblo walks in! When Bilbo is in the house, he makes sure everyone knows. Item number one: running a lap around the office with as much speed and enthusiasm as possible. Bilbo is the bounciest, bubbliest, and most energetic of the CrowdWoofers. He loves cuddling with warm humans, being photographed, and being loved.
"Bilboa is my spirit animal."
Andrea Bernstein, Customer Onboarding Specialist
---
Samson
Breed: Shiba/German Shepherd
CrowdRiffer: Garrett Levine, Developer
Unique attributes: He dislikes barbecues, sewer grates, and people in uniforms. He loves playing hide and seek, TREATS, and staring at you while you eat a sandwich.
Scenes from Slack:

Samson is friendly, curious, and super well-trained. In fact, he makes an excellent dance partner (which he loves to demonstrate through waltzes with Garrett). Samson is also very social; he loves making friends with any other dog that might be in the office that day too.
If you're lucky, he'll lounge beside your desk (and make your day).
"Oh I think he's so majestic."
Joanne Vongphachan, Designer
---
Google
Breed: Schnoodle (part schnauzer, part poodle)
CrowdRiffer: Kat Jovey, Customer Success Manager
Unique attributes: She's the life of the party at a leash-free park and tries to get all the dogs running around like a pack. She loves cuddling on your lap and hates vegetables of any kind.

Scenes from Slack:

Kat dog-sits Google often and happily brings her into the office so she won't have to be alone at home. Besides having the cutest name ever, this curly-haired doggo is super huggable. When she gets excited, she barks — but only because she's ready to have some fun, and wants you to know it!
"I love Google. Google loves me. Actually Kat gets annoyed, because every time Google sees me she starts barking out of excitement. We just hype each other up a lot."
Nicholle Csongradi, Business Development Representative
---
Want to meet our CrowdWoofers for yourself?
Check out our open positions here. If you don't see your role, feel free to email us your resume at hello[at]crowdriffv2.wpengine.com!
And in the meantime follow the adventures of our office dogs on our Instagram @crowdriff.