Are Millennials A Missed Opportunity for Your Travel Brand?
"We're on social. We have Instagram, Twitter, Facebook, and Youtube accounts."
"Marketing to Millennials is a waste of resources."
If you've said those words before or something similar, you're not alone.
Millennials have been brought up over and over again but remain elusive to many marketers. Naturally, if you're tracking your performance vs spend, you're probably going to reduce funds or look for an alternative market. Ignore Millennials at your own peril, but they are here to stay and are exactly who you should be targeting (or, if you're already doing so, continuing to target).
Let's talk about why, and where you might be facing some roadblocks.
Millennial Travel Behaviour
Why target millennials anyway?
By 2020, millennials purchasing power will come into full bloom: the majority will be in their 20s and 30s with a spending power estimated over $1.4 trillion, according to Accenture.
Unlike other generations, millennials place high emphasis on being unique. A major part of that is growing their identity through culturally rich experiences and exploration of the unknown. Travel is full of both of these things.
As a result, not only do millennials travel more, but they also travel differently. Their travel tends to be more adventure based, and they look for more customization.
They increasingly look for trips that cater to their interests, and seek authentic experiences in their travel plans.
Supporting Trends
Compared to other generations, millennials are actually spending more on travel. A report by MMGY outlined how spend on leisure travel will decrease by $9.2 billion across the U.S. for all demographics. Millennials however, intend to take more vacation than their average 3.5 vacations in a 12 month span.
In addition, we know that from Skift's Annual Survey On Traveler Behavior, Motivations and Preferences, that these trends continue to grow. The report shows us that:
Relaxation is a less important motivator, while experiencing different cultures has grown in importance
20% more respondents want travel to give them a new perspective on the world vs 2018
16% more respondents agree they like vacationing with locals in their neighbourhoods vs 2018
6% more respondents prefer sharing vacation photos on Instagram, and 11% less respondents do not want to share any visuals on social media
In an environment where travel spend is going down and becoming increasingly tight, millennials are making up more of the pie. It's safe to say that millennials are the target group with the most opportunity. Winning the business of millennials however, is much easier said than done. Many marketers trying to attract millennials are pulling out all the stops, but aren't finding success and end up burning a lot of calories and resources that were limited to begin with. Why?
The Challenge: Oversimplifying The Millennial Audience
Millennials are often oversimplified. Whatever image of a millennial you have in your mind is most likely just a small percentage of over 80 million people. This generation is actually one of the most diverse: there's a wide range of races, cultures and ages. Trying to direct your marketing efforts at "millennials" as a niche market is usually the first mistake marketers make.
You're not being authentic. Most Millennials have grown up with advertising being pushed at them from all directions, so they can spot an ad from a mile away. Millennials have an inherent distrust of brands and traditional advertising. The opinions of their peers carry much more weight, and is something they seek out. Hubspot data shows that 71% of people are more likely to make a purchase online if the product or service comes recommended by others.
You're not sharing your company's story, culture or values effectively. "Millennials don't want to buy from a faceless company," says Shama Hyder, CEO of Zen Media. In her Inc. article, Hyder shares that millennials want to hear origin stories; it's the intimate details that differentiate your brand. For those in the travel industry, it's the experiences, attractions and partners unique to your destination that millennial travelers value. How you share the many "faces" of your destination will influence the success you have in capturing millennials.
Overcoming The Challenge: Brands Leading The Way
So how do marketers make sure they are doing the right things?
Tailor and segment website and content to provide a personalized experience. As we know now, millennials are a diverse group with many different interests and reasons for travel. As a marketer, we have to appeal to these different interests and provide content that speaks to "millennials" to avoid oversimplification. By tailoring and segmenting our website and content, we can provide visitors a curated experience that draws them into your customer journey and away from all the overwhelming noise that is competing for their attention.
For inspiration, take a look at this case study on how Visit Indy achieved 3x stronger click-through rates with persona-based UGC videos.
With inherent distrust from Millennials, it takes a lot of work for brands to prove they are as advertised. It is especially difficult if all the content that you post is picture-perfect and staged.
Ironically, picture perfect isn't perfect to Millennials.
Leverage UGC as social proof and do this consistently. According to Gartner, 84% of millennials are likely to be influenced to make a purchase based upon user-generated content (UGC) that is created by strangers. As a marketer, you need to make sure you're tapping into the right content (UGC) to reach your audience.
A spray and pray approach won't work either. You need to be consistent. With consistency, you'll help establish your brand's credibility, build awareness and create lasting engagement. Your content should inspire action and intrigue, so that your customers help spread your story.
See how Visit Phoenix implemented UGC to increase their average time on page by 40%.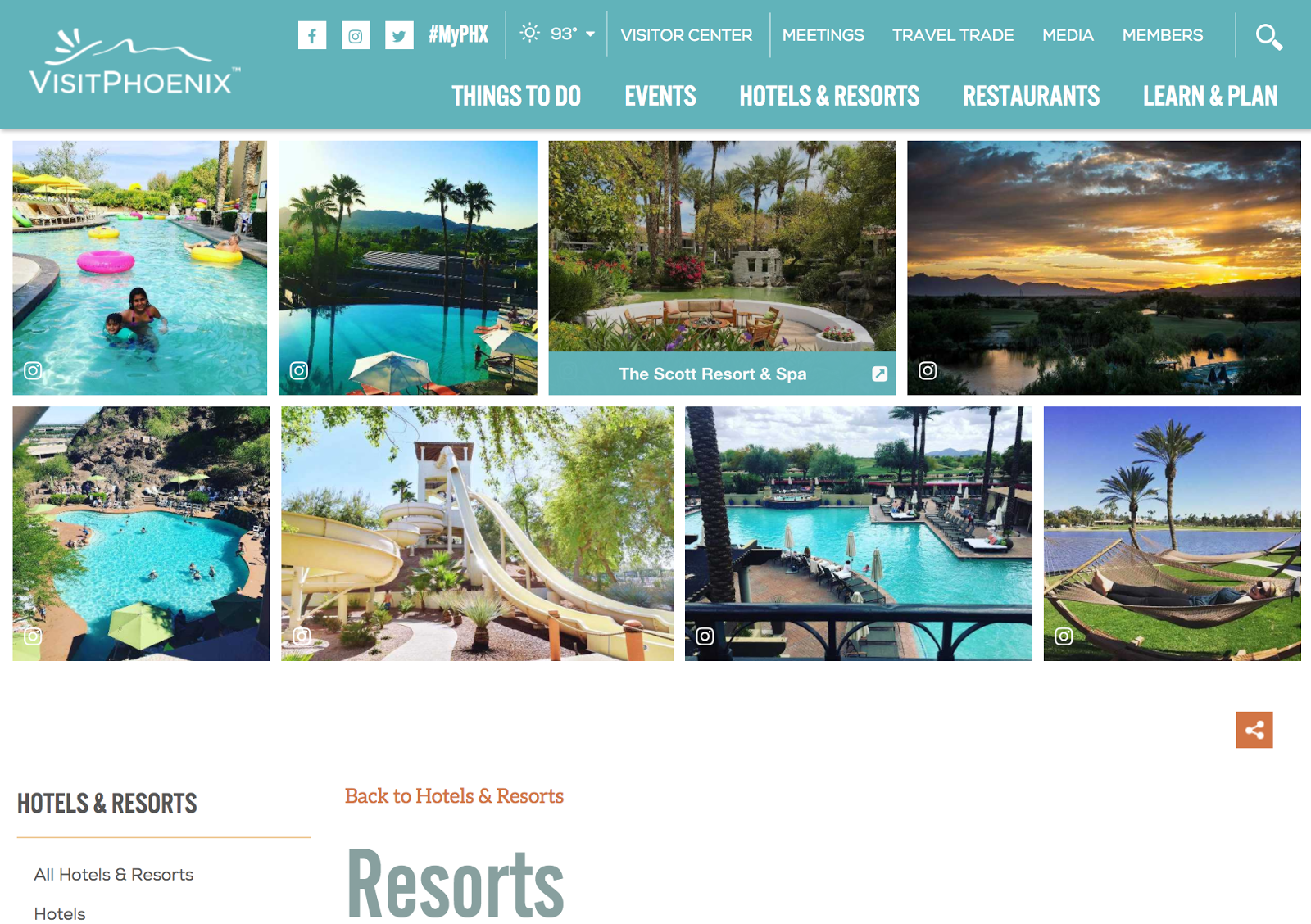 Surface stories to show the essence of a destination. It's not enough just to see a place, we want to soak up the very essence of the destination we visit, says Tara Cappel, the Founder of For The Love of Travel and a millennial herself.
Your customers are already telling your story every day. The most successful marketing teams know to listen and bring these stories to the surface. After all, millennials trust their peers and consider them a more trusted source of information than traditional advertising.
Visit Phoenix includes #MyPhx in all of their Instagram captions, whether they're posting their own photo or reposting a great shot from a visitor.