New! Video Uploading and Auto-Tagging in CrowdRiff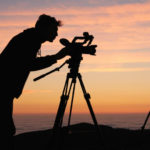 Ditch the hard drives, say goodbye to siloed cloud storage services and take command of your video content!
You can now upload your existing video collection to CrowdRiff, so all your visual assets are in one place where you can easily find it and share it.
With the increase in demand for video content, marketing teams are sitting on hours of video footage, everything from quick shoots on a team member's phone to the b-roll from a professional video shoot. Instead of storing it where it's hard to find, you can now upload this video content to CrowdRiff.
CrowdRiff auto-tags your video content so you don't have to
But we don't just store the files for you — we go one step further and use the power of artificial intelligence to auto-tag the contents of the video. Check out this footage from our CEO's honeymoon in Norway:
CrowdRiff can see what's in every frame of his video, so the next time he's looking for footage of fjords, he can find it in seconds using CrowdRiff's lightning fast search.
Get more out of your video content with third party sharing
With the time and money you've spent creating video content, don't let the footage go to waste. Share your video content with a journalist or even your Executive Director. All in a couple of clicks, with CrowdRiff.
You have to see it to believe it. Let us give you a product tour!