How 5 Cities Promote Their Destinations to Sports Fans

Whether it's baseball, hockey, soccer, or football, DMOs with an active sports scene know that local teams can inspire a cult-like following.
Both diehard fanatics and casual fans get hyped when their favorite team is doing well. Sports have a special ability to really draw people into a destination – and it's not just the locals who come out to the games.
If DMOs can harness the enthusiasm of sports fans, they can attract visitors from all over. These visitors might come for the game, but they stick around to experience the rest of what your destination has to offer.
So, how can DMOs use local sports culture to promote their destination?
Let's take a look at five DMOs that are successfully leveraging sports tourism to attract more visitors.
1 | Visit Pittsburgh: Featuring fanbases of each team
Typically, destinations with multiple sports teams list all of them on one page along with a blurb and a link to the team's website. This is a great starting point, but Visit Pittsburgh takes it a step further with dedicated pages for each of its teams.
These individual landings pages allow them to use targeted messaging and epic visuals of the venues to build up even more hype about the Steelers, Penguins, and Pirates.
What really elevates each listing, though, is the galleries of amazing social photos they include of excited fans at games. When you see images of fellow fans cheering on your favorite teams at stadiums and fields, you can't help but connect.
These pages also include plenty of links to relevant attractions, so fans can get pumped for the rest of their visit beyond the game itself. There's a featured blog post that helps fans figure out what to do between sporting events in Pittsburgh. If you're in town for a sporting event, the blog shares insider tips on what other local hotspots you can hit up during your stay. Whether you'd like to fill your spare time with tasty treats, outdoor activities, or other sports related attractions, the blog has helpful tips to help make the rest of your trip as memorable as the game you came to watch.
By providing in-depth information on nearby amenities and attractions, Pittsburgh makes it easy for anyone to book a sporting event and have a great time in their city.
Make it easy to plan, and they will come!
2 | Visit Melbourne:
Experimenting with multiple formats and encouraging direct bookings
Many cities are home to a wide variety of sporting events and activities, and need to make sure they properly showcase each of them. Visit Melbourne's sports page does an amazing job of spotlighting content for every sport in the city.
Different page sections feature different formats, which caters to the different information that fans may be searching for: a complete events calendar, a list view of all sporting events, or a highlights reel of what's coming up.
An important part of online sports tourism is giving site visitors a direct way to book their activities and events. You have their attention, so let lock in the trip and buy tickets right then and there! Visit Melbourne's information pages have 'book now' links that take visitors right to external ticking sites, such as Ticketmaster, where they can make their purchases.
The same is done for non-sporting event activities in Melbourne. At the bottom of each sports page, there's a "you may also like..." section. It suggests activities that sports fans may also enjoy in Melbourne, like visiting the National Sports Museum, taking a sports tour, or participating in a tennis workshop. These feature cards link out to overview pages with maps, photos, and links to book or buy tickets.

3 | Boston: Travel tips & resources for every sports fans
One of the most important aspects of planning a trip to an away-game is figuring out where to stay. Fans who come primarily to catch a game want accommodations near the stadium.
That's why Boston put together a map that specifically highlights hotels around Fenway Park, home to the Boston Red Sox.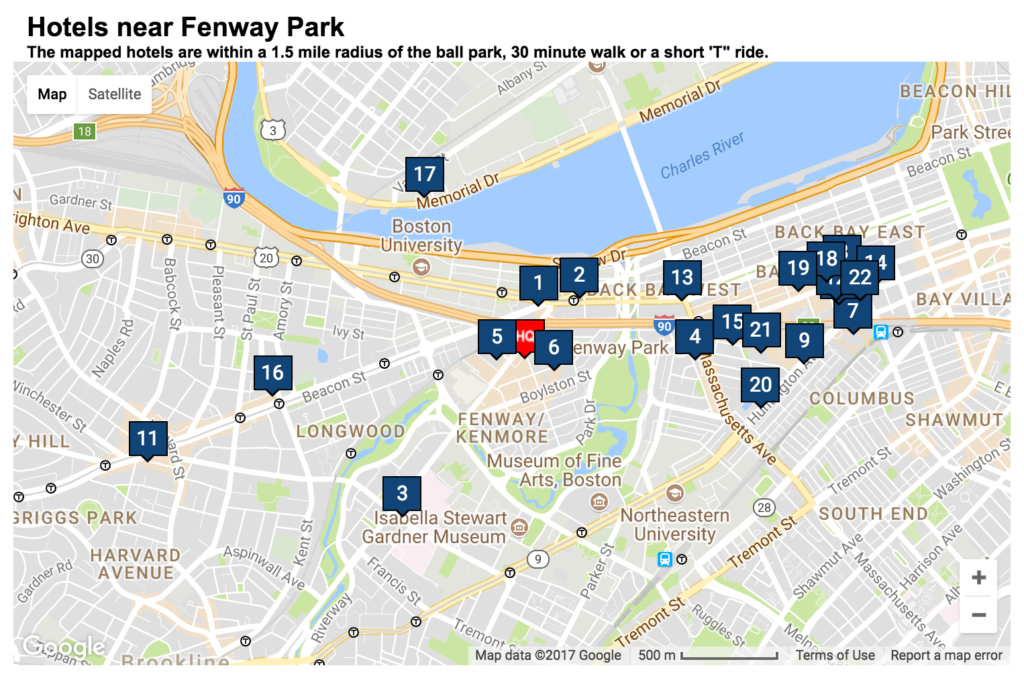 Boston also provides really helpful resources for sports fans on a page devoted to the city's professional sports teams. Here, fans can scroll down to their favorite team and read up details on places to stay, stadium tours, and other related information.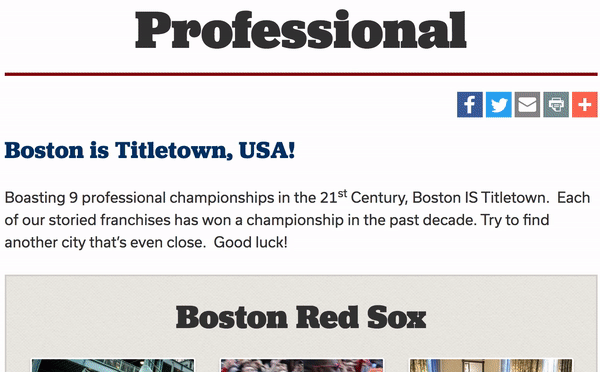 4 | NYC & Company: Creating content tailored to different types of fans
If you're not sure how much content sports tourism can inspire, check out what NYC & Company has been publishing lately.
They create a lot of sports-related content, including articles and guides on the city's various home teams and popular sports.
We love that so much of their content is accessible and inclusive, even if you're not a sports buff. NYC wants visitors to come out to their games, so they provide information that appeals to fans with varying degrees of sports knowledge.
For example, "NYC Sports 101" is a handy little resource that acts as a cheat sheet to New York's various sports teams -- where they play, when they play, where to buy tickets, and video snippets from the team's latest big media moment.

The entire site's design is visually-driven. The content includes plenty of photos and videos to give visitors a first-hand look at the action taking place at games all over the city.
These images encourage visitors to continue exploring the site, learn more about each team, and buy into the entire culture that surrounds New York City sports tourism.
5 | Go NOLA: Promoting sports through video storytelling
Go NOLA uses video to give potential visitors a glimpse into the destination's vibrant sports culture.
Their video storytelling can be both entertaining and enlightening. It gives viewers a taste of the energy levels at a typical game and introduces them to New Orleans locals.
The clip promoting the Zephyrs (the local baseball team) promises that visitors will get a feel for New Orleans and invites parents to bring their kids to a game for a day of family-friendly fun.

By promoting activities like kayaking and golf, Go NOLA's YouTube channel also appeals to outdoor enthusiasts who want to stay active on their trip.
New Orleans creates blog content to encourage sports fans to check out other local activities, including local walking tours, breweries, museums, and live Jazz. These visitors come to town for a specific event, but they want to explore the rest of the city once the game lets out.
Now the ball's in your court.
We hope these five cities have inspired you with new ideas to market your destination to sports fans. The most enticing sports destinations use visuals to pack a punch, and get fans hyped to visit.
And remember, the easier your sports resources are to find the more interest you'll be able to stir up.
Ready to attract more sports fans? Go get 'em!
---
If you're looking for other noteworthy marketing campaigns, this eBook is for you: