CrowdRiff Sidekick: How Our Chrome Extension Helps You Save Time & Work Smarter
As a travel marketer, how often do you find yourself in one of these situations?
Searching a location tag on Instagram to find a photo at a specific spot in your city
Quickly pulling together a set of ads to promote your museum's latest exhibit
Reposting a traveler's awesome photo to your own Instagram account
Building a presentation to review the performance and metrics of your latest campaign
Chances are, you're doing some (or all!) of these tasks every day. You're using your photos and videos all over the web, so you need your visual assets to be wherever you are.
That's why we introduced our handy Chrome extension, Sidekick, last year. Sidekick puts the visuals in your CrowdRiff library right at your fingertips. You can add visuals directly from Instagram straight to your collection, and access them anywhere you need them.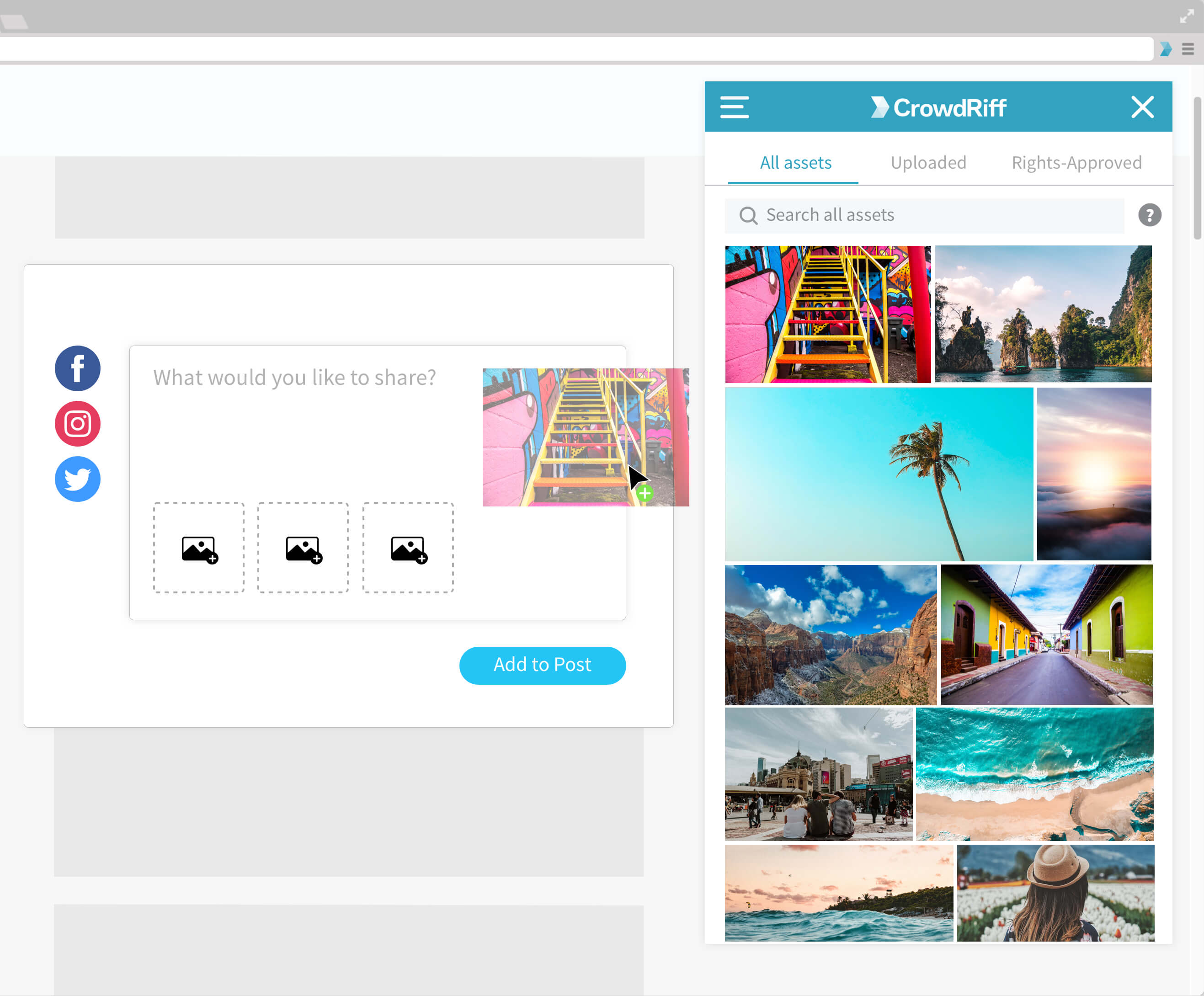 It's a small but mighty tool. Here are 2 ways CrowdRiff Sidekick makes it easier and faster for you to discover and use your visuals in fewer clicks.
Easily add visuals from Instagram straight to your CrowdRiff library
With the changes to Instagram's API last year, you might find yourself occasionally turning directly to Instagram to search for photos in a specific location, especially if those spots don't have well-known hashtags associated with them. Sidekick makes that process a whole lot easier.
Let's say you're scrolling through Instagram to find a photo of a traveler hanging out in a specific neighbourhood. Once you find one you like, Sidekick lets you add that image to your CrowdRiff library straight from Instagram's grid view.
All it takes is one simple right-click on the photo you want, and that image is ready and waiting for you in CrowdRiff.
Bonus tip: Any visuals brought into CrowdRiff with Sidekick are easy to find in your library, as images are automatically tagged with the keyword CrowdRiffSidekick. To find a photo that you've just added, all you need to do is search that term and you'll find it in no time.

Punch up your marketing with compelling visuals
Whether you need to repost a guests photo to your social media channels, upload an image to Facebook Ads Manager, or add photos to a blog post about the best restaurants in your city, Sidekick can help power your marketing in one easy click.
With access to the visuals in your content library whenever, and wherever, you need them, you never need to leave your page, open a new tab, or search a folder to find the photo you're looking for.
Here are just a couple of the ways you can use Sidekick to add visuals to your marketing:
Create engaging social posts
Easily add visuals to your social posts with Sidekick. When crafting a post, all you have to do is click on Sidekick and download the photo you want to use.
Elevate your emails with engaging, high-quality images
Whether you send out a monthly newsletter or a weekly events calendar, every email can benefit from refreshed, compelling visuals. With Sidekick, you can quickly add your photos to every template you use.
---
With Sidekick, you'll spend less time moving between tabs and across platforms just to find the images you need, and more time using them to create great content.