Small Destinations Doing Big Things with Visuals

Does it feel like the large destinations are always getting all the spotlight?
Sure, they're doing some creative things, but sometimes that makes it seem like you need their large budgets and resources to keep up.
Today we're here to prove that with a splash of creativity, a bit of resourcefulness, and the right tools, destinations of any size can do big things with visual content.
These are five small destination marketing organizations (DMOs) that are standing out and inspiring travelers with visuals.
The proud birthplace of Elvis, Tupelo is a hotspot of American culture, tradition — and cheeky humor. Population: 35,800
The first thing you see when you land on Tupelo's website? A colorful and rowdy action shot of who else but the King of Rock doing what he does best, across a backsplash of bright orange, yellow, greens, and blues.
With bold visuals, Tupelo is a small DMO that has a strong, enticing destination brand story. And yes, Elvis is a huge part of it.
Almost every page of their website, and on all their social feeds, you see photos and videos of Elvis. In fact, their Twitter personality is one of our favorites ones!
This rarely-seen live video of #Elvis in concert may not be as thrilling as a visit to Tupelo, but it'll do for now:https://t.co/OmpsKO8HRb

— Tupelo Mississippi (@MyTupelo) October 17, 2016
And beyond fun Elvis fandom, their website has a section where users can explore Tupelo through photos locals and visitors have shared:
Though their destination size might be small, they have no shortage of user-generated photos to display. Their secret: tracking more than the brand hashtag.
Tupelo uses CrowdRiff to uncover thousands of photos being taken at local restaurants, parks, attractions (such as Elvis landmarks, of course), as well as the ones tagged with #MyTupelo.
Through their creativity with visuals, they're not only able to show what their destination looks like, but also their culture and values, in a very real and likable way.
Once a mining town, Telluride is a now a premier ski destination nestled in Colorado's Rocky mountains. Population: 2,300
Weather and climate are always things travelers consider (especially ski conditions!). Visit Telluride has found an ingenious way of showing interested visitors a (literal) window into their destination:
Their website hosts webcams that show live photos taken in Telluride throughout the day, so you can see exactly what conditions are like. With your mouse, you can scroll through a time-lapse of these photos. This is the webcam that shows their Main Street.
And it doesn't stop there. You can toggle between winter and summer themes on their website, which will change the video you see on their homepage. Whether you're a ski traveler or a regular summer vacationer, they'll show you what experience you might get through targeted visual content.
In addition, this is another small destination that has tapped into the power of user-generated content with a section dedicated to "fan photos". They have literally hundreds of visitor photos people can scroll through and explore.
With sunny weather and protected beaches, Pensacola is a popular waterfront destination off the coast of Florida. Population: 52,000
Pensacola's website visuals do a fantastic job of illustrating their brand. From the blues and sandy colors, you know at once they're a beachfront destination.
Pensacola's done a great job of designing their homepage navigation in visual grids:
The visuals capture your attention and draw you in to click deeper into the site. And putting video into that grid is really creative — it's a small element that really stands out.
They also feature interactive photo galleries on many "Things to Do" pages on their site:
Featuring multiple visitor photos like this gives interested travelers a better picture of the activity, and the gallery format gives them something they can click into and explore.
But Pensacola's strength is its video strategy. On their YouTube channel they've produced over 100 videos, to show tourists the kind of vacation Pensacola can offer.

Notably, they have a fun video series Three-Minute Adventures, where in each video, they explore a different activity you can do in Pensacola — in three minutes. They've covered skydiving, paddleboarding, parasailing, and ziplining to name a few.
These quick videos are genius because it's easy to consume multiple in one sitting (especially with their playlists). But also on the DMO side, they won't break the bank.
Just goes to show: you don't need a major destination's budget or a documentary crew to be effective with video!
Branson is a destination popular with families and known for its vibrant theater culture. Population: 11,000
While Branson might be a small destination, they've dedicated a lot to making their website's visual experience shine.
What they've done exceptionally well is keeping all their visuals up-to-date and relevant. Right now in December, as they're catering to holiday travelers, Branson's homepage visuals are completely Christmas themed.
It's not just their own branded visuals — with the help of CrowdRiff, Branson has curated enough Christmas-specific photos from locals and visitors to fill the (expandable) photo gallery on their homepage.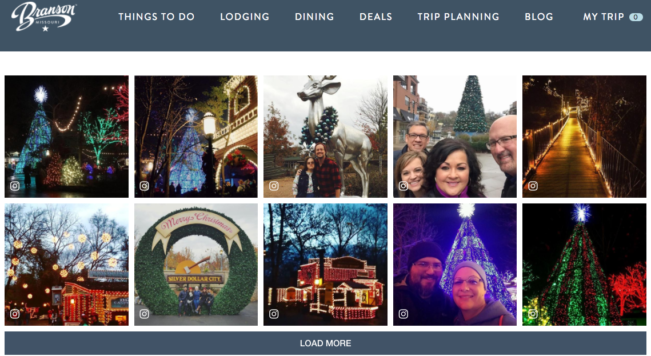 And with the call to "Share Your Branson Story," at the bottom of each photo, people grab the chance to get their photos featured on Branson's official website by sharing even more.
A lot of people might think that smaller destinations don't have as many user-generated photos available, but Branson completely throws that misconception out the window. With the way they've used such a variety of visual content, in our opinion, Branson has created one of the best user experiences we've come across.
From their culture and history to their music scene, Franklin is proudly "Rooted in Americana". Population 69,000
Franklin is one destination that centers their marketing around visuals — and they're doing big things.
When you land on their homepage, an immersive photo of Franklin fills your screen. Below it, you find a stunning collage of visuals, with over 3000 photos you can scroll through.
Their website features 19 of these photo galleries, all showcasing authentic photos from locals and tourists. From web pages to blog content, Franklin proudly lets its fans support their visual marketing.
Franklin, like Telluride and Tupelo, has a social hub where they display visuals people have shared in their location. You can keep scrolling and clicking "Load More", but you'll never reach the bottom: that hub hosts more than 77,000 photo and videos!
To power these giant visual galleries, Franklin uses CrowdRiff to track over 100 terms (including hashtags, geo-locations, and users) to bring in content people are sharing from all over the web.
In their guides and Things to Do section, Visit Franklin liberally fills their pages with large, relevant visual content. Their attractions shine when they let their visuals do the talking.
Some might consider Franklin a "small destination," but with the big way they're leveraging visual content, they're definitely a leader in visual influence.
We enable smaller DMOs to do bigger things with visuals
Today's traveler is a visual consumer — meaning they make their decisions based on visuals.
CrowdRiff enables both large and small destinations to inspire the most people to visit your destination, with a powerful visual influence strategy.
In other words, we help DMOs do big things with visual content.