The Saskatchewanderer: The Power of Using a Brand Ambassador to Tell Authentic Visual Stories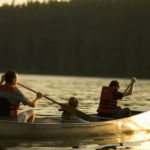 The sparsely populated Canadian province of Saskatchewan may not be as renowned for big cities, skiing or ocean coastlines like its neighbors are.
The prairie province is, however, two-thirds covered by boreal forest, home to almost 100,000 lakes and rivers, and has a long-standing farming and agriculture tradition, making it one of the largest playgrounds for hunters, campers, big game fishers, and agriculture enthusiasts.
A tight budget meant turning to others to help them tell their story
"We do well, relatively speaking, but we're kind of at a budgetary deficit compared to some of our competitors," explained Les Holmlund, a Digital Marketing Consultant at Tourism Saskatchewan. "We're right next door to Alberta, which has lots of natural attractions in terms of mountains, and a well-funded tourism model for their provincial marketing, so trying to compete against them is tough."
Without the budget to really tell their story, Holmlund said that the province's tourism department has often depended on others to do it for them.
"Given those pressures, we're looking more and more to user-generated content to help tell our story and to engage people to tell our story on our behalf."
He added, "That's what, after some trial and error with other [software], drew us to CrowdRiff."
Adding to the budgetary pressures of the province is the declining resource sector, which is the primary driver of the province's economy. As a result, provincial departments are looking for ways to help each other support the government's mandate of promoting the province as a great place to work and play by combining resources and initiatives.
The beginning of the Saskatchewanderer program
In 2011, the Ministry of Parks, Culture and Sport, which manages the province's provincial park system and the Royal Saskatchewan Museum (as well as encourages sport and recreation, and champions the province's arts, culture and heritage organizations), began a program to help promote the area's attractions.
The "Saskatchewanderer" campaign sent one lucky content creator to explore the province over the course of a summer, earning a small salary with all of their expenses covered. In return the winner was required to blog about their experience, and promote the province on social media.
"It was such a natural fit, we wanted to be heavily involved," said Holmlund, adding that many of the two departments' resources had been consolidated in recent years to help combat budgetary pressures. "As any destination marketing organization is, we're starving for content, we need a constant flow of high-quality content, and this was a great source for us."
In 2014, the Saskatchewanderer initiative was expanded to include a total of four partnering ministries, including:
Tourism Saskatchewan

The Ministry of Economy

The Ministry of Agriculture

The Ministry of Parks, Culture and Sport
The program also has an Official Sponsor, CAA Saskatchewan (sponsor since 2011), and a Search Partner, DirectWest (since 2017). It was also expanded from a summer program into a year-long initiative.
Adapting from primarily blog and text-based to visuals and social-based
"Over time the focus has shifted to more visual content on social channels. We still maintain the blog, but it's probably a less active channel than Instagram, Facebook, and YouTube have become."
Over the course of the year, Saskatchewanderers are sent out to capture a wide variety of content in order to fulfill the mandate of all four partnering organizations. In fact, last year's winner participated in 161 events and activities in 157 locations, traveling a total of more than 45,000 kilometers across the province in the process.
Some experiences may take them on a high-end sport fishing vacation, while others might have them working the fields with local agriculture experts, though they maintain a certain degree of creative control in capturing and editing the footage.
"We're looking for content that really helps put [the audience] in the place and helps them understand what the experience is or can be for them. Still images, good ones, can do that, but it's hard to top video for explaining what an experience is all about."
For 2017, the Saskatchewanderer produced a total of 70 videos over the course of the year, which earned a combined total of approximately 1.8 million views.
The 2018 application for the Saskatchewanderer, which describes it as "the best job ever," promised a salary of between $55,000 and $60,000 to "an enthusiastic, outgoing self-starter with a love for social media and a passion for Saskatchewan." Applicants were asked to submit a résumé, a short essay outlining why they would be a good Saskatchewanderer, and a brief video of less than two minutes.
While the partnering ministries have only a modest budget to advertise the campaign on social media, it earns a fair amount of buzz each January when the new representative is unveiled.
"It attracts a lot of media coverage. There's something about the idea of that job that captures the imagination of people, so the media covers it and extends our reach that way."
Social engagement increases steadily each year
Today, the Saskatchewanderer enjoys 75,000 followers across its three primary social media channels: Twitter, Facebook, and Instagram. Those channels grew by an average of 66% in 2016 and 35% in 2017, and the blog's page views grew from less than 135,000 in 2015 to more than 235,000 in 2017.
While the numbers provide some positive feedback, Holmlund was also encouraged by online interactions that suggest the program has helped rally local pride. "The fact that people continue to discover and follow along with these adventures speaks to the fact that they're interested in learning this," he said.
The future of their budget is always in limbo, but Holmlund said there's no interest in ending the program anytime soon. In fact, the 2018 Saskatchewanderer was announced in mid-January, and this year's nominee is hoping to bring a whole new angle to the project, literally.
"Our new wanderer has some experience with drone camera usage, so we're going to get them trained and licensed as a commercial drone pilot," he said. "So that will add some interesting perspectives."
---
Header photo courtesy of Tourism Saskatchewan and Greg Huszar Photography.
Further Reading: