How Tour Operators Can Use UGC In Their Marketing Strategy
Think back to your last vacation. What comes to mind?
For the majority of travelers, tours and activities stand out, according to research by Trekksoft. And when they're searching for these unique experiences or adventures, there are an overwhelming number of options. Where do they want to go? What type of experience are they looking for? And finally, what tour operator, activity company or travel agent do they want to book with?
As a marketer, it's your job to capture travelers' attention no matter what channel they're using to do their research; social media, your website, or offline when they're in-destination.
One of the best ways to showcase your offerings, differentiate yourself from competitors, and inspire travelers is through user-generated content. That is, any form of text or image based content created by fans, consumers or potential customers.
Using UGC In Your Tour Operator Marketing Campaigns
User-generated content is becoming a hot commodity in the travel industry. This makes sense, since travelers are visual decision makers, and 85% of consumers find visual UGC more influential than brand photos or videos.
Here's why your tour, activity or experience operator should think about using UGC.
1. Improve the effectiveness of online channels
All tour operators want to increase brand awareness and boost conversions. User-generated content is proven to increase performance across key channels like your website and social media.
How Haka Tours uses UGC on their website to promote different tours and experiences.
Featuring user-generated content on your social channels can increase engagement. People will recognize that you're sharing content from fellow travelers, which feels more relatable. Additionally, when you repost someone's photo on your account, you're building an online relationship with them.
2. Tell a more authentic brand story
Experiential travel, a form of tourism where people are immersed in a destination and local experience, has driven tour operators to adapt their marketing. People want to see what it's actually like to visit a location, rather than what they see on a post card.
Visuals are, of course, a good indicator of what a guest can expect to experience on your tour. User-generated visuals, however, are an even better signal to guests that your tour is the one to book. This is because UGC is essentially positive reviews from happy customers who enjoyed their experience enough to post about it.
Additionally, UGC photos look more natural and authentic than stock or professionally commissioned photos, which make them more trustworthy. After all, UGC is 20% more influential than branded content alone.
3. Get access to a larger volume and variety of content to show off trips
It can sometimes be hard to consistently come up with new visuals to use in your content and campaigns, and using the same photos over and over can make your brand feel stale and outdated.
Another benefit of UGC is that you get access to new photos almost daily that your target audience is sharing via social media. Sharing UGC will also help you make sure that your photos showcase a diverse range of visitors and perspectives to keep things fresh and relevant to potential guests of all ages, backgrounds, etc.

5 Creative Ways Your Tour Operator Can Use UGC
Now that you know what UGC can do for you, let's explore how you can use it in your marketing.
As a tour operator, you are in a unique position because every day, you are creating new experiences for travelers. And hopefully, they are enjoying them so much that they feel inclined to share photos and reviews that you can use to attract and inspire future guests.
This means there is a ton of content waiting for you to re-purpose.
So what are the best ways to use it? Here are 5 innovative ideas.
1. Use UGC to collect visuals from, and promote, specific tours
If you offer a variety of tours, it's important that you have content to promote them all. It can be tricky, and expensive, to produce or find content that is relevant to each of your offerings. Hiring a photographer to accompany each tour has a hard cost associated, as well as extra logistics.
If you create a specific hashtag for each tour and ask guests to use it when they share their photos, it will be easier to find the appropriate content later. Then, using a visual marketing platform, you can request the rights to use these user-generated visuals to promote the trip in the future.
A short checklist to help you determine if you need rights to use an asset
To make sure that people are using your hashtag when they post, make sure you remind them at the beginning and end of the tour to use it. Or, you could further incentivize them by running a contest, making it known that they have the chance to have their photo featured, or offering a prize.
2. Repost guest photos on your social media accounts
Having a vibrant social media presence is essential for any digital marketer in the travel industry today. According to The Telegraph, 55% of 18-65 year olds book trips based on Instagram posts. Bring your page to life with photos of tour guests having a blast and experiencing unique travel moments.
Instagram Stories are becoming another popular channel to engage social media followers in a more candid fashion. Use of the feature grew from 100 million in 2016 to over 400 million daily active users in 2018, and that's only expected to keep growing.
If your guests tag you in their Instagram Stories while on-tour, then you automatically have the ability to repost the story to share with your followers. You could also re-purpose guest photos into Instagram stories by editing them. It's a simple way to re-create authentic looking content on-demand content!
3. Update (or add) visuals to your website
Websites that include UGC can see an increase in their time on site by up to 90%, and an increase in return visitors of 20%.
The more visuals the better! Travelers are inspired by visuals, and want to see what you offer, not read paragraphs of text about it. Also try UGC in your blog posts, in your email marketing and on your website.
Haka Tours adds links to their images so interested visitors can learn more.
Try creating galleries of UGC photos to showcase what your guests are experiencing on your tours. As a bonus, you attach CTAs to your image galleries that lead to booking pages, which captures booking interest on the spot! Conversions increase by 10 percent when websites incorporate UGC into their purchase paths, according to one study.
Pro tip: Even though visual UGC is the most effective, UGC can also exist in the form of reviews. Try pulling in positive customer reviews from sites like Trip Advisor, comment cards you collect on-tour, or social media content like tweets, comments and captions.
4. Use UGC in your offline sales and print materials
Consider that 80% of tour and activity bookings take place offline, so tour operators have to think more about offline promotions and materials than most travel and tourism brands.
Print materials, like brochures and leaflets, are perfect places to showcase UGC. If these materials will be sitting on shelves beside promotional materials for other tour operators, make them stand out with fun, authentic looking visuals on the cover to turn heads.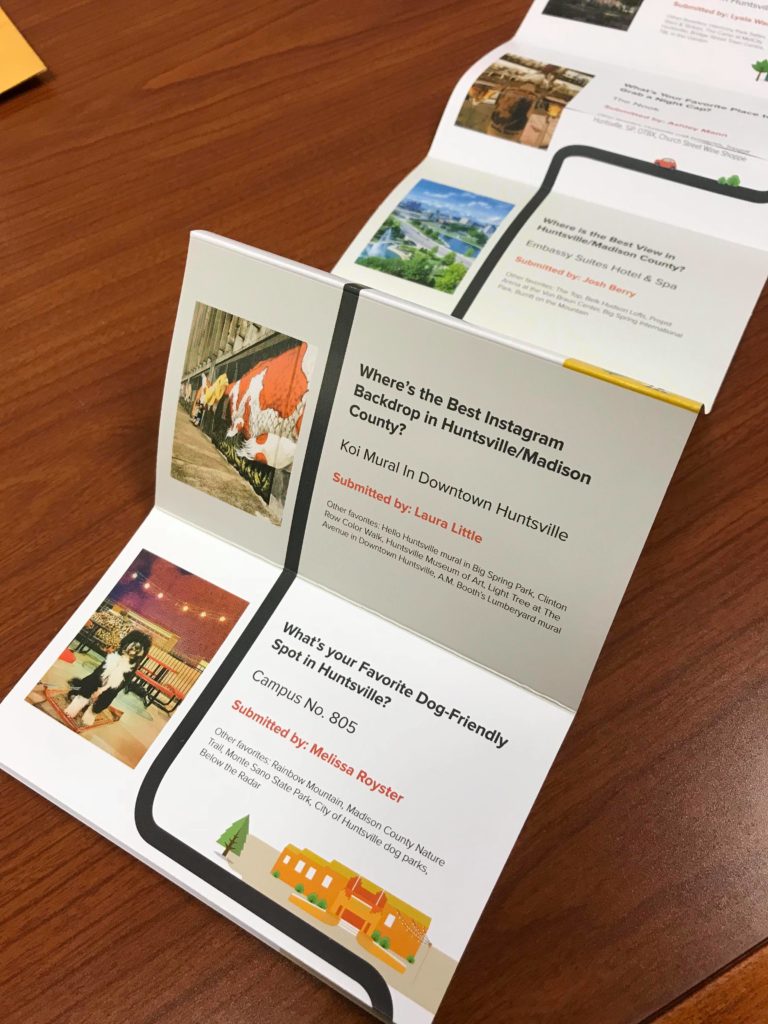 Visit Huntsville put together an entire pocketbook filled with UGC images.
Additionally, UGC can be used to create digital displays, should you have the space to create one. Try making a digital photo wall to showcase your tours.
5. Digital and print ads
There are so many places that tour operators can strategically place their ads online: social media feeds, Instagram Stories, and across the web.
The visuals that you choose for these ads are important: according to Phocuswight, 50% of travelers recall visual ads they've seen online when booking a trip. To make sure that your ads are remembered positively, try using UGC as your featured visuals. This is especially effective on social media, because then your ads will match the content in their feeds and not stand out as an ad that visitors will likely avoid.
Visit Indy uses UGC to achieve 3x click-through rates on digital ads.
User-generated content can also be used in a similar fashion in print ads, if you're a tour operator who advertises in visitor guides or other local tourism information resources.
When it comes to your tour operator marketing strategy, UGC is a powerful way to stand out, connect with potential travelers and increase bookings both online and off. How can you use more UGC in your marketing today?